This stunning easter tablescape setting has freshly cut hanging branches with spring blossoms, as well as pastel floral arrangements, beaded coated easter eggs, and white candelabra's tiered across a floral table cloth. The plates are etched with tulips, and a beautiful table card that says "He is Risen". I hope this table setting gets you ready for spring as you celebrate the Easter holiday with family and friends.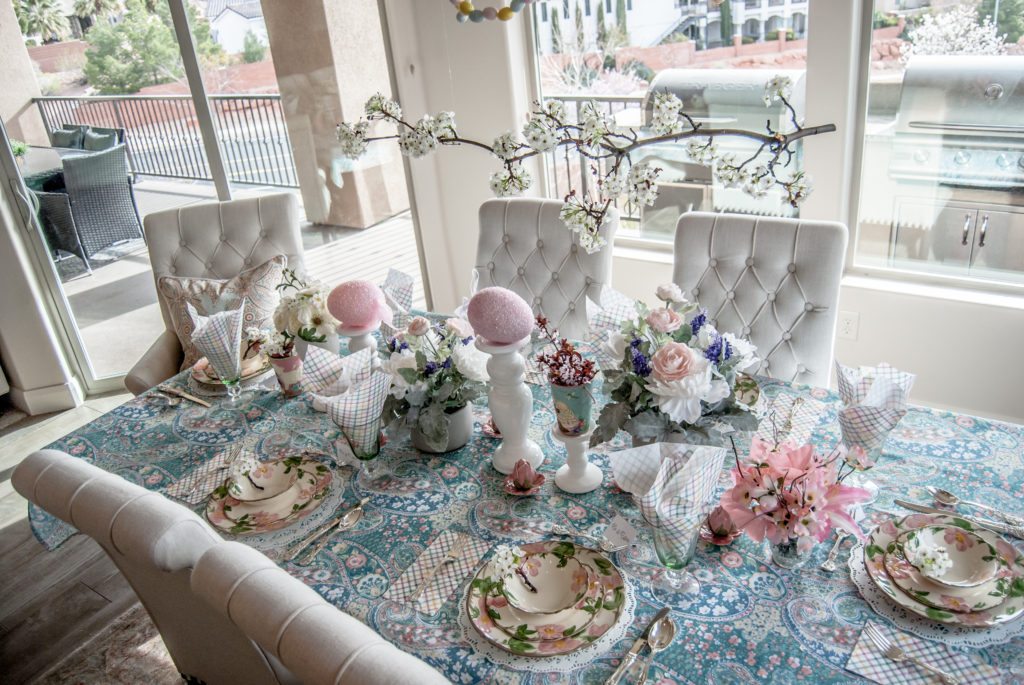 This beautiful easter table setting was done in collaboration with Sue and Zac Cox over at theLittle White Loft Company Blog. Sue is a talented decorator, and her son Zac is a graphic designer. It's always fun to work on a project with these two. Sue has lot's of great ideas, and she has an eye for design.
Right now in Saint George, spring blossoms are popping off every tree! It's a beautiful sight to see. The hanging branch used for the table setting was trimmed off a tree in Sue's backyard, and several blossoms were cut for the plate center pieces, as well as, for some of the flower arrangements on the table. We added beaded eggs, and a floral table cloth. The beautiful dishes belong to my Great Aunt Janice-she has been a collector for years of various pieces. Also, the printibles for the "He is Risen" tags, as wells as the "Happy Easter" Printable on the corner table that is framed, is all brought to you from from the Little White Loft Company. You can download the printables free on their blog HERE.