ALORA: THE BIRTH OF A GOOD WITCH
"Alora: The Birth of a Good Witch" is a Halloween Classic that the whole family will love! I am giving this children's book away free in a video version right here on my blog!  If you love Halloween like I do, I hope you will take the time to share this with your children at home!
KINDLE OR PAPERBACK–AVAILABLE NOW
Alora, The Birth of a Good Witch is now available on Amazon Prime through Kindle or Paperback version.  Just CLICK HERE, to order.  This is my first Children's Book in The Realm of Halloween Series!  I just finished writing my second book in the series, and I am currently working on the illustrations!   I'll keep you posted on its progress!

MY FIRST CHILDREN'S BOOK
I am so excited to present this project to my readers!  It's my first children's book, written and illustrated by yours truly, The Everything Housewife.  I have been working on this project for over 9 months now, and it's finally complete.   I can't thank my family enough for all their encouragement, especially, my hubby.  He is so supportive whenever I decide to start a project.  I just wake up one day, and decide to do something, and he is always in my corner no matter how big that project ends up being…..and this one, well, let's just say I haven't cleaned my house for the last several months, but we're finished, and I am so proud of how beautiful everything has turned out!
ABOUT THE STORY
"Alora, The Birth of a Good Witch" is a story about the good that already exists within each of us.  In The Realm of Halloween, where spooks, ghosts, goblins and witches are often defined by their outward appearance, we discover that things are not always what they seem.  There is a balance of good and evil that exists.  Magic elves working behind the scenes are preventing wickedness from prevailing.  When the evil Queen creates a plan to destroy the elves, she casts a spell that inadvertently gives birth to a good witch.  As you read this whimsical Halloween tale, you will discover that goodness is a light that exists in what outwardly appears to be the darkest of characters, a witch named Alora.
I really hope you enjoy sharing this story with your family, friends, grandparents, teachers, and of course, all the little children you have running around in your life.   This book has a great message, and of course, it celebrates my favorite time of year—Halloween!
WATCH THE FREE VIDEO BOOK HERE
BEHIND THE STORY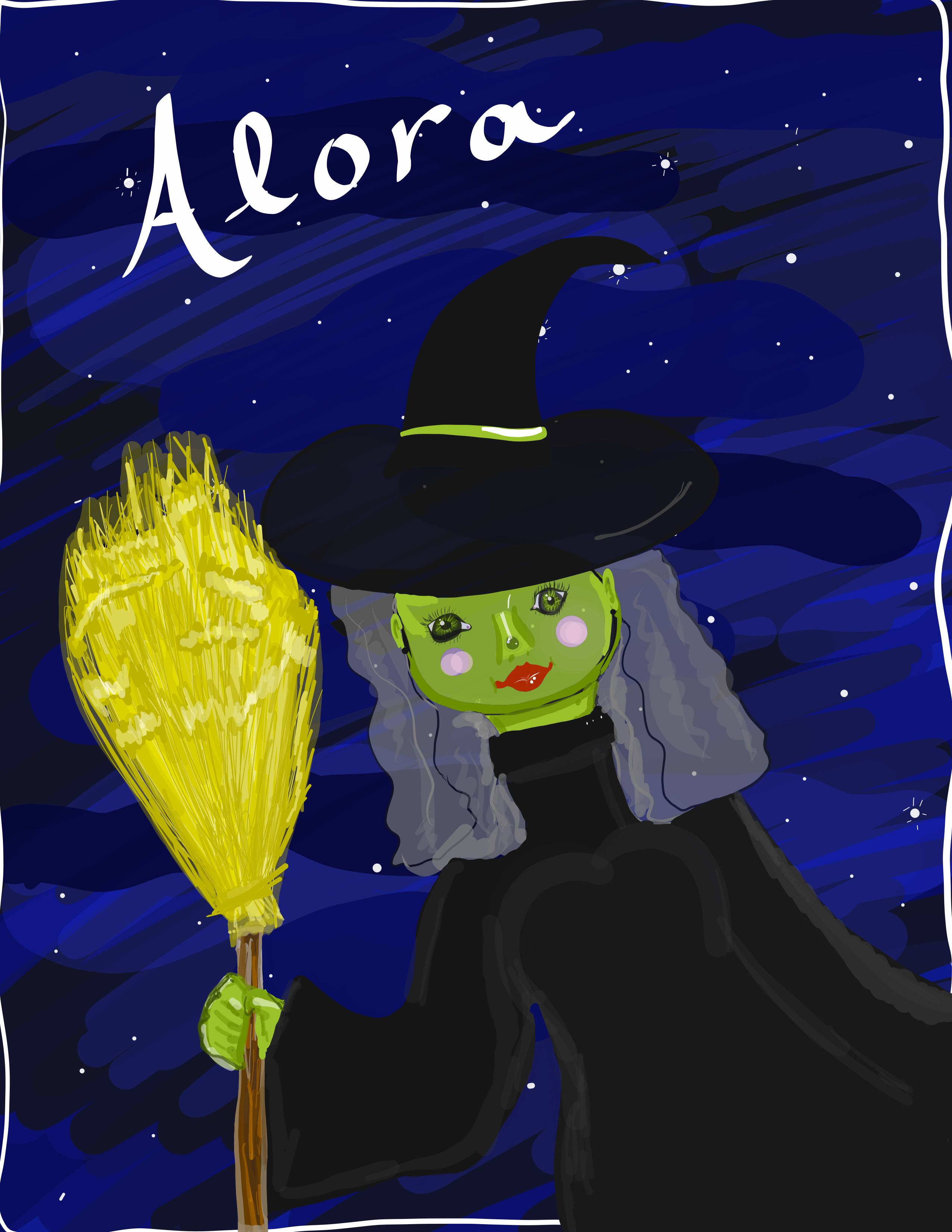 It's the Christmas holidays, and I'm sitting on the couch with my two year old, and she asks me to draw a picture of her—so of course I draw a witch…..you know, because even at Christmas I am always thinking about Halloween.  As I am sitting there, drawing this adorable little witch, I say to myself, " You know, Jenny, you should write that children's book you've always talked about writing, and oh yeah, you should illustrate it too!"   So I got up from the sofa, and walked into my office, sat down at the computer, and started typing.   The story was finished within the hour.  It literally FELL OUT OF HEAVEN!  Not kidding.   I don't know that I could write something so quickly that rhymed so perfectly, and said what it needed to, except that God dropped it in my lap.  I am sure this is just the beginning of many stories.  I had so much fun working on this project.  Anyway, because of the ease of it all, I decided to start my illustrations immediately.    That has been the most difficult part of it all.   In fact, I scrapped almost all my early drawings in the beginning because my artwork improved so much by the end, I couldn't stand to use the originals.    But as time went on, I became more comfortable drawing and editing.  This has been a labor of love, and it's ready just in time for the fall season!
WRITTEN FOR MY DAUGHTERS
This book was truly written for my daughters.  They are my biggest cheerleaders!
I love playing this for my daughter Alora!  Oh yeah, did I mention it's named after her???   Every time she sits down to watch the video, she repeats over and how, "That's me Mom!"  She likes to tell me that it's her castle, and she's a witch, and she loves Halloween, which I just love, because I tell all my kids, I'm a witch too—in the fondest of terms!
HAPPY HALLOWEEN!!!!!