Holiday Scalloped Potatoes Recipe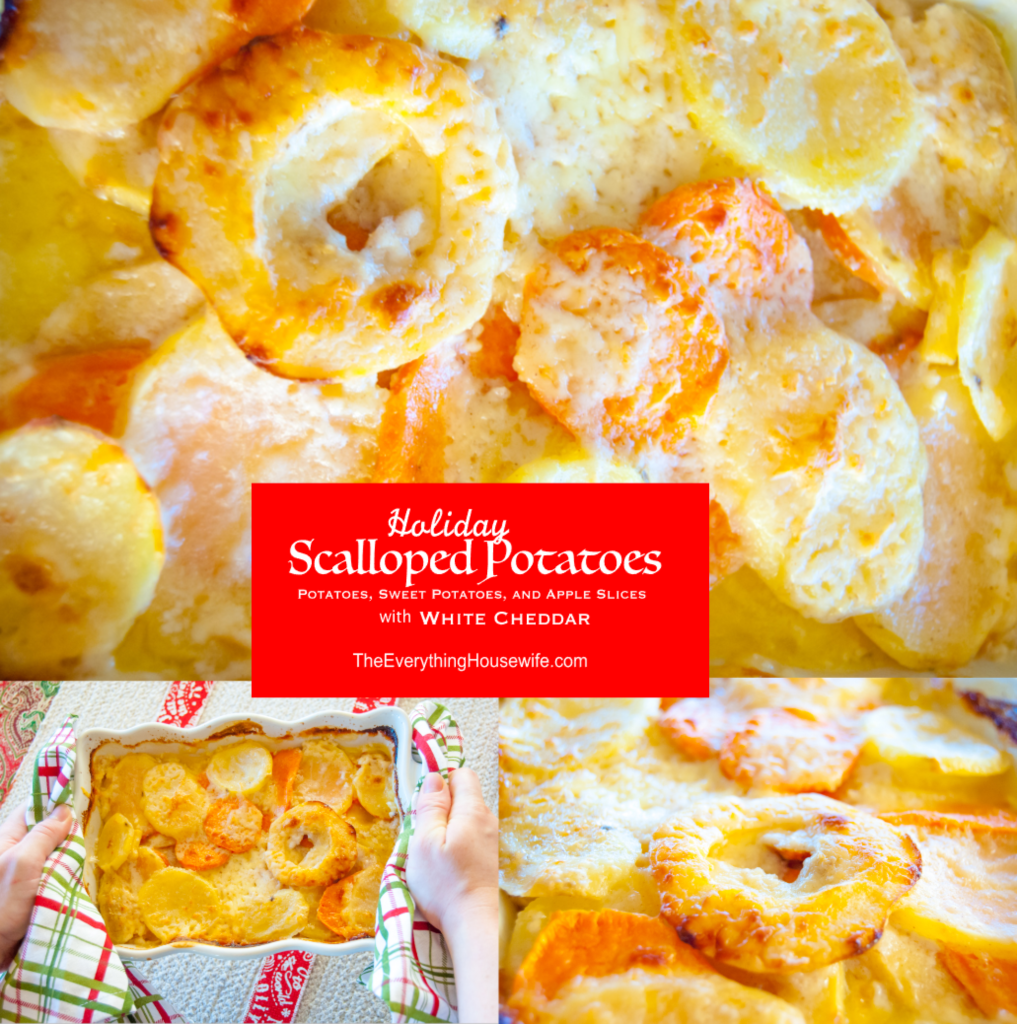 Holiday Scalloped Potatoes Recipe
These Scalloped Potatoes are layered with yukon golds, sweet potatoes, and apple, and each layer has a savory cream sauce with hints of cinnamon and cloves, finished with extra sharp white cheddar!  This recipe is to die for, and it's a perfect addition to your Christmas meal.  I plan on making this dish as one of my showcased sides for our Christmas feast!  We did a test run of this recipe last night for friends of ours, and I heard back from them today!  Apparently everyone is still salivating over last nights dinner!  This recipe was a hit, and it's so simple and easy to make!  I hope you make plans to include this in your feast as you entertain friends and loved ones in your home this holiday season.
Holiday Scalloped Potatoes Recipe
Serves: 12-14
3 Apples, peeled with the core removed, and sliced thin, 1/8 inch
1 Large Sweet potato, peeled and sliced thin
4 large yukon golds, peeled and sliced thin
1 and 1/2 sticks of Butter
6 Tablespoons of flour
3 cups of Half and Half
3 cups extra sharp white cheddar
1 and 1/2 teaspoons of Kosher salt
1/4 teaspoon of cinnamon
1 tiny pinch of cloves
For this recipe, be sure to slice your potatoes, sweet potatoes and apples extra thin for quick baking without burning.   I like to use a mandoline slicer to achieve this.
 In a saucepan on medium-high heat, melt butter and add flour.  Stir until mixture becomes bubbly.
Then turn heat down to medium low, and add half and half.
Add 1 teaspoon of salt to cream mixture.  Then also add cinnamon and cloves.  Heat mixture until it comes to a simmer.  Then remove from heat.
Meanwhile, in the bottom of a greased casserole dish (9×13), pour a small amount of the cream sauce in the bottom.
Then alternate by layering potatoes, sweet potatoes, and apples.
After half of the potatoes and apples are layered, then sprinkle a light pinch of salt over the top, half of the remaining cream sauce, as well as 1/2 cup of the white cheddar.
Then layer the rest of the potatoes and apples.  Finish with a light sprinkle of salt, the rest of the cream sauce, and top with the remainder of the white cheddar.
Bake un-covered at 400 degrees for 50-60 minutes.  Then remove foil and bake another 20 minutes, until the potatoes are browned and bubbly.
*For this dish, I recommend using a mandoline to slice everything.  I used a mandolin to slice my potatoes, sweet potatoes and apples.  This really makes a difference in preparation of this dish.  It can save you a lot of time. Here is a great, affordable mandolin on Amazon that you can purchase (Click Here). This is almost the exact mandoline I own.  This is a great version because you can adjust the widths of the blade, and select what thickness you want to cut.  I like getting a really thin slice on my sweet potatoes and potatoes.   It makes your life so much easier!