North Pole Cupcakes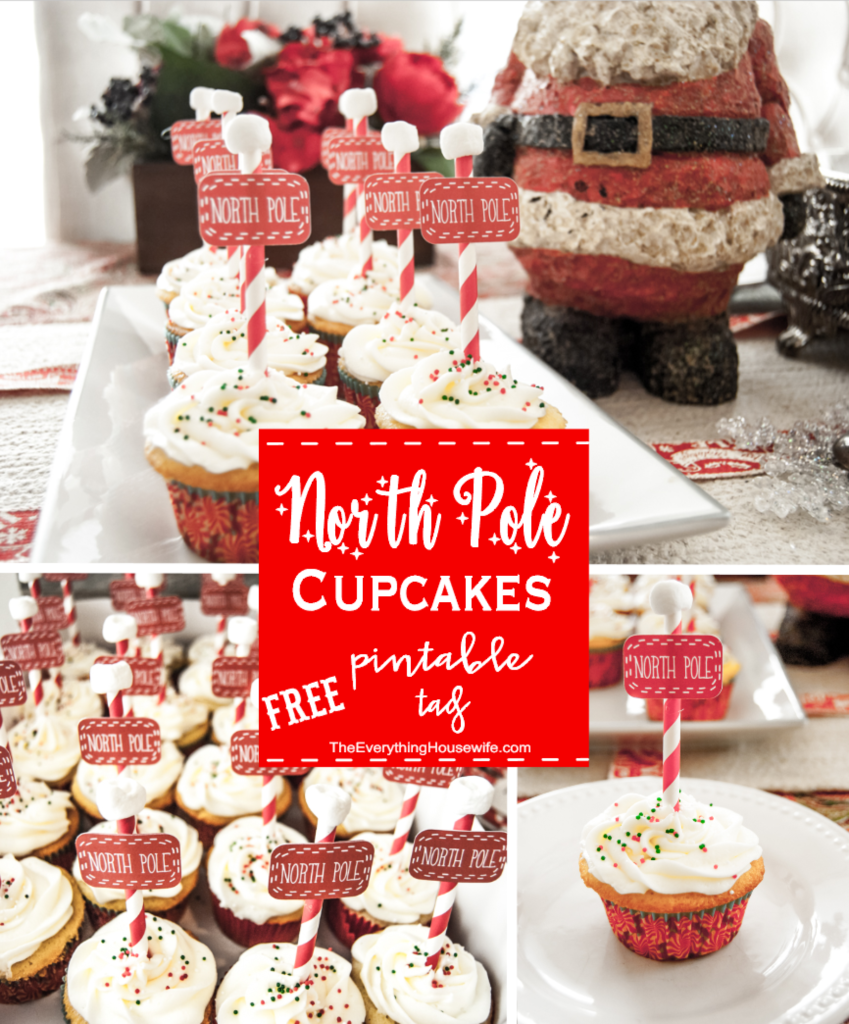 North Pole Cupcakes
These North Pole Christmas Cupcakes are delicious! They are made with coconut milk and an egg white merengue which gives them a unique, elegant flavor that everyone will love. I made these cupcakes for my daughter's classroom party and the kids just loved them! In this article you will also find a FREE printable North Pole Tag Cupcake Topper. I hope you give these a try this Christmas season! They will be a hit for family and friends
We are headed to a classroom Christmas event for my 2nd Grader at her elementary school, and I made these adorable North Pole Cupcakes! In her classroom, they are doing the Twelve Days of Christmas, and each parent who volunteers is responsible for reading a Christmas book to the class and bringing in some sort of a gift to fill their stockings. So for my husband and I, we will be reading the story book, "The Southern Night Before Christmas," because most of my life I was raised in Georgia and so that is part of our family roots. My 2nd grader was born in Georgia, and for those of you that know me, occasionally I'll throw a "ya'll" in to remind you of where I am from. I still consider myself somewhat of a "Georgia Peach." The treat we chose to bring to go along with our book was these adorable North Pole cupcakes. The recipe I used is sooooo yummy! My husband said they reminded him of flavors of a sugar cookie. I am also adding a free printable "North Pole" topper. These cupcakes came out really cute. I hope you will attempt to make them this holiday season for your children's classroom party, or as a Holiday treat for family and friends!
For the Toppers I purchased red and white striped straws, and red and green sprinkles. I cut the straws in half, and glued the "North Pole" tag to the straw with hot glue. Then I added some sprinkles, and a mini marshmallow to the top of the straw. That's all there is to it! I hope you will attempt to make these creative cupcakes sometime during this holiday season.
You can purchase the straws online here: CLICK HERE
You can purchase the sprinkles here: CLICK HERE
Makes 48 Cupcakes
Recipe for the Cupcakes:
3 and 1/2 cups flour
2 teaspoons baking powder
3 sticks of butter (I used salted), softened
3 cups of sugar
4 egg yolks
10 egg whites, beaten into stiff peaks like a merengue
3 teaspoons vanilla extract
1 (16oz can) coconut milk, full fat
Combine flour and baking powder in a separate bowl, and set aside. In a mixer on low speed, cream together butter and sugar, then add egg yolks and vanilla extract.
Then, alternate dry ingredients with coconut milk back and forth, as you mix these into the mixer bowl containing the creamed ingredients. It will form a batter like consistency.
Remove batter from mixer, and pour batter into a separate clean mixing bowl, and then set to the side.
Clean your mixer bowl. Add egg whites to the mixer bowl, and beat egg whites into a stiff-peak merengue like consistency.
Fold egg white merengue into the cupcake batter. Do this by hand only. Folding over gently, until the egg whites are folded into the batter. You want to retain the light consistency of the merengue within the batter mixture. It will keep your cupcakes fluffy.
Pour into 48 muffin tins that are lined with cupcake liners. Bake 18-20 minutes. These cupcakes tend to have a shiny surface due to the coconut milk, so be sure to test them with a tooth pick. They will be fully cooked before they even appear to be. The surface may look doughy but it will not be. Be sure to test so that you don't overcook the cupcake.
For the Frosting:
Buttercream Frosting with Sourcream
3 sticks of unsalted butter, softened
5 cups of powdered sugar
1 teaspoon vanilla,
1 teaspoon of kosher salt
2 tablespoons of sour cream
2 tablespoons of milk
Beat butter and sugar together until creamed, then add vanilla, salt and sour cream. Beat on high for 1 minute
Gradually add milk while mixing, and then beat on high an additional minute until buttercream frosting is light and fluffy