Smoky Apple Spice Turkey Brine Recipe For Your Thanksgiving Feast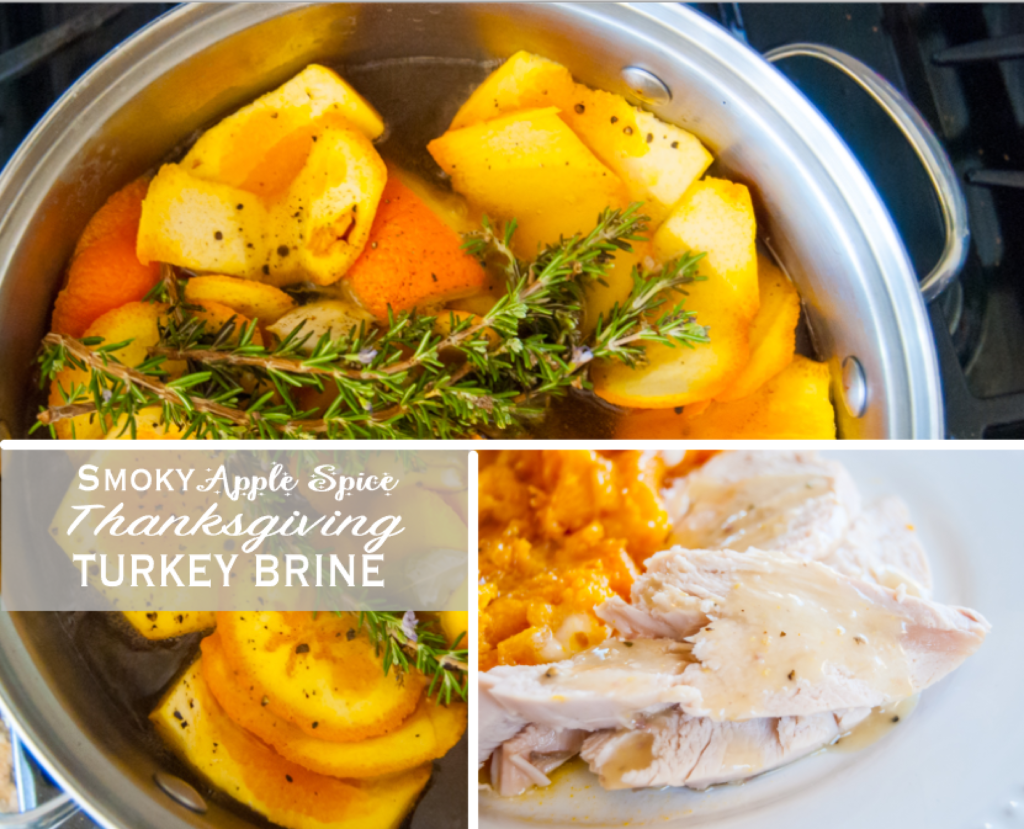 Smoky Apple Spice Turkey Brine Recipe For Your Thanksgiving Feast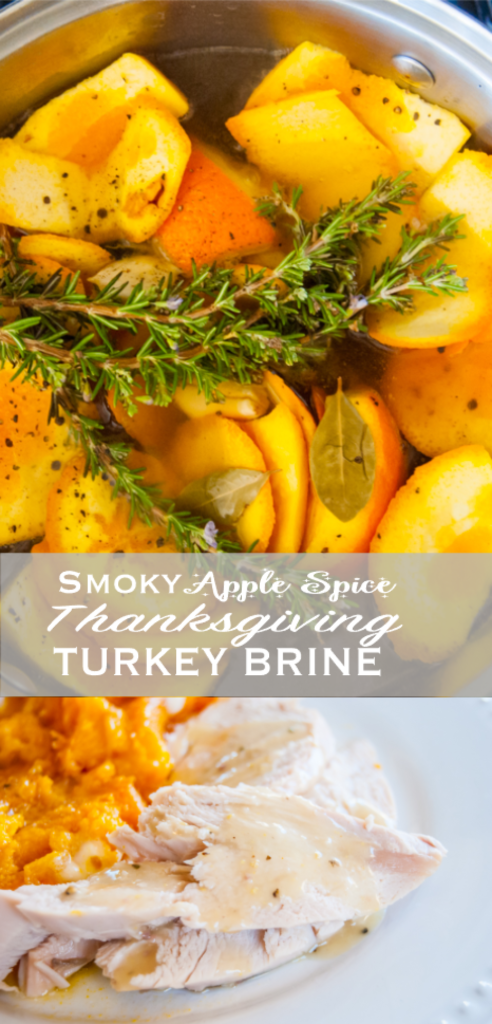 The secret to the best Thanksgiving Turkey! If you have never brined your turkey, then you've got to do it this year for Thanksgiving.  This turkey brine has the most delicious flavor!  Its got a mild smokey flavor, with hints of orange, and sweet apple cider.   You can taste the rosemary, and garlic flavors…mingled with the smokiness.   So what is a turkey brine?????  Turkey brines salt and flavor your turkey.  Turkey that is not brined has a pretty bland flavor, and ABSOLUTELY needs gravy.  The brine gives the turkey all it's flavors….gravy is a nice addition, but isn't even necessary if you brine it.  If you do make a gravy, be careful not to add too much extra salt or seasonings.  The turkey juices will already have the flavors of the brine.   My mother made a gravy for this turkey, and the only thing she added was a little bit of chicken bouillon to the gravy, and of course flour and water.   The brined juices did all the rest…and the gravy had a delicious smoky flavor, as well as the turkey.  It was heavenly!
For this recipe we used liquid smoke.  Not everyone has access to a smoker, and so we experimented with liquid smoke to see if we could get the same wonderful flavors with have had using our smoker–and it was a success.   We have friends who order their Turkey from a place in Texas, and the turkey was heavily smoked and delicious.  Give this brine a try!  We just tested it out a few weeks ago, and I know you won't be disappointed.  The smell of the brine alone is AMAZING!….and wait until you taste the turkey.   This is our own brine recipe.  Hope you love it!
Smoky Apple Spice Turkey Brine Recipe For Your Thanksgiving Feast
2 Gallons Water (one for boiling plus 1 gallon of ice water to cool the brine)
1 cup Kosher Salt
1 cup brown sugar, packed
1-32 oz bottle Apple Cider
3 large Orange Peels
3 Bay Leaves
4 Springs of Fresh Rosemary
5 Garlic Cloves, split or smashed to release flavors
1/4 tsp ground cloves
1-(4oz) Bottle Liquid Smoke, hickory flavor
In a large pot, add one gallon of water and all other ingredients.
Bring to a rolling boil.  Boil for about 5-10 minutes.  Remove your brine from the heat, and then begin cooling the brine.  Then, add extra gallon of ice-water to brine (the ice speeds up the cooling).
Make sure your turkey is washed and completely defrosted.   (we use a trash bag-lined cooler with ice to brine our turkey, but you can do it in a large container in the refrigerator.  We put the brine and turkey in a large trash bag, and surround it with ice in a cooler.  Don't add extra ice to your brine or it will dilute the flavor and mixture. The ice should go on the outside of the trash bag)  The brine must be cold before adding the turkey–this keeps the turkey from developing bacteria
Add Turkey to your 2 gallon mixture of brine, and brine for 24-48 hours.   The Turkey should be completely submerged.
USE A TURKEY BAG to bake your turkey.  It keeps the brine juices in, and leaves your turkey extra moist.
Bake your turkey according to package instructions.  Use a thermometer…it's really easy to over cook a turkey.  The turkey should reach an internal temperature of 165 degrees.  Place the the thermometer in hipbone (in between the leg and breast)  area in the thick part of the breast.   The pop-up timer usually registers later than the turkey is ready–so buy a thermometer so you don't over cook your bird.