Attention Moms—the solution to your Snack Problems!  Simpalo Snacks!!!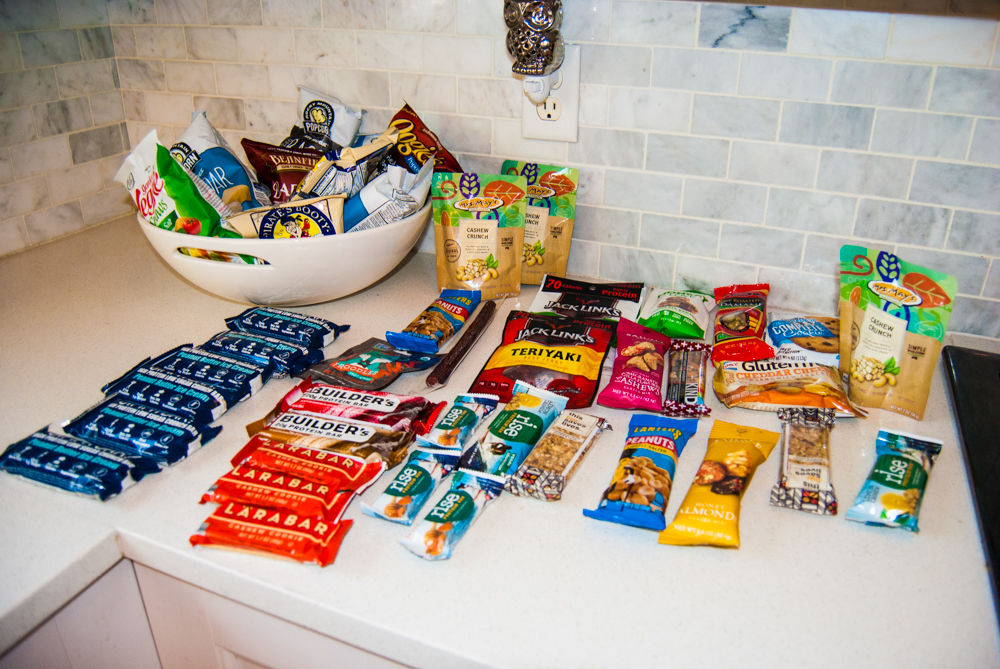 Simpalo Snacks—it's the Amazon Prime of the snack world!
Attention healthy snack eaters, Protein lovers, and make-your-life -easy believers. I'm obsessed with the idea of this company!  It makes my life easier.   Hand select from a variety of healthy, high protein, all natural, healthy, delicious snacks and have them DELIVERED DIRECTLY TO YOUR FRONT DOOR!  It doesn't get an easier than this! This is a perfect post for the upcoming holidays, because Simpalo Snacks also offers gift packages that you can ship to your family and friends.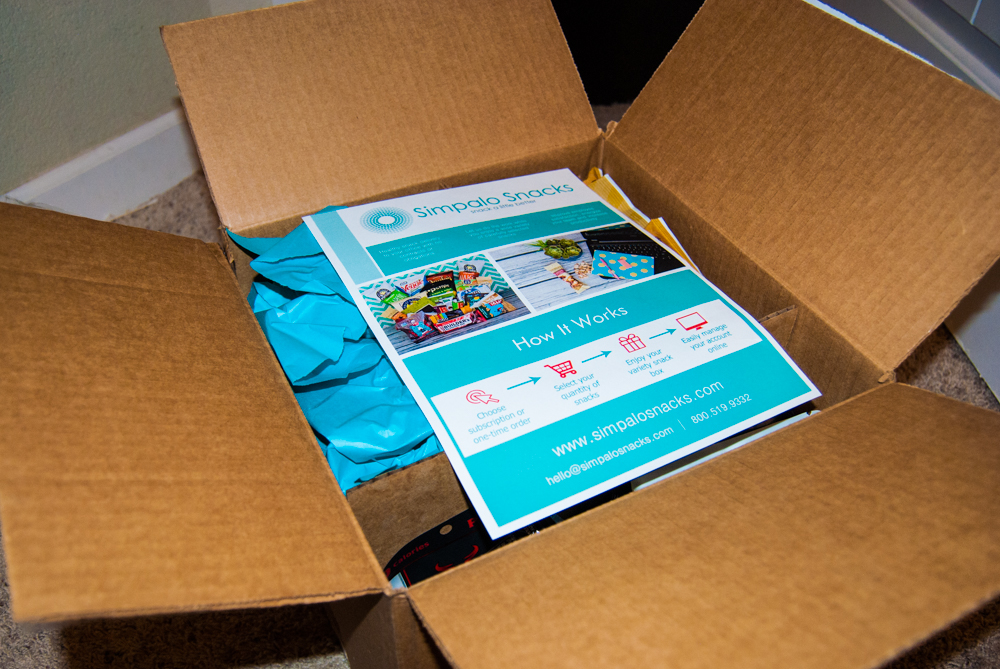 First, I am not getting paid to do this review. I genuinely believe in the company. I just placed my own personal order this last week and had it delivered to my door.  And it's a great idea for a gift for family and friends for the holidays!
How did I hear about Simpalo Snacks? Lucky for me, I know the owners! They are two friends that live here locally in Fort Collins, Colorado. We attend church together, and they are two, very hard working, creative ladies who had an idea that is genius! It is a new company for them…and the business is exploding!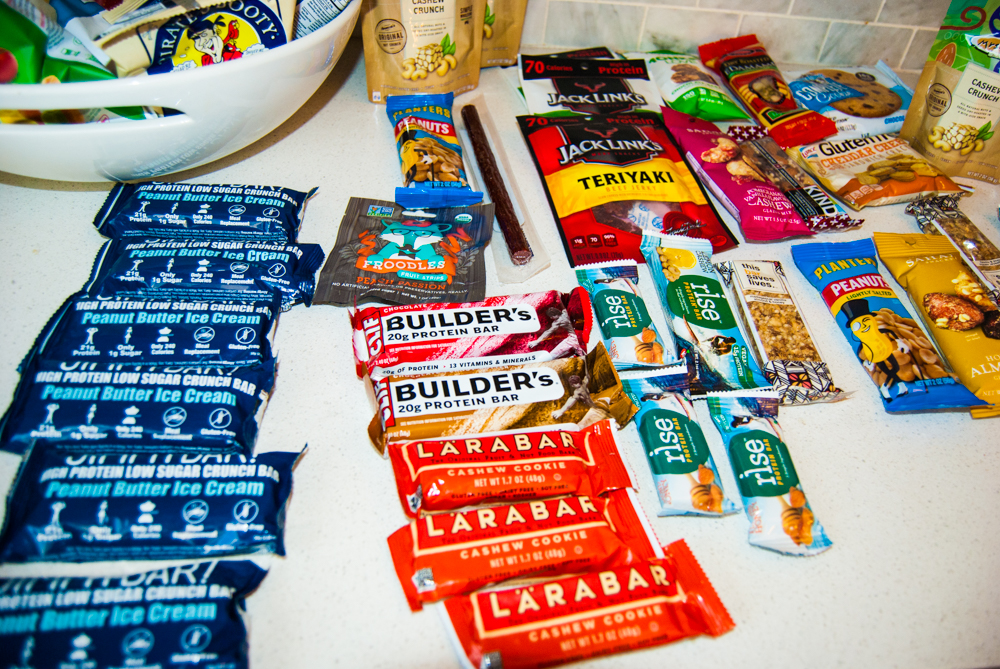 Let me tell you why I love Simpalo Snacks…
1. VARIETY– I can individually pick each snack that I want. I hate buying bulk from Coscto and Sams. We end up eating the same 60 granola bars for weeks….often times when we try a new snack, we waste it, because either we don't like it, or it was nice to try, but we don't feel like eating a bulk box. Simpalo Snacks saves me money, and we don't waste the food. I buy individual snacks for my husband, individual snacks for me, and separate snacks for the kids. We all have our own likes and dislikes, and personally, when I buy in bulk from the box stores, my family gets sick of eating the same thing. I like to switch it up and eat something different every day, and this allows me to do that.
2. HEALTHY—Simpalo offers healthy, high-quality snacks. I personally have a hard time buying junk food (I do occasionally). But as a mom, its hard to buy food in bulk that you know is not good for your kids. Simpalo Snacks has an amazing variety of super healthy, high-quality brands. I can't complain. I have been so impressed with the snacks I have purchased.
3. HIGH PROTEIN OPTIONS—My husband and I are gym rats! We live off protein when we are doing it right in life. Simpalo has an entire section on their website devoted to high-protein snacks. One of my favorite bars that is all natural is the High-Protein Jimmy Bar. It has 21 grams of Protein, and only 1 gram of sugar. It is sweetened with stevia. It's delicious, and it's only $2 per bar (this is the cheapest I have found for this bar). This is a perfect snack for those on a high-protein diet.
4. SHIPS TO YOUR DOOR—Lets face it! I hate leaving my house, and yes, if I put a ton of effort into it, I could drive around town and buy healthy snacks from lots of different stores and create my own box of snacks, but really???? Who has time for that? I'm lucky to get to the grocery store and just buy the regular stuff. I live in the days of Amazon Prime, and Simpalo Snacks is the new Amazon Prime for snacks.
5. IF YOU'RE LAZY—and sometimes I am, Simpalo Snacks has a variety box option where you can just order an assorted box of snacks, and it ships directly to your house. I personally prefer to load my cart with my own selection, but for those of us who just want easy…try the variety box! You get a great assortment of snacks, and you'll have an opportunity to try some of the brands.
6. LOCALLY MADE SNACK OPTIONS—Simpalo Snacks has lots of locally made snack options. Two of their popcorns that I LOVE, are made locally here in colorado. The beef jerky they sell is made just across they Wyoming border. Fort Collins is a food hot spot, and Simpalo Snacks is similar in that they try to find local companies who make interesting and delicious snacks. It's a great way to taste some of the local snack brands made here in Colorado.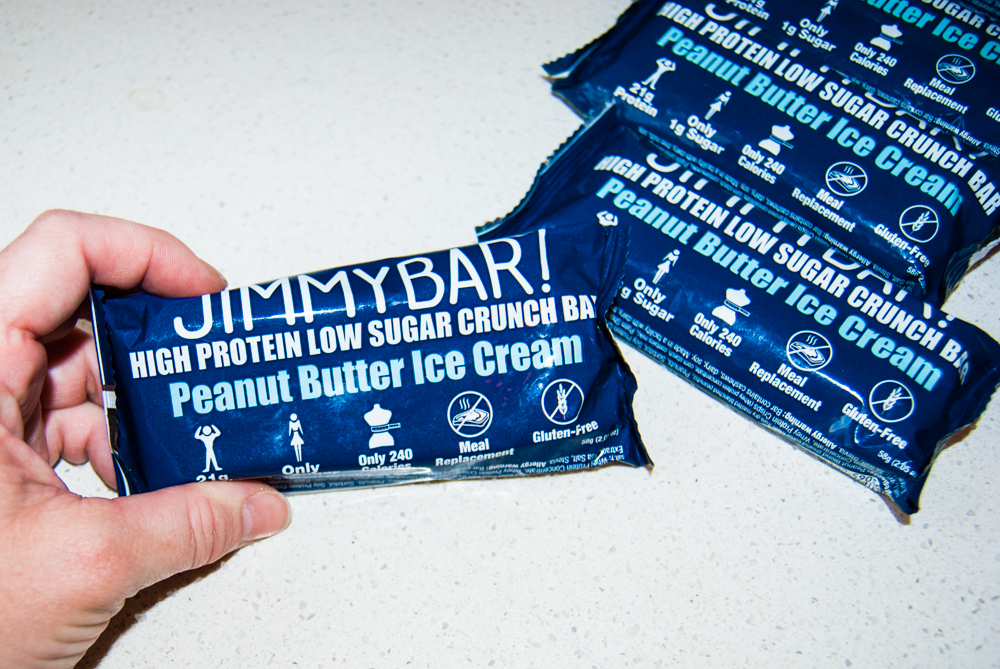 This is the Jimmy Bar High Protein Bar. I AM OBSESSED!!!!! I wish I had had this bar when I did a clean-eating diet! I love this bar because all the ingredients are natural. Often times, when you buy protein bars, their are lots of weird synthetic stuff, and they taste nasty! This bar is very tasty, and I can actually read the ingredients. If you are watching your sugar, but don't like the artificial sweeteners (because they really aren't good for you), you should try this bar. It is only 1 gram of sugar and it is sweetened with stevia….Stevia is an all natural plant with zero calories. Believe it or not, I have grown my own stevia plant a few times in my garden. It is 100 times sweeter than sugar. I love it when companies find ways to make tasty products using stevia.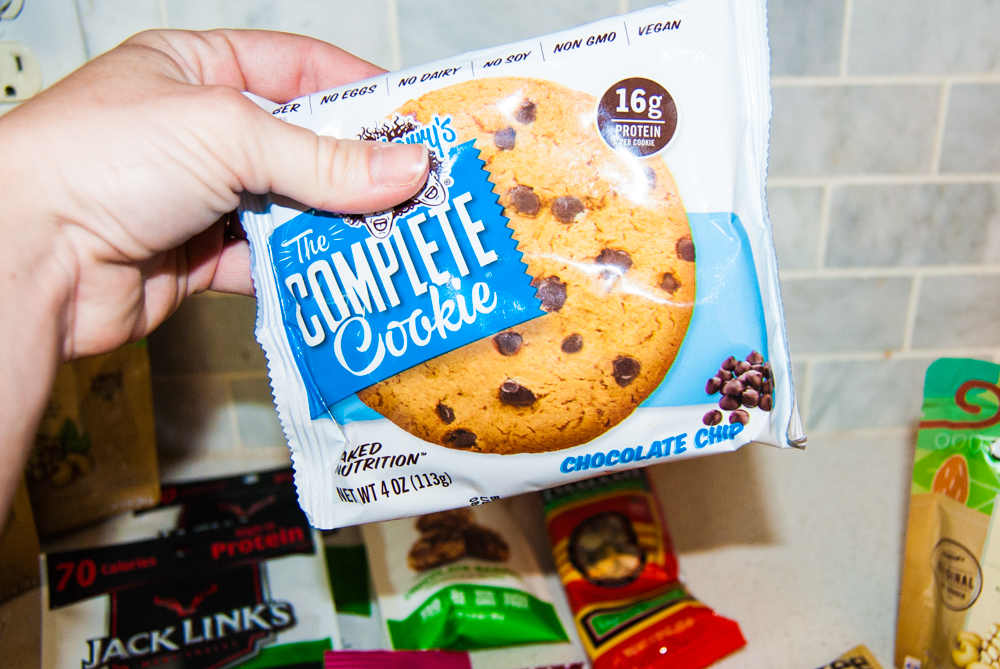 The Complete Cookie—High Protein, lower sugar cookie. I know…it sounds weird, but it is sooooo yummy! This cookie has 16 grams of protein, and if you're needing a high protein sweet treat, this seriously tastes like the real thing. These are $2 a piece on the website, and I just saw them at the gym yesterday selling for $3. So, they are priced well.  I love the snickerdoodle cookie, and I typically don't care much for snickerdoodle flavor foods at all. They are really moist. I was surprised at how good this cookie was. Don't be fooled by the size in the picture…its a jumbo size cookie!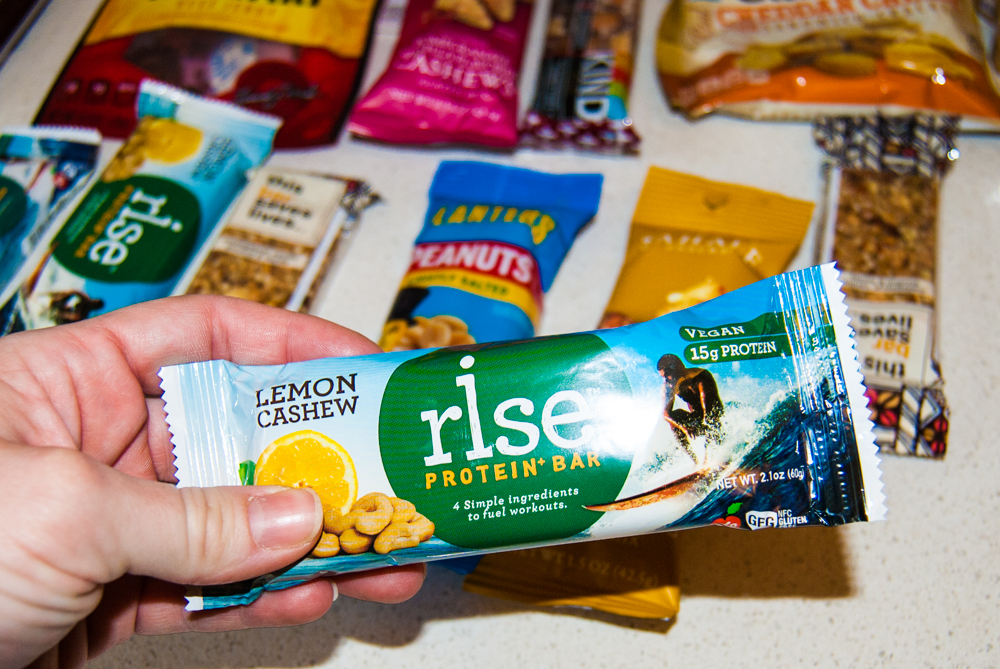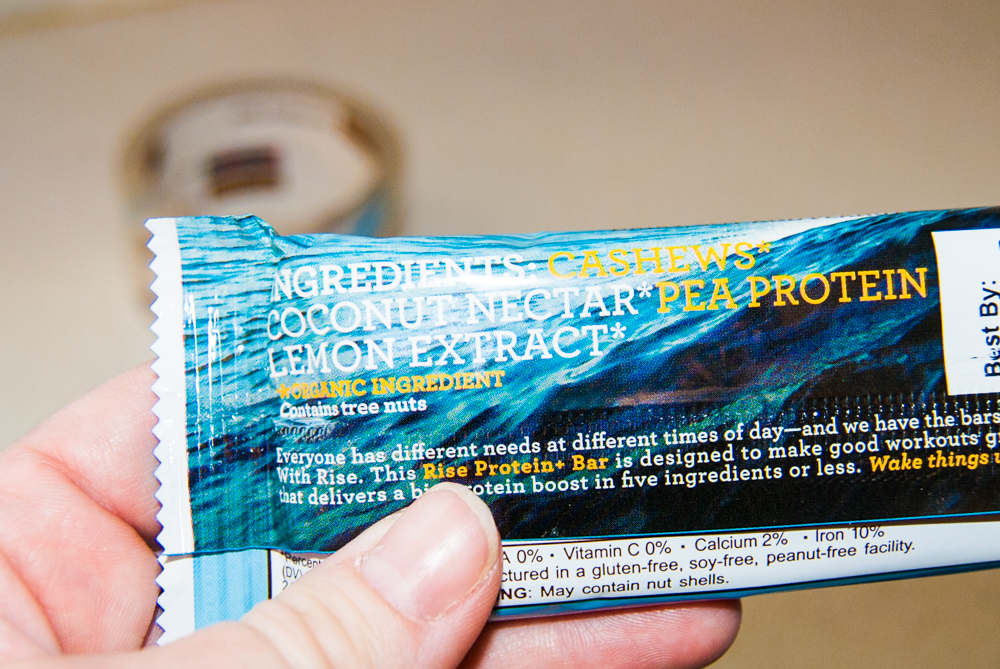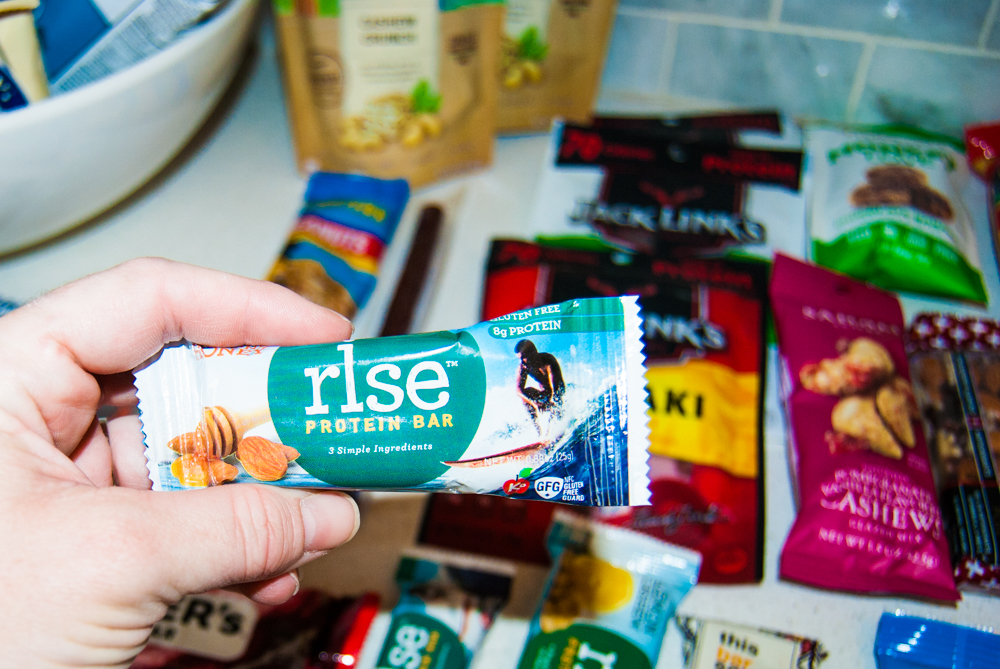 Lemon Cashew Rise Protein Bar—VERY YUMMY! Once again, high protein, with ingredients you can actually read. This bar tastes great! I will be including it in my monthly order.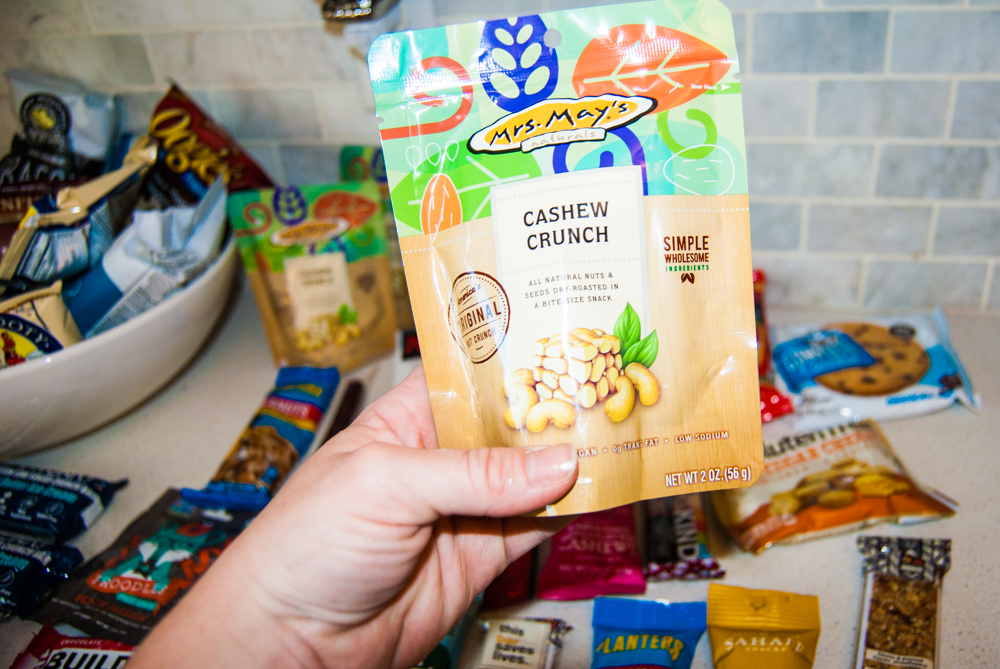 Mrs. May's Cashew Crunch—These are soooooo tasty. Another healthy snack and nut option. They are lightly sweetened cashew clusters….wowee they are good!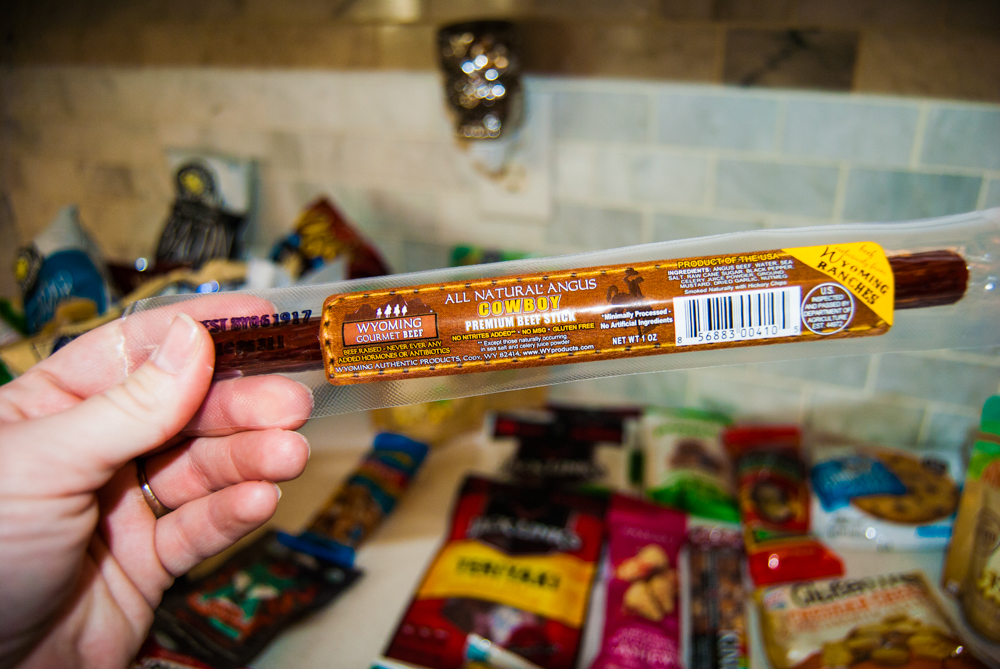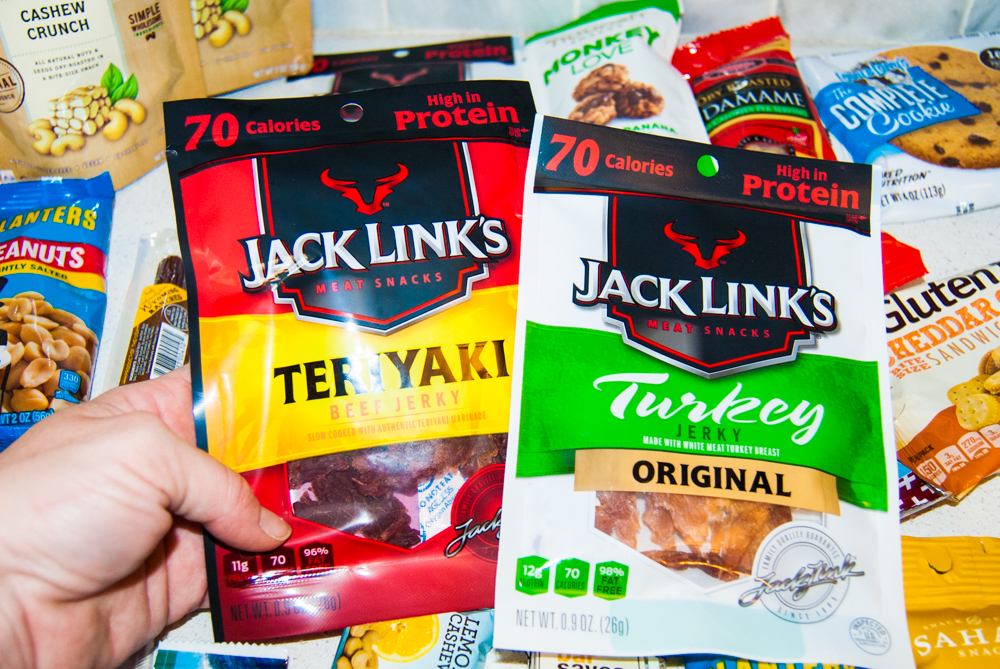 Jerky!—Initially, i was a little nervous about this flavor, but the Wyoming Gourmet Ginger Garlic Beef Stick tastes really good. Don't Be afraid to try it.  I also Love the Jack's Links Jerky–the turkey jerky tastes awesome! There are a lot of different flavor options including Peppered, teriyaki, original, and Turkey.  There are some other Jerky Brands, one of which is called Krave, and it is Chili Lime Flavored.  They are currently sold out, so I haven't had a chance to try it yet, however, if it's sold out.  It must be good!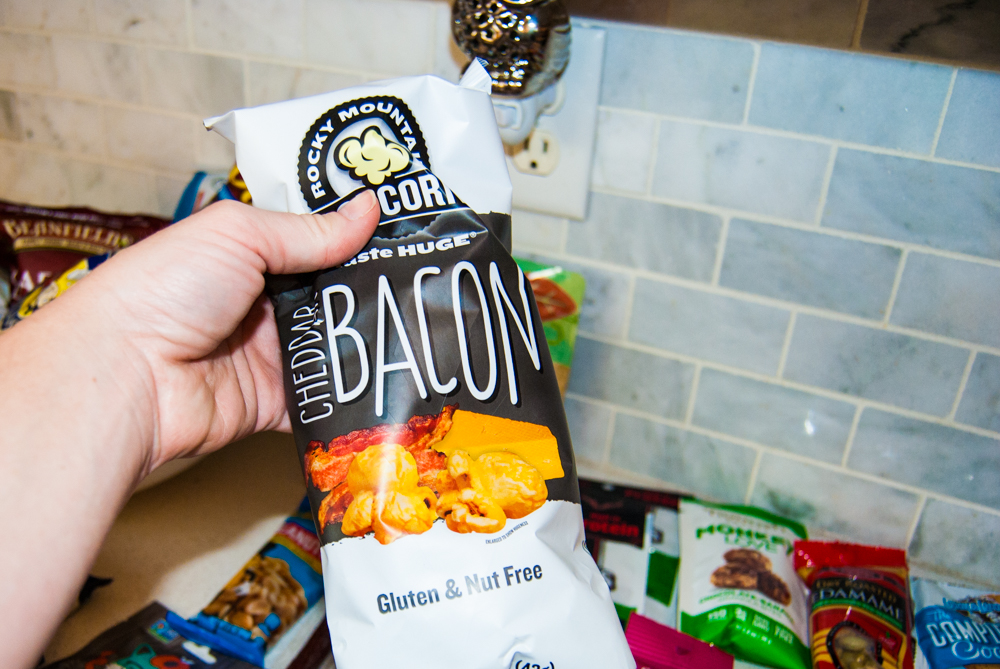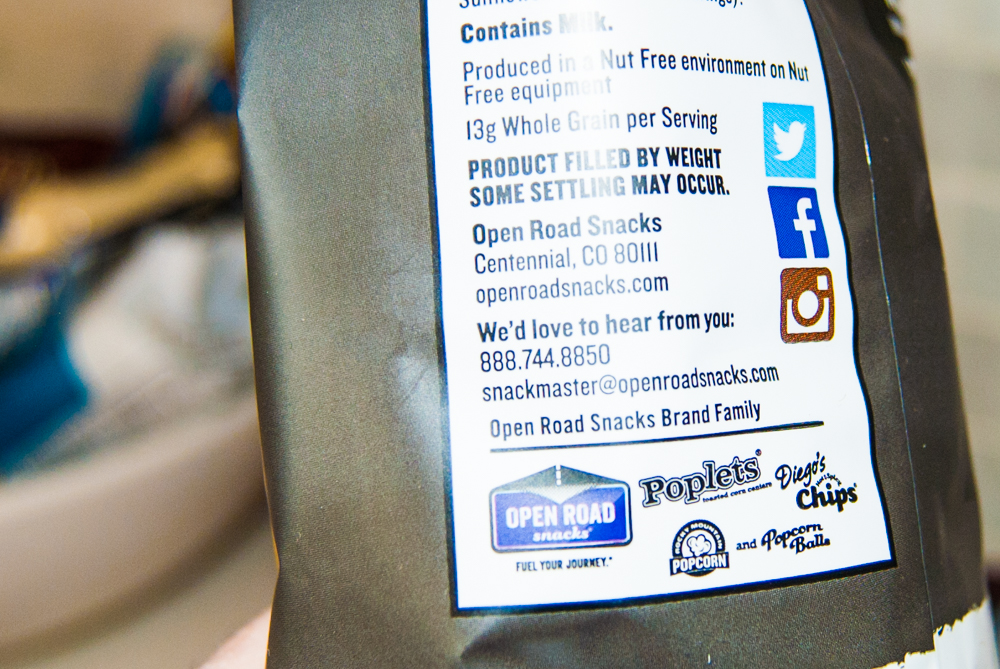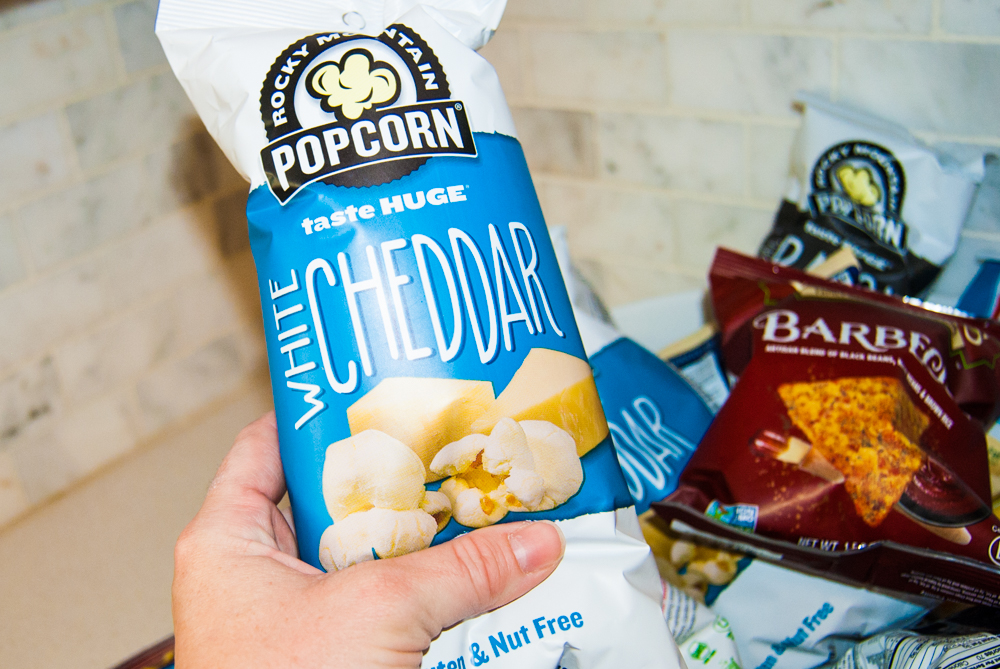 Rocky Mountain Cheddar Bacon Popcorn—My favorite flavor popcorn is the Rocky Mountain Cheddar Bacon popcorn. They have lots of other cool options too, like jalapeño, siracha, and white cheddar. This is a great tasting snack. The bag is bigger than it appears as well. It's a good size portion.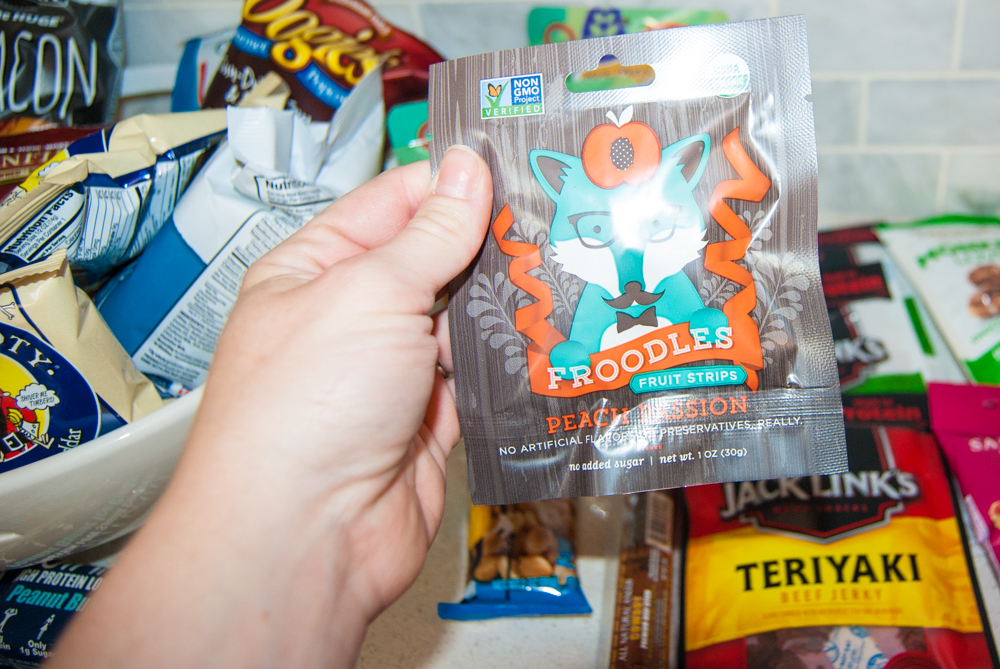 The Froodles Fruit Snacks are very delicious. They are also made locally in Grand Junction, Colorado. I have tried the Cherry flavor and the peach. They all taste great!
The beautiful thing about all of this, is that if you want to try a snack, all you have to do is order 1 in your order, try it out and see what you think. The thing I love most about this company is the variety, Al la Carte option. I don't ever get sick of my snacks, and I can order what my husband likes, and my kids like, while also leaving some room for myself. Everyone is satisfied.
They offer free shipping on orders over $69. I plan on ordering about once or twice a month, and this should give me, my husband,  and girls plenty of snack options—especially for our high protein requirements.
Check out Simpalo Snacks! They are run and operated by two amazing ladies…and I am just obsessed with the concept of the business. It fits me perfectly.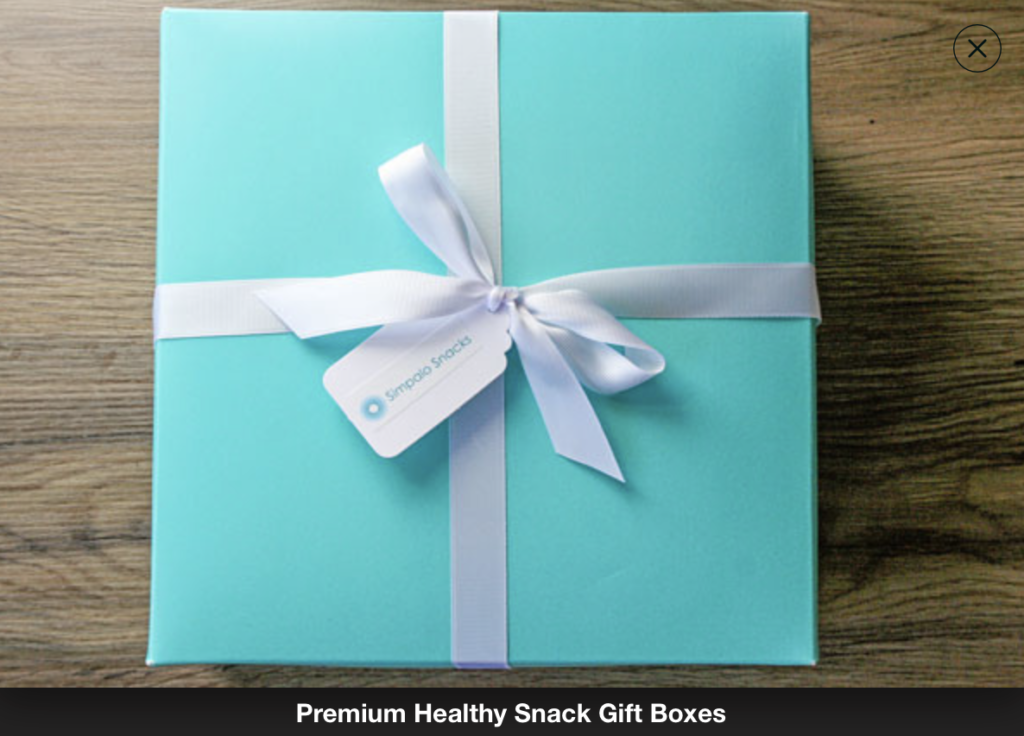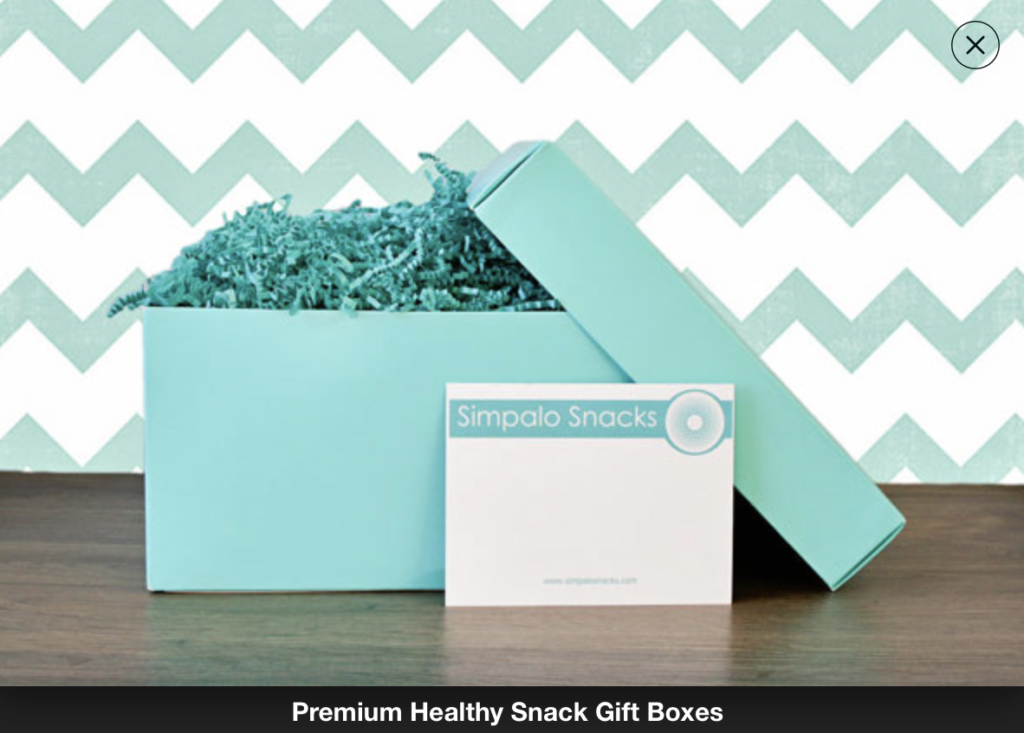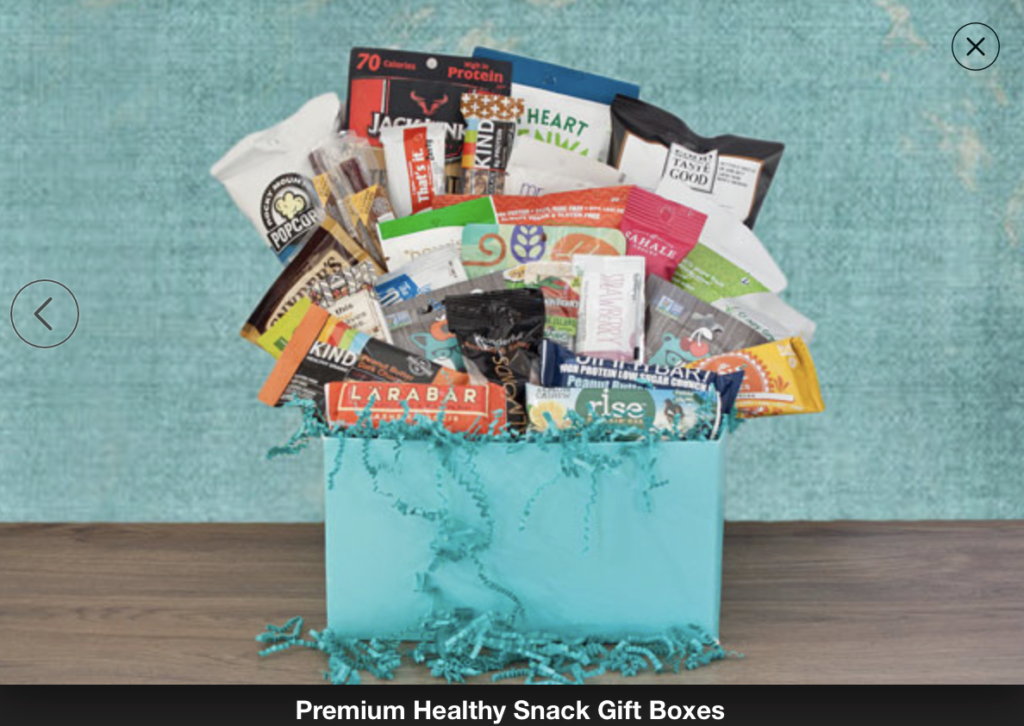 On a side note, I've personally been pondering the Christmas Holidays. This would be a great gift package for extended family members on your christmas list! Instead of the usual chocolates, or prepackages meats and cheeses, send a gift box of healthy snacks that your extended family can enjoy through the holidays! I truly have enjoyed Simpalo Snacks…share the joy!