All of Me Loves All of You Sign
This "All of Me Loves All of You" wood sign is accented with red and gold glitter, white vinyl, and gray stain.  It's the perfect addition to your Valentine decor this February.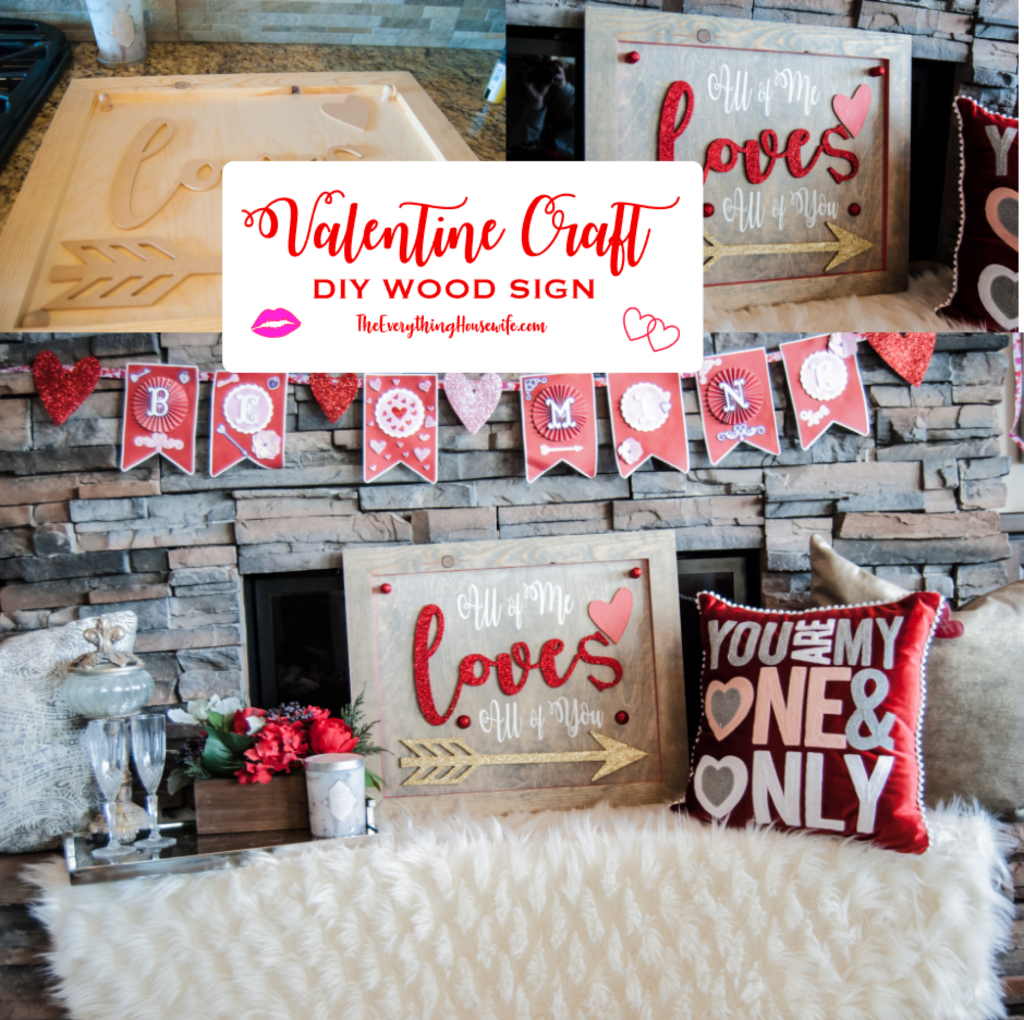 All of Me Loves All of You Sign
I love the song "All of Me, Loves All of You" by John Legend.  When this song first came out, I played it over and over again.  My husband loved this song as well, and knew how much I loved it, and so next thing I know, he is teaching himself how to play it on the piano.  Now I get to listen to my hubby sing it to me.  Watch out John Legend!!!!!!   This song is the epitome of romance which is why it is a perfect reminder of Valentines.   Whenever I make a craft, I try to personalize it to something that is meaningful to me.  I hope you like this beautiful valentine wood sign that I made.  It was a really easy project to make, and I got all of my supplies at Wood Creations here in Saint George, Utah.   However, this sign is my own design, pieced together with different supplies around the store.  You won't find a kit for this at the store, but you can create your own.  I have a silhouette Cameo machine, and so I cut my own vinyl lettering, but you can also have your own design cut at Wood Creations.
Directions for the Project:
1. I used gray stain for the wood.  Allow this to dry.
2.I also painted my wood cutout of the word "love" in red, and the "arrow" in gold (this gives a nice solid color to the background so that you don't have to be as precise with the glitter).   Then I covered the "love" and "arrow" with matte finish mod podge and coated them with red and gold glitter.  Do NOT apply mod podge over the top of the glitter because this will remove its shimmer.  Just apply a coat to the wood, and then dust with glitter and allow to dry.
3.  I cut red polka dot paper into strips and lined the inside of the wood frame, and I also used the same paper for the heart.  I adhered the paper strips and heart with more matte finish mod podge.
4.  Apply your white vinyl lettering to your stained wood board.  I always apply a coat of matte mod podge over the vinyl letters to provide extra protection.
5.  Finally, after all your coats of mod podge have dried on your wood frame, use wood glue and attach your glitter "love" and "arrow", and also attach your heart and any other wood accent pieces for decoration.