98 Year Old's Secret Recipe for the Best Lasagna
Grandma Gigi is my 98 year old neighbor, and she was kind enough to share her secret for recipe with me for the Best Lasagna Recipe.  She has given me permission to share this recipe on my blog, and so I hope you enjoy sharing this recipe with your family and friends. This recipe makes two large pans of lasagna.  This recipe also freezes well!  Just defrost over night and reheat!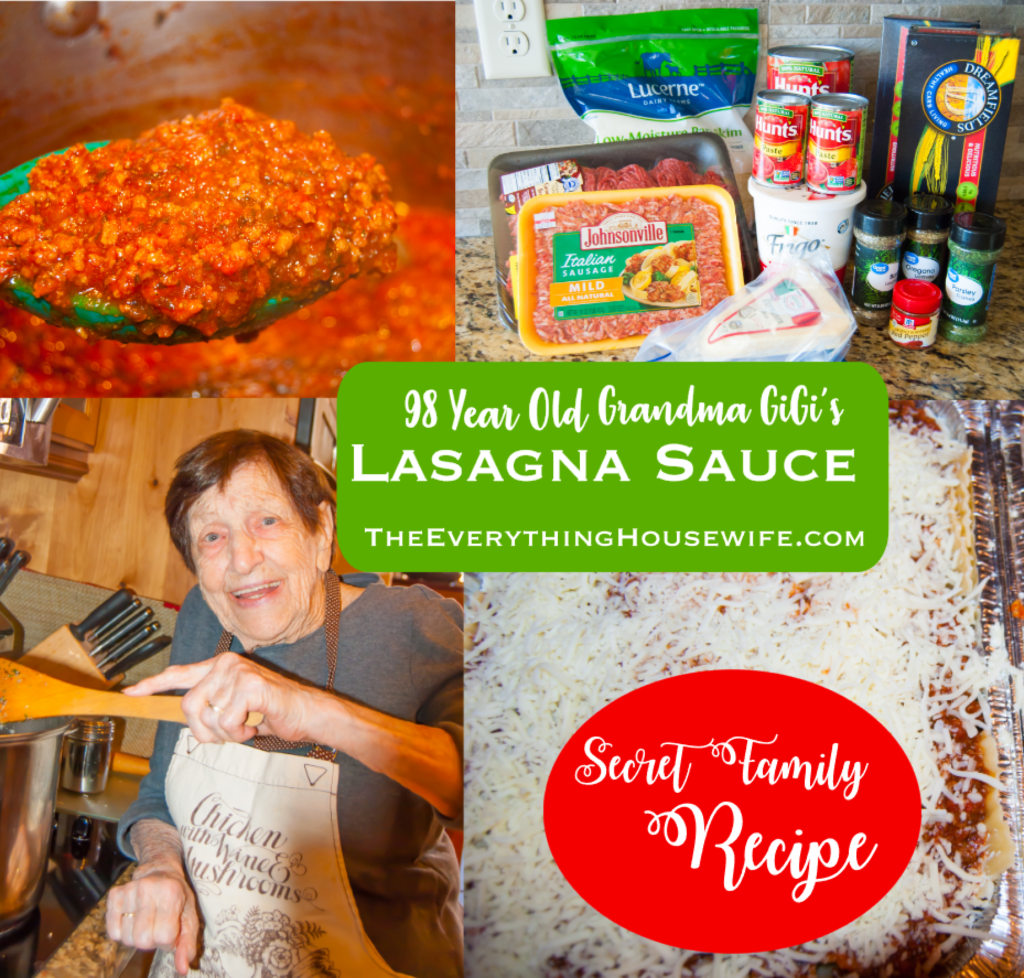 Before the Christmas holidays, I had the opportunity to learn how to make homemade lasagna sauce from scratch with my next door neighbor!  She is known as Grandma Gigi by her family, and she is 98 years old!  WOW!  She is a spirited lady who is young at heart! She has a lively personality, and even at her age, she is still cooking in the kitchen with family.  This recipe is a cherished family recipe, and the secret to the Lasagna is the homemade meat sauce that is slow cooked over several hours.  It is just simply delicious. Make sure you take a look at the photos below.  When bringing the sauce to a simmer–it should simmer on a very, very low heat.  You will notice from the photo, that there are just a scant, few bubbles that rise to the surface.  This slow cooking of the sauce on a low heat, for many hours, breaks down the meat and acidity for a flavorful sauce for your homemade lasagna, and simmering the sauce on extra low heat prevents it form scorching and burning.  If you have never tried making your lasagna sauce from scratch, this is the perfect recipe for you to use.  It will wow your family and friends, and even better, it makes a large batch that you can freeze for a later meal.  I hope you enjoy this recipe as much as I have, and thank you Grandma Gigi for your willingness to share!  It was a blast learning from an expert!
98 Year Old GiGi's Lasagna Sauce
For the Meat:
2 T. Olive Oil
6 Cloves Garlic, diced
1 lb. Hamburger
1 lb. Sweet Italian Sausage
Salt and Pepper to taste
Directions:  Brown Hamburger and garlic in five oil.  After meat is cooked add the following ingredients:
2 Cans Crushed Tomatoes (28oz)
2 Cans Tomato Paste (6 oz)
1 Onion, minced
2 and 3/4 cups wataer
2 T. Basil
4 T. Parsley
2 T. Oregano
3 Bay Leaves
Pinch of Red Pepper
1 tsp of Sugar
Combine all ingredients and bring to a boy.  Stir constantly, and lower temperature until ingredients simmer for 3 hours or more on a very low heat.  Taste and add spices as necessary for your taste.  The sauce should be thick and chunky. (This sauce tastes even better the second day).
98 Year Old Gigi's Best Lasagna Recipe
2 Pkgs Lasagna Noodles
1 Pot of Gigi's Lasagna Sauce (see recipe above)
2 (16oz) Cartons Ricotta Cheese
2 Lbs Mozzerella Cheese
1/2 cup Parmesan Cheese
This recipe makes two pans of lasagna.  Split the ingredients between both pans, and follow the directions below.  This lasagna does freeze well.  
Cook lasagna noodles al dente.  Do not overcook.  In a large, greased,  roasting pan place a layer of noodles making sure to overlap each row of noodles one over the other.  Also, extend the noodles up each side of the pan as well.
Layer noodles with ricotta, parmesan, mozzarella cheese, and pasta sauce. Then place another layer of noodles, and repeat layering with all other ingredients. Finish the final layer with lots of sauce, and then top off with lots of cheese.
Bake at approximately 350 degrees for 1 hour.  Remove from oven, and allow to cool for 15 minutes before cutting into large squares to serve.