Easy Tricks for Spooktacular Decor
[iheu_ultimate_oxi id="1″]
Easy Tricks,( or treats), for your Halloween Decor!  OCTOBER! Is finally here, and I've got some easy tricks to make your Halloween Decor Spooktacular this October!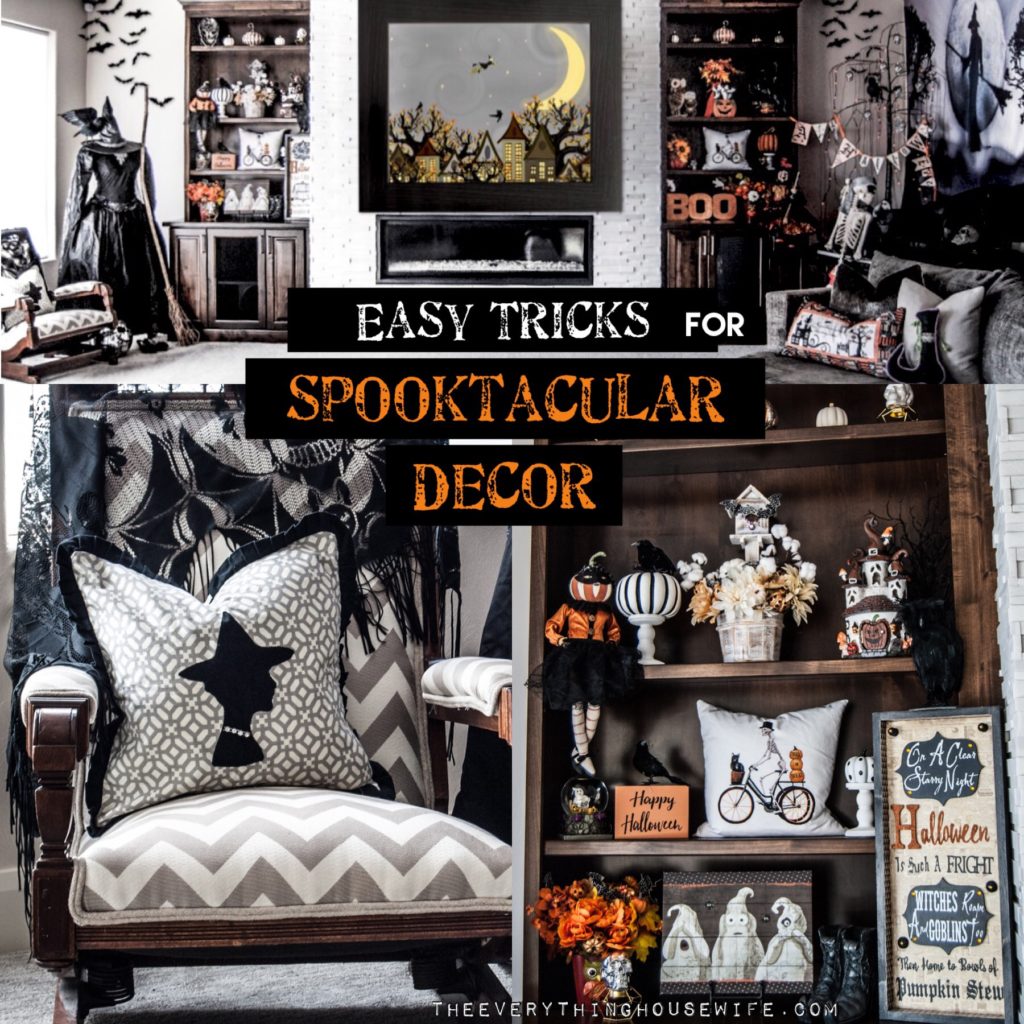 Easy Tricks for Spooktacular Decor
We've finally finished putting up all the Halloween Decor at my house, and I'm excited to share with you some of my favorite tricks for making your home spooktacular!  BWAHAHAHAHAHA!
When I decorate, I try to add a personal touch with handmade decor and creative tricks—often sentimental touches!  In this article, I'm going to walk you through just how personal these touches get—from decorations with personal quotes all the way down to reusing rhinestones from my wedding veil.  That's right….that's how personal my touches get! I hope you enjoy taking a walk through this part of my home!  I hope my Easy Tricks makes your home a little more SPOOKTACULAR this year!
A Dress form and A Witch's Dress
Most of you know that I love to sew!  This dress was my first big project for myself.  A friend gave me a bin of old Halloween fabrics, and the next thing you know I was making a witch dress.  I recently retired my "duct tape" dress form that you can find in this post HERE, and I was feeling sentimental about trashing it because my husband built the base, and I just wasn't ready to get rid of it yet.  So, I got a little creative this year, and took out my witch dress and we used it for a display in the basement.  Doesn't it look awesome!  If you look closely, you will see that the dress has a gorgeous rhinestone necklace around the collar with a crow on the shoulder.   The necklace was a gift from my Dad when I competed in my first pageant my freshman year of high school.  My Dad has been gone now for several years, but I love that I still have reasons to take out this necklace.  It's not something I would wear every day, but it goes perfectly on this witch dress and everyone comments on the necklace with the dress when they see it.  What a great use of an old dress form, a costume, and a gift from my Dad.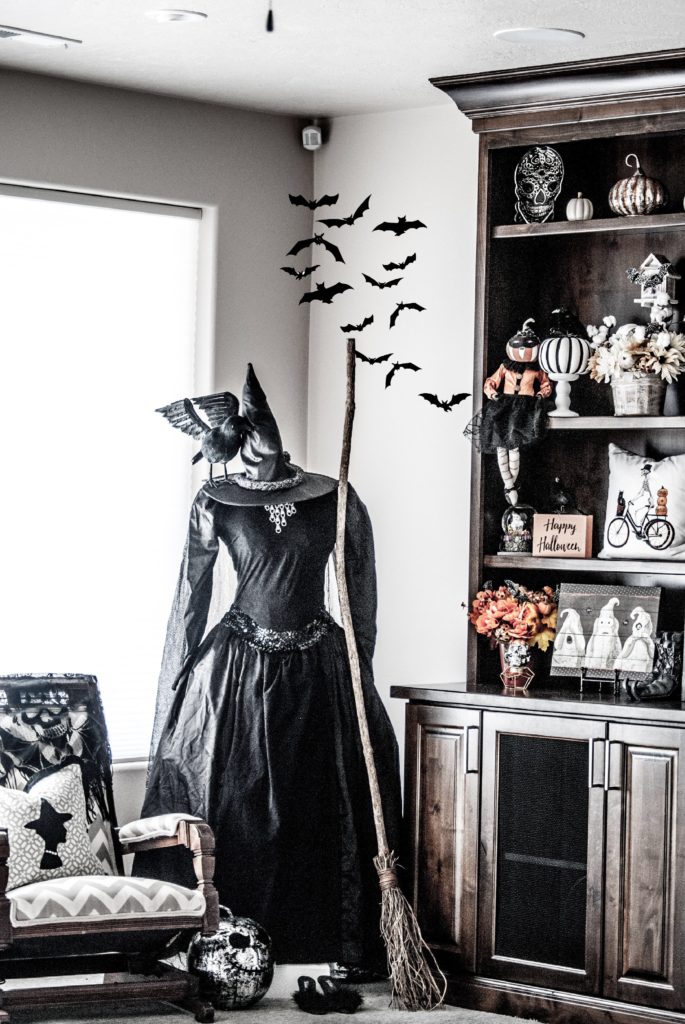 A Cresent Moon Halloween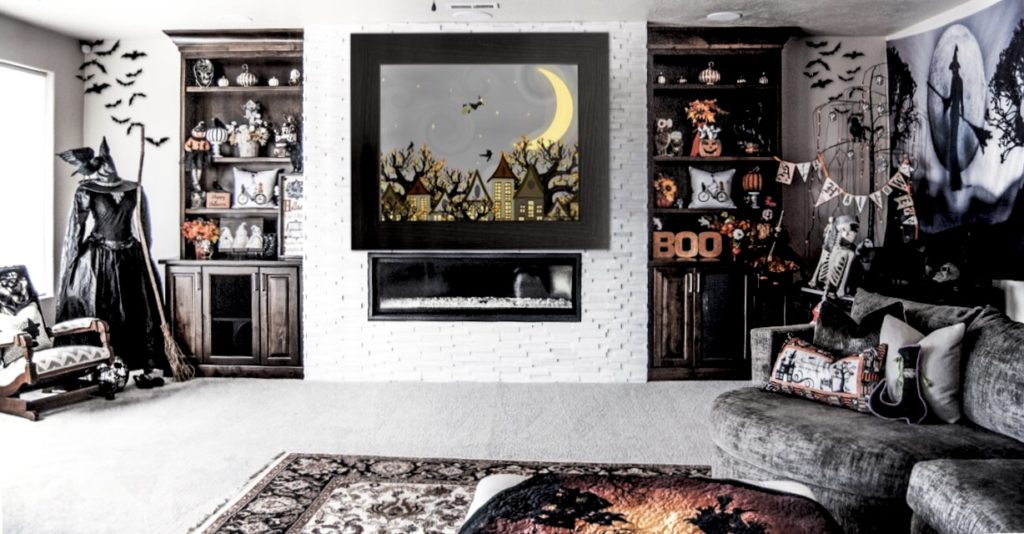 This piece of art hanging over my fireplace was a recent drawing from my book new children's book, "Alora: The Birth of A Good Witch."  The gorgeous fall leaves, and a witch on her broom flying toward a cresent moon.   This picture just feels like the month of October for me.  It gives me such a good feeling inside to be able to display a piece of my own artwork in my home that has so much meaning.    You can read my children's book HERE for free, and you can download a FREE copy of this artwork home below, just click on this photo below and save.
A Cresent Moon Halloween, By The Everything Housewife, FREE ART for personal use ONLY
Something Old and Something New
For this handmade halloween pillow, I cut the witch silhouette out of velvet and appliquéd it on to the grey and white fabric, and the rhinestone necklace came from a left over strand of rhinestones I used to make my wedding veil. A personal memory and personal touch gives a little more meaning to this pillow. This was an easy project where I took something old and made it into something new.
My Favorite Halloween Quotes
Don't just add any old quote to your Halloween Decor, add something that has meaning. The signs above I made have personal meaning. This is a quote from Alora: The Birth of a Good Witch from beginning line. My kids love seeing this sign in my home, and the James Arthur quote—well you've heard of James Arthur right? This song has been really popular on the radio for over a year now. It's called "Just Say You Won't Let Go." I know you have heard this song. Whenever he would sing the line in the song, "I want to live with you even when we're ghosts," I would tease my husband and say that is exactly how I feel about you. It's the perfect Halloween Quote, and who doesn't love James Arthur!
And Finally, you can find a DIY tutorial on my blog for this handmade sign HERE. It's so much more fun to display quotes you've made and that have special meaning to you in your home.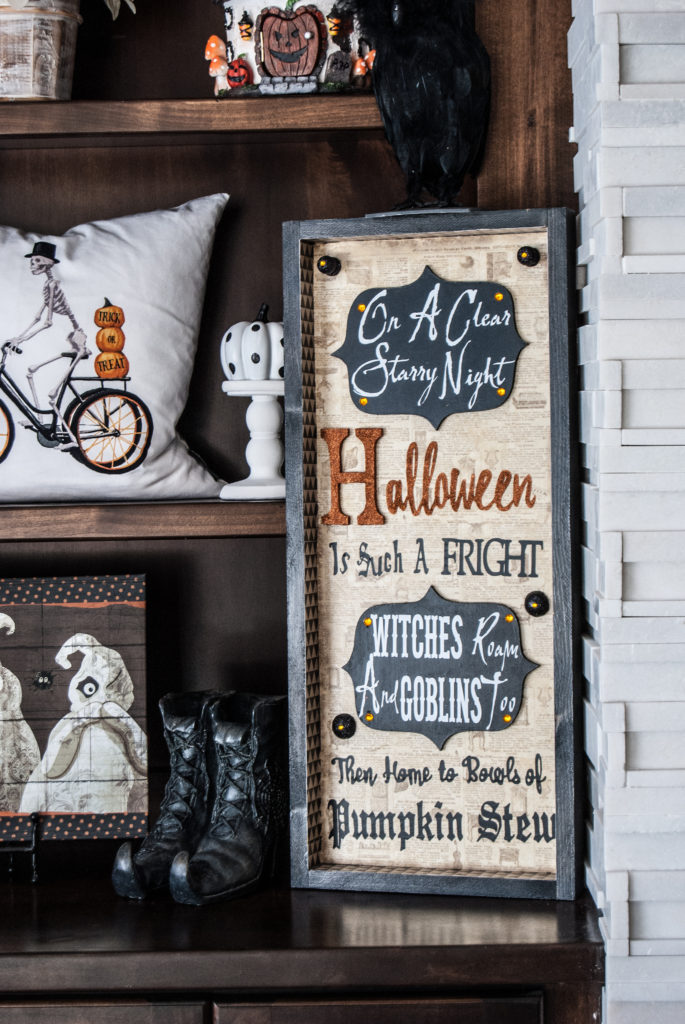 Floral Arrangments, Bats and Bookshelves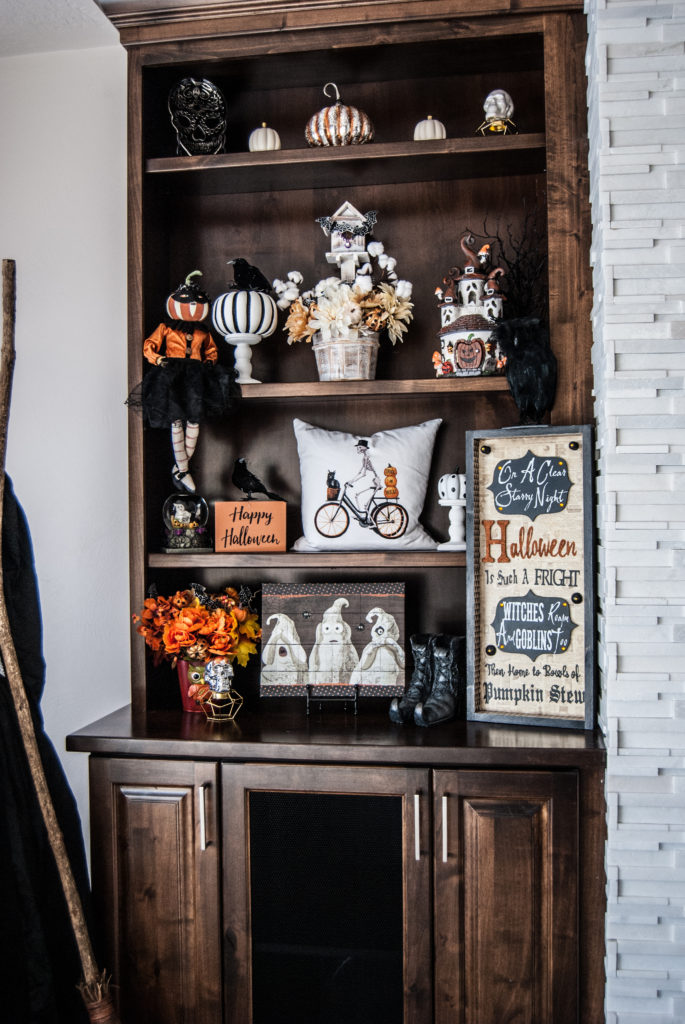 I just love my Halloween bookshelves. It can take a lot of decor to fill up shelves, and sometimes it's nice to have some floral arrangements to fill in some of the gaps. There is a DIY tutorial for these floral arrangements on my blog, and the best part about it is that they were CHEAP to make—the vast majority of the supplies came from the dollar store. Make sure you take a peak HERE.
Skeletons Here and There
Skeletons are SOOOOO in right now!  Adding a skeleton to your Halloween decor is one of the biggest trends this season, but if you want to make your Halloween Decor SPOOKTACULAR, make sure you set your skeleton up in a "scene."  Don't just put him in a corner or standing in the wall, have him playing the piano or sitting at the dining table for dinner (I will posting a table setting soon to give you some ideas!).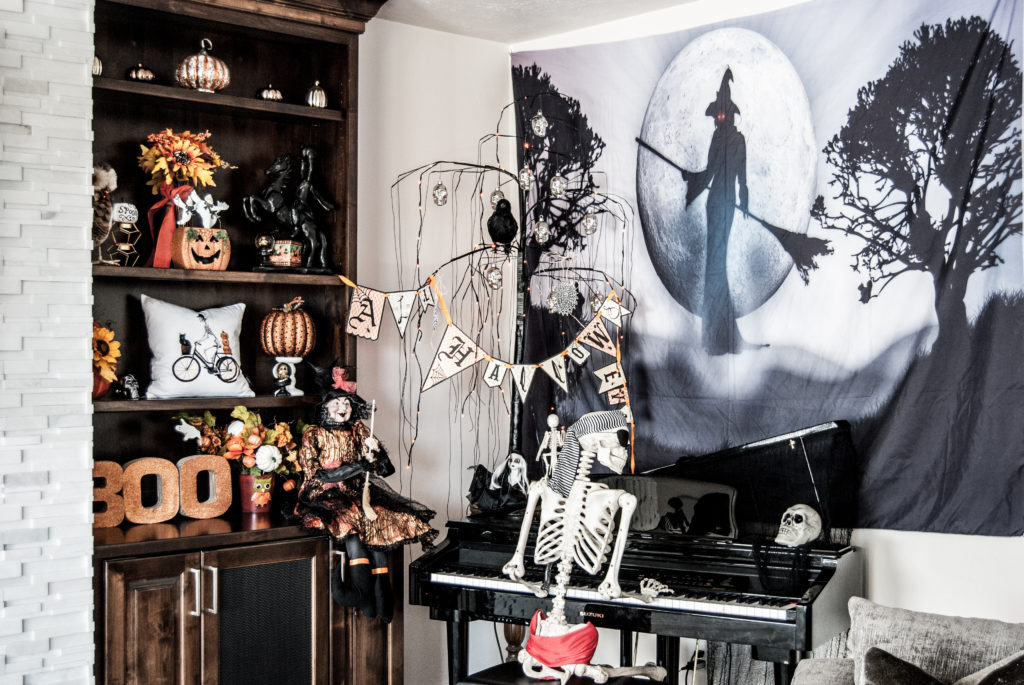 Halloween Paper Crafts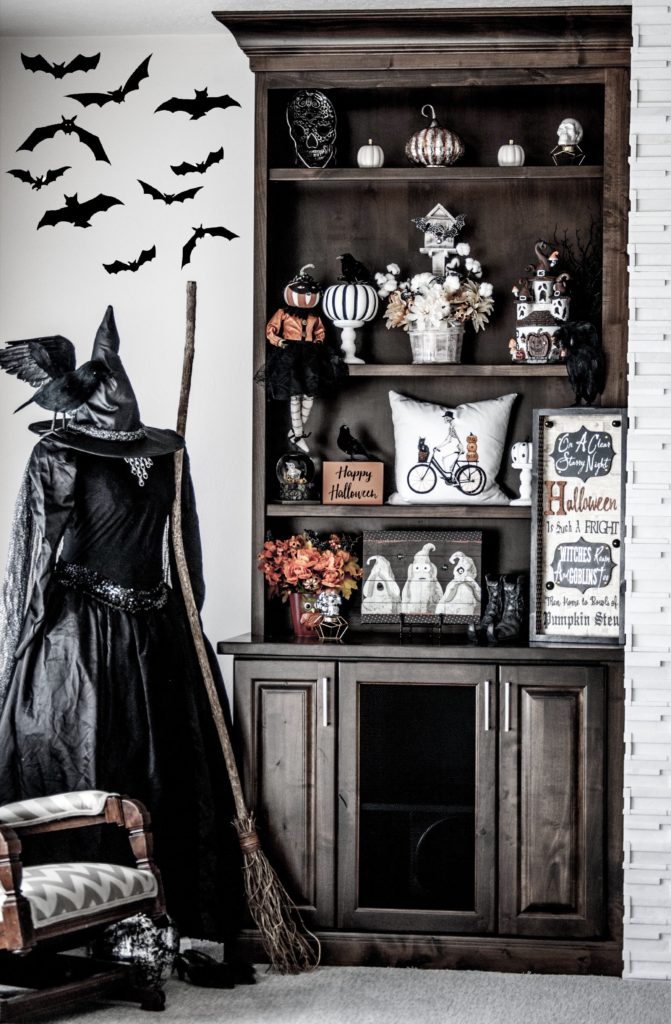 You can't go wrong with a Halloween Banner! This banner was handmade, but I also have a FREE printable version HERE
on my blog. Paper Art is cheap. It's an easy way to decorate that is affordable, and that you can easily enjoy. I love banners. I have a banner for every holiday. Don't forget to add some paper pinwheels for extra fun, and be creative where you hang it. It doesn't always have to go on a mantle—hang it in a dead tree like I did. Also, paper bats are an easy way to decorate an empty wall. Cascade your bats so that they look like they are flying.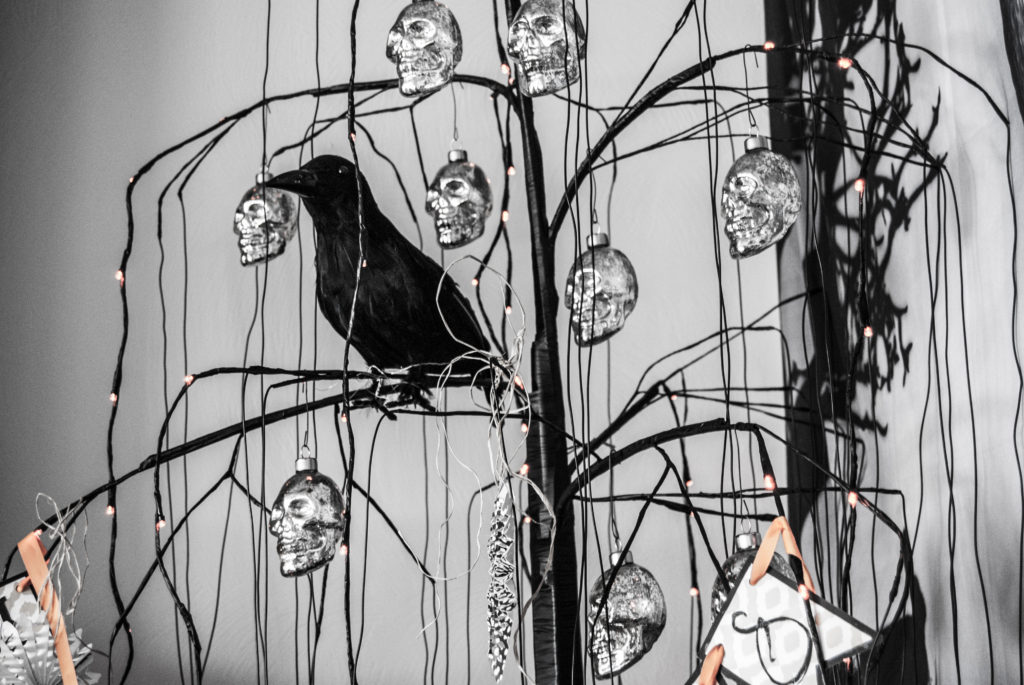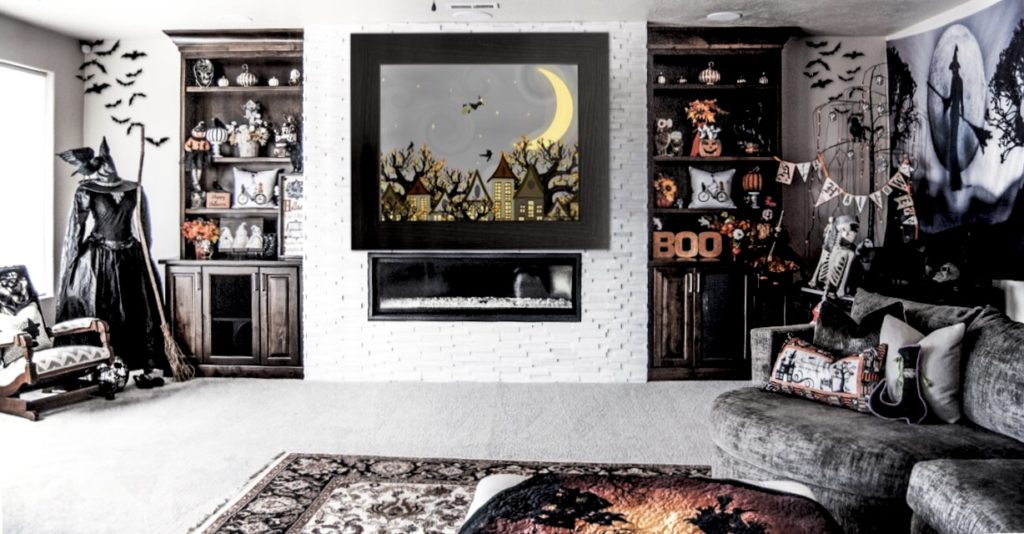 I hope you enjoy my Easy Tricks for Spooktacular Decor this Halloween!
Happy October!
~The Everything Housewife~