Before and After IKEA Kitchen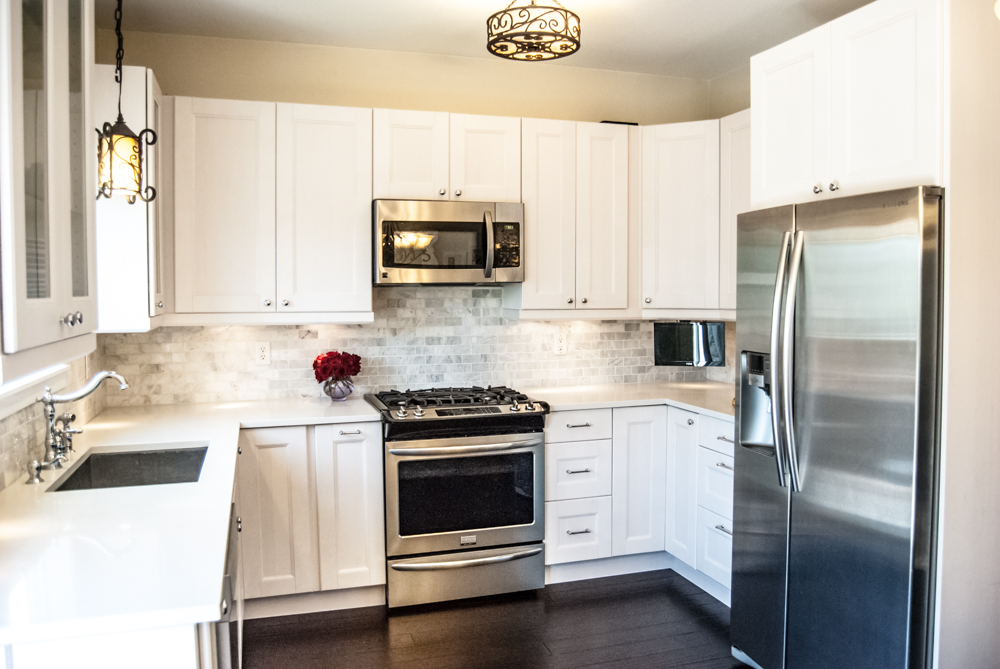 Before and After IKEA Kitchen
This is our IKEA kitchen remodel.  Doesn't it look fabulous!!!!!  These are the after photos.  We have had the kitchen completed for over a year now.  I should have posted this a while ago, with about a dozen other projects we've completed, but life, the baby, and a bunch of little munchkins keep me pretty busy.
This is the Ramsjo Kitchen–they no longer make the Ramsjo cabinetry….WHY????  I have no idea!  I loved this style cabinet.  It reminds me of the popular shaker style cabinetry that is found in homes right now.   They discontinued this style of cabinetry right after we purchased it.  However, IKEA has plenty of good looking cabinets to choose from for a great price.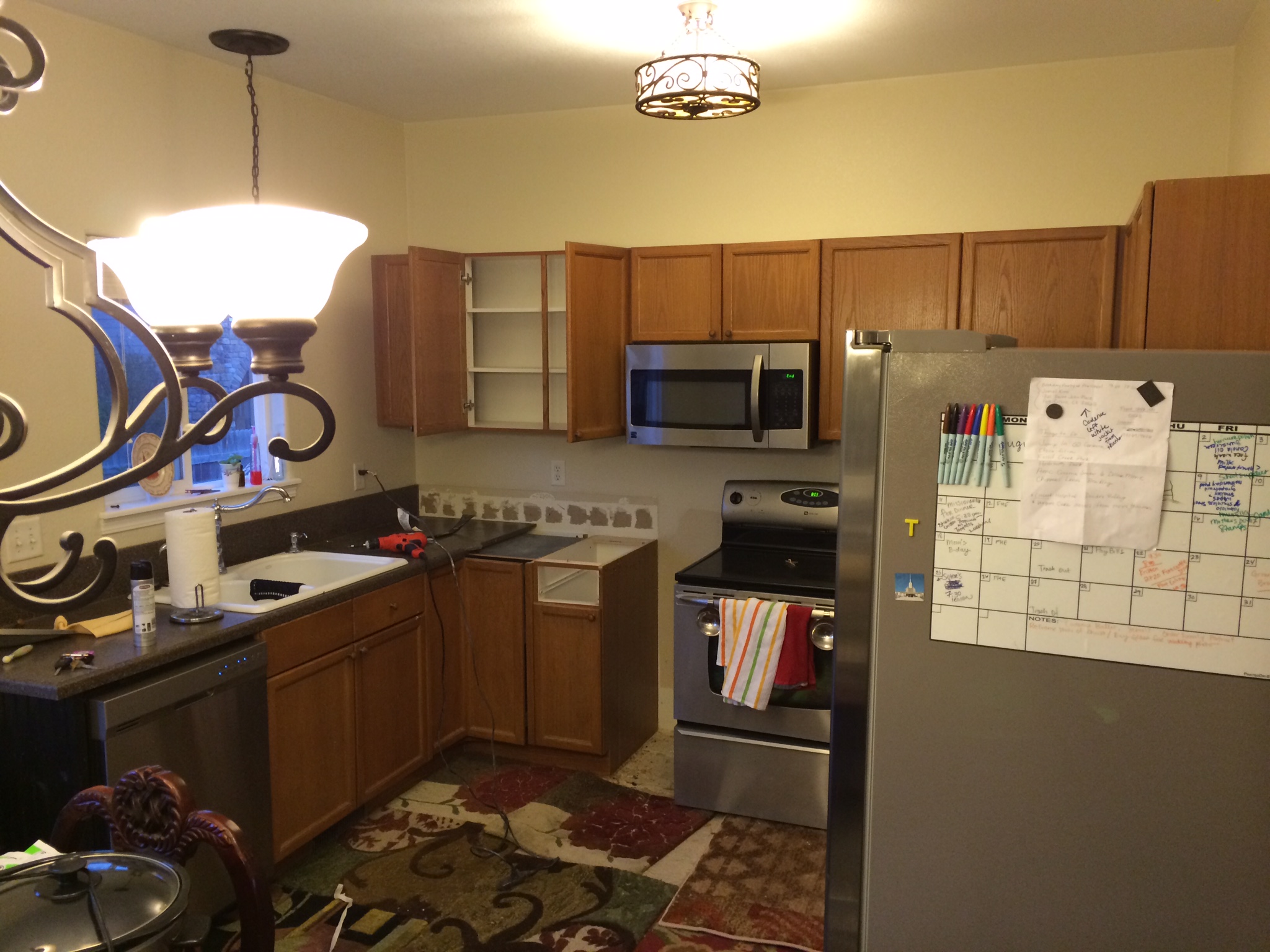 This is the before photo.  I'm sorry that I don't have a better shot, but you get the idea.   I will also add, if you are viewing this photo, you are in luck because you are looking at our new dishwasher and fridge.  The previous dishwasher was a lovely mustard yellow that was about 20 years old.   So, this kitchen looks pretty good compared to what was here before.   I really wanted to  incorporate the mustard yellow into my decorating scheme, but too bad for me–the dishwasher started leaking right before we started gutting the kitchen.
I chose a flat back stainless steel oven, and I am so glad I did.  It allowed for more of the marble subway tile back splash to be viewed.  We previously had a high back stove, and I didn't like its visual appeal as much.  We also added a gas line, which has made cooking so much easier for me in the kitchen.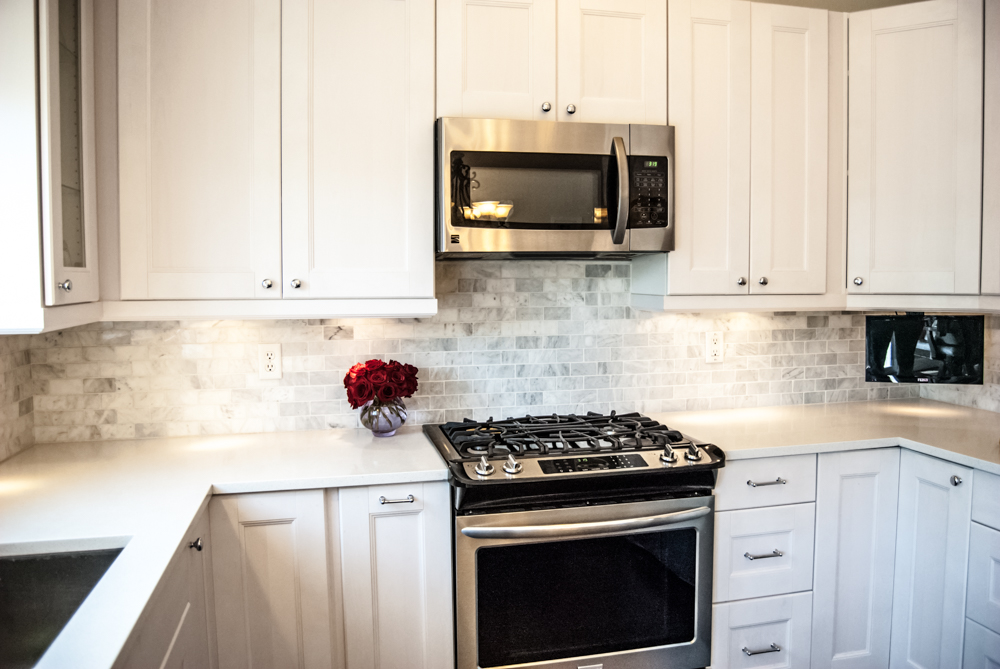 Yes!  That is a television in the corner.  Our home isn't set up in a way that would allow for an open concept living room/kitchen, so I settled for the next best thing–A mounted television.   One of my girlfriends has a small television in her kitchen.  It really makes up for the loneliness I feel when I am by myself prepping a meal when everyone is gathered in the living room.  It has a special mount that allows it to fold up underneath the cabinetry as well, so I can hide it if I don't want it visible.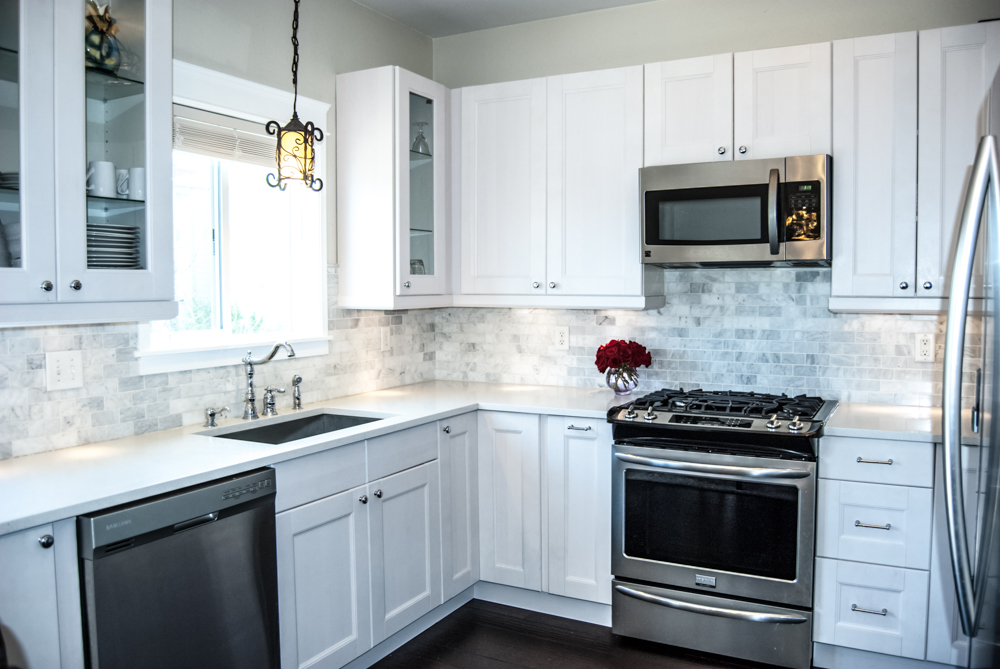 I love my zero radius, single-basin sink!  We had a similar sink in our previous house, and it makes all the difference when you are washing large pots and pans!  However, my favorite feature about this sink is that when I need to clean the kitchen in a jiffy, the sink is so deep that I can dump all the dirty dishes in to soak and have my countertops completely cleared–you can't even see all the dirty dishes in the sink.
We also opted for glass cabinetry on one side of the kitchen.  During the holidays I typically decorate the top shelf of my glass cabinets with something festive for that particular time of year.
Our countertops are a lightly speckled white quartz.   They are gorgeous, and have so far been very easy to keep clean!   I haven't had an issue with stains, and if anything sits for too long and leaves a mark, I just spray windex on the surface, and let it set for a minute or two and it comes right out.  I have had no issues with the light color.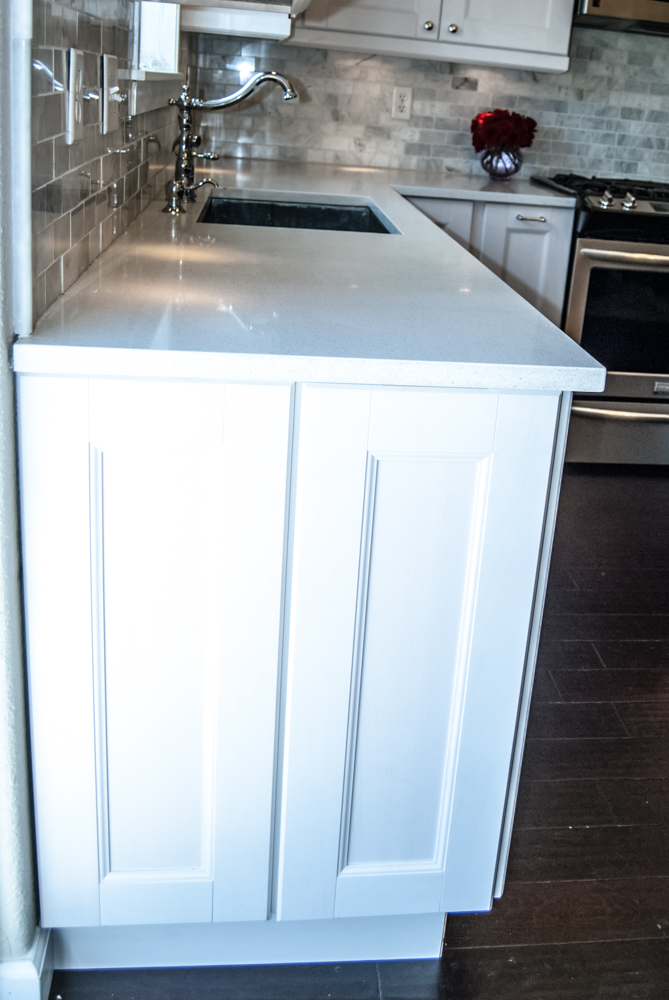 On the side of the cabinets, we purchased extra cabinet doors and mounted them as side panels.   It gave the kitchen a custom feel that only added a couple hundred extra dollars to the final bill.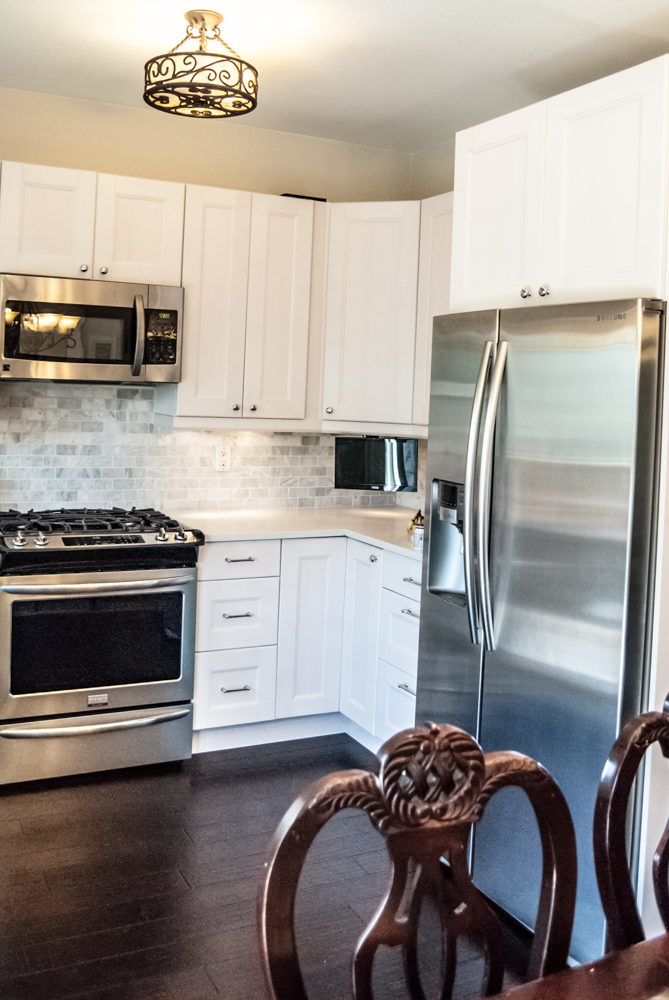 We added a custom built-in cabinet around the refrigerator.  This also gave the kitchen a custom feel, and is a great way to add extra storage above the refrigerator.   We chose extra tall cabinets above the refrigerator and throughout the kitchen.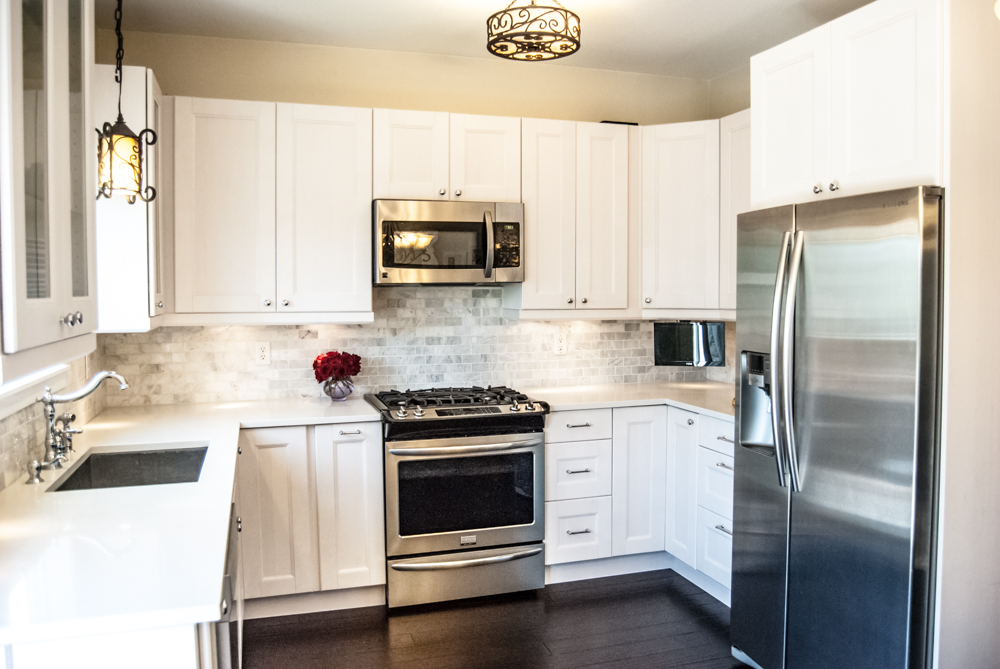 Overall, I love my IKEA Kitchen.  The cabinets and countertops cost around $5,500.  You can't beat that price!  Most quartz counter tops will run you close to that.   The cabinetry has held up beautifully over the last year.  It cleans well!  All the drawers are soft close, which I have not seen in much more expensive homes I have been in recently.   We purchased the kitchen at IKEA at a 20% discount.   They have special sales about 3 times per year.  If I had to do it again, would I???? Absolutely!
My only complaint was the length of time that it took to have our counter tops installed.   IKEA contracts out the counter tops at the lowest possible price, and so you are getting a great deal on quartz–better than I have seen at even the big box stores when they are running their best sales, however, you get stuck with their installation timeline.   We were without countertops for almost a month!!!!!   We finally wised up, and rigged the old sink over the new cabinets with an old piece of countertop….I wish I had done this from day one!!!!!!  But like I said, it was all worth it!.  You can't beat the price.
I would like to give a shoutout to my main squeeze for doing all the manual labor!  He is a champion!  The only thing he didn't do was install countertops and the gas line–he didn't feel like blowing up the house ;-).
We still might add crown molding, and if we do, I will add that as another post later on.