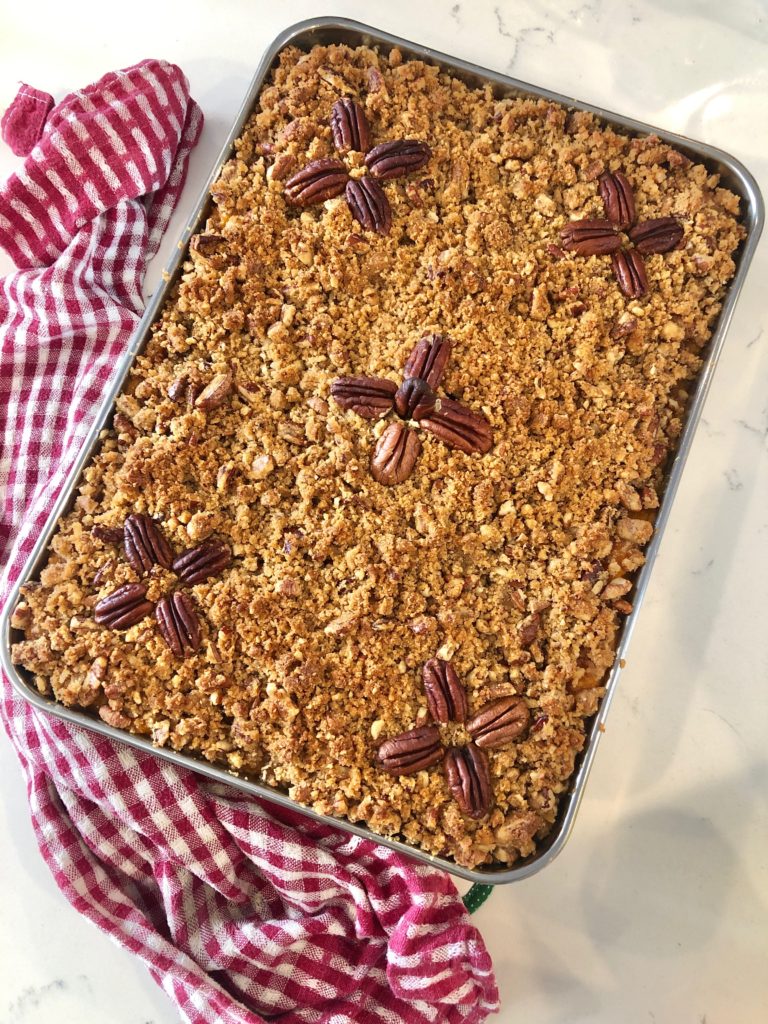 My grandmother made this Candied Sweet Potato Casserole every Thanksgiving and Christmas as a child! It is a family tradition for my husband and I that we have continued on! It's absolutely heavenly! The casserole is topped with candied, brown sugar pecans, and it's made with fresh sweet potatoes. This recipe easily serves 20 people!
Candied Sweet Potatoes For A Crowd
By: The Everything Housewife
8 Cups Sweet Potatoes, Mashed and Blended (12-14 medium to large sized sweet potatoes)
2 sticks of butter, softened
1 and 3/4 cups Sugar
5 eggs, beaten
1 Tablespoon Vanilla
1 Cup Milk
Pecan Topping Ingredients:
2 and 1/4 cups Pecans, Chopped into pieces
1 Stick Melted Butter
1 and 1/2 cups Brown Sugar, packed
2/3 cup All-Purpose Flour
Boil washed and scrubbed, sweet potatoes in skins until soft (I recommend the day before). Remove from water. Then, Remove skins (the skins should just slide right off).
Place sweet potatoes (skins removed) in mixing bowl. Use a hand mixer to blend until smooth. Measure out 8 cups of sweet potatoes, blended until smooth.
In a separate bowl, cream together softened butter, sugar, eggs, vanilla and milk.
Add the creamed sugar and butter mixture to the sweet potatoes. Blend with a hand mixer.
Pour sweet potatoes mixture into a greased, DEEP DISH, 9×13 casserole pan. You will need a DEEP DISH Casserole pan. HERE is a great deep dish online.
For your Candied Pecan topping, combine the pecan pieces, brown sugar, melted butter, and flour together in a bowl. Mix throughly.
Top Sweet Potatoes with Brown Sugar pecan mixture.
Bake at 350 degrees. 45-55 minutes, until slightly browned on the top, and sweet potatoes are heated through.
TIPS FOR YOUR CANDIED SWEET POTATOES
Always wash and scrub your sweet potatoes before boiling. I have had sweet potatoes that taste like dirt because I didn't scrub them beforehand. It's a rookie mistake, and I've made it.
Boil your sweet potatoes the day before. Then place them in the refrigerator overnight in gallon baggies. This way, the excess water and juices in the sweet potatoes will drain out overnight in the bottom of the bags. Less water in your sweet potatoes will give you a firmer casserole.
Boil your sweet potatoes with the skins on (always scrub them). The skins should just slide off after they are cooked. This saves you time peeling.
Always reserve a few pecans to decorate the top of your casserole. Make it a show stopper with this little extra detail!
This casserole can be baked the day before, and reheated at a lower temperature the next day. (275-300 degrees or reheating)