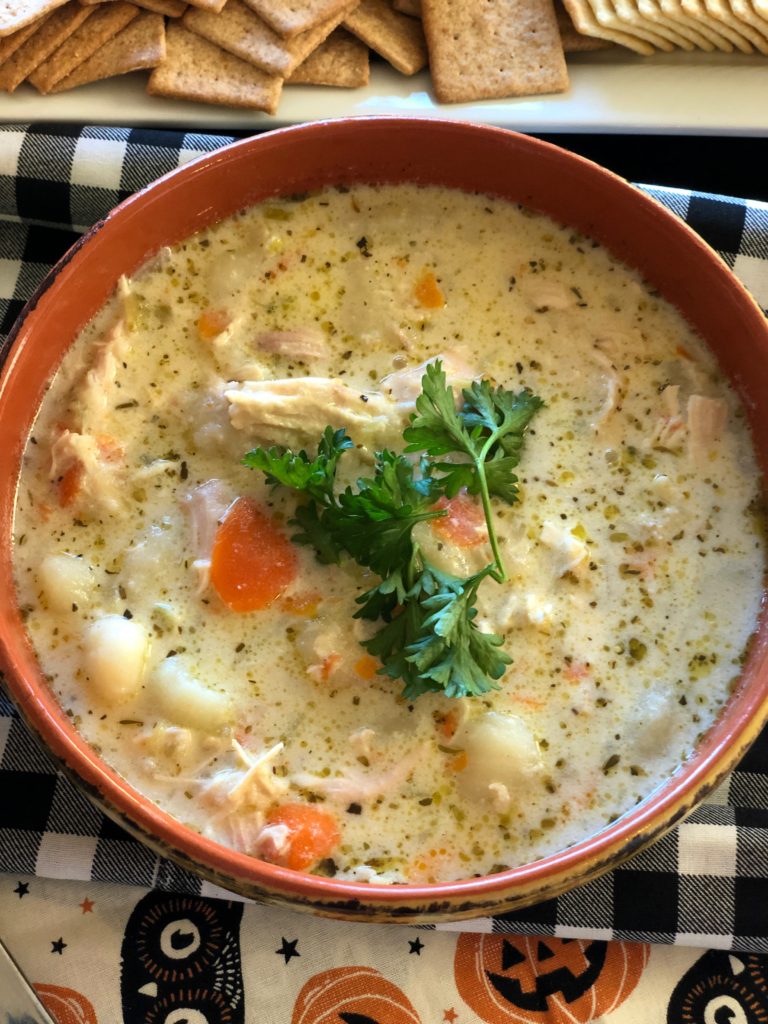 It's a cold, rainy day here in my neck of the woods, and so I wanted to share one of my favorite soup recipes with you—creamy, chicken gnocchi soup! This soup has been a hit at every single gathering I have made it for. If you were at my Halloween Party in October, you will remember that this pot of soup was cleaned out before any of the others were even touched. This soup is loaded with herbs and vegetables that make it a delicious, hearty treat on those cold dreary days.
This soup uses a roux to thicken it, as do many of my soup recipes. A roux is a mixture of some sort of fat and flour that is cooked on the stove, and then it is used as a thickener for soups, sauces, and gravies. In French, the word roux actually means "browned butter" which just sounds delicious, doesn't it? Every time I start cooking this basic mixture on the stove (just flour and butter/oil) my husband always walks in the room and says, "Wow, smells good, watcha cooking?" "Oh, just butter and flour!" I hope you give this recipe a try! It's one of my go-to soups that I make for a large group and keep warm in the crock pot! And yes!!! This is my own recipe!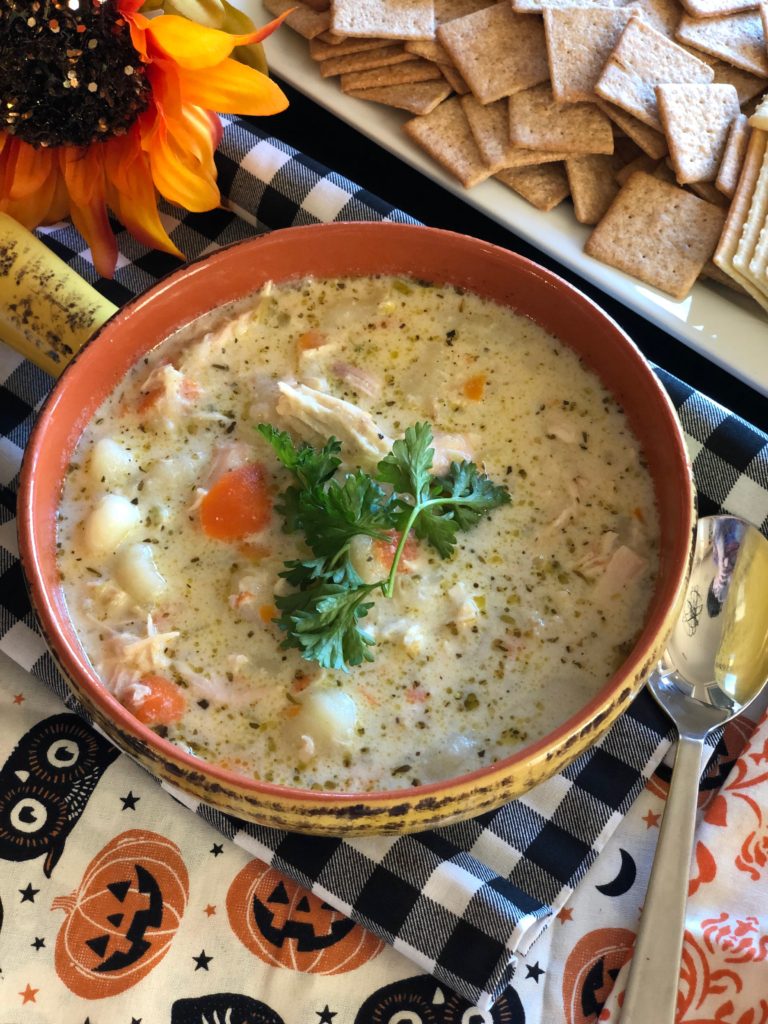 Creamy Chicken Gnocchi Soup
This soup fills a large crockpot, and feeds a crowd. About 16-20 Servings
4 T. Butter
1 Cup Celery, diced
1 Cup Onion, diced
1 and 1/2 cup, Shaved Carrot Medallions (sliced thinly with mandolin)
6 cups hot water
1 T. Italian Seasoning, (Dried Herbs Blend)
2 T. Chicken Bouillon Paste (I use Better Than Boullion Brand)
1/4 Cup White Wine
1/4 Cup Dry Sherry
1 Rotisserie Chicken, Chopped into pieces with skin and bone removed
6 Cups Milk
2 (16 oz) Packages of Gnocchi, cooked according to package instructions
3 tsp. Kosher Salt
Roux Ingredients:
4 T. Butter
4 T. Extra Virgin Olive Oil
1/2 Cup Flour
Roux Instructions:
In a sauce pan over medium high heat, melt your butter. Then add your olive oil, and flour. Combine the fats with the flour until it forms a smooth consistency. Cook over medium-high heat, stirring constantly so it doesn't burn until the color forms a golden brown, caramel color. DO NOT OVERCOOK your rue (meaning, just don't burn it, which is easy to do). When it reaches the right color, remove it from the heat immediately and set it aside until you are ready to add it to the actual soup.
Soup Instructions:
In a large soup pot, sauté celery, onion, and carrots in 4 tablespoons of butter until cooked through and tender.
Add hot water, Italian herbs, and bouillon paste to sautéed vegetables in soup pot. Bring soup to a simmer. Then add white wine, sherry, and chicken.
Add your prepared roux to the pot (see instructions above). After adding the roux, bring your soup to a boil, and then drop the temperature back down to a low simmer.
Finally, add milk, cooked gnocchi (cooked according to package instructions), and salt. Keep your soup at a low temperature until it is heated through so your don't curdle your milk. Keep warm in a crop pot and serve to a crowd.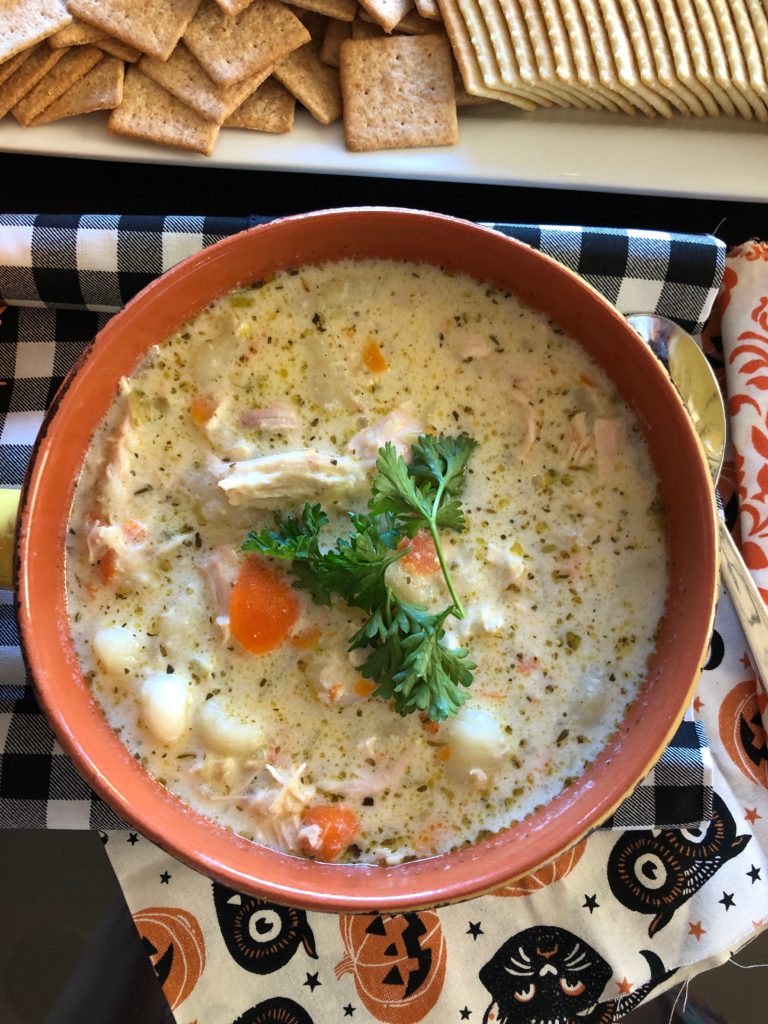 If you love this soup, be sure to try out my step dad's famous Seafood Clam Chowder! He has traveled the coast trying every clam chowder he could get his hands on, and created a recipe to beat them all! If you're a lover of seafood and clam chowder, make sure you give this recipe a try! This clam chowder is spectacular, and also a family tradition!