Dave's Seafood Clam Chowder For a Crowd Recipe–It's THE BEST…seriously!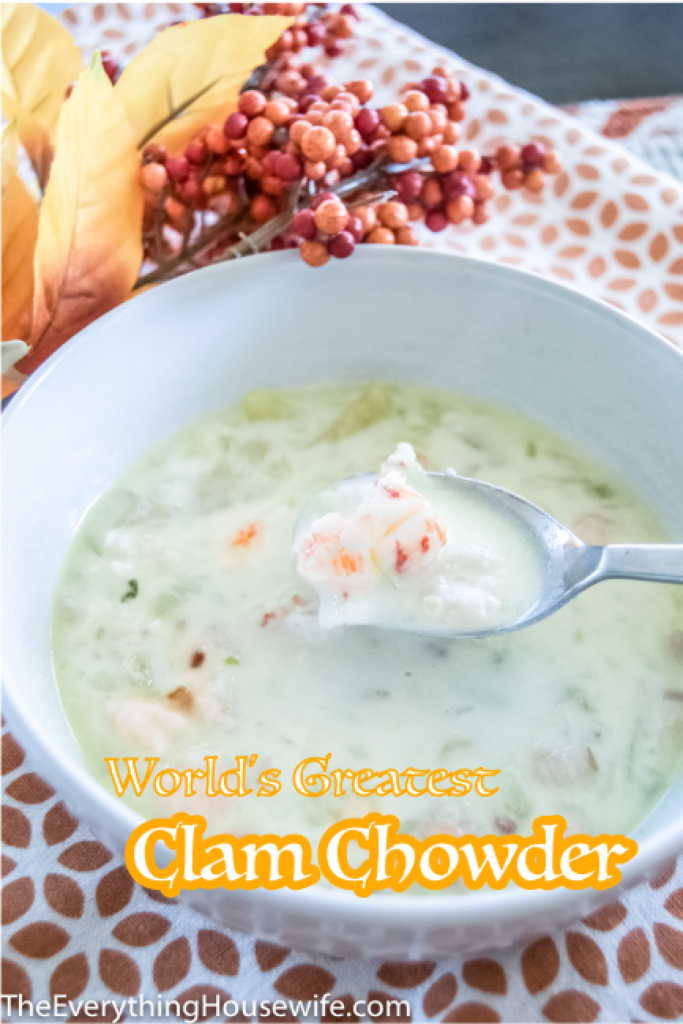 Dave's Seafood Clam Chowder For a Crowd Recipe–It's THE BEST…seriously!
My stepdad Dave makes the best Seafood Clam Chowder you have ever had!  But we have one problem!….he never writes down the recipe…ever!   I've watched him make it several times, and this was my own attempt at it.  He was here to try it, and it was a hit….AND I wrote down the recipe!!! Yay!   My Mom and Dave recently took a trip to the Oregon Coast, and they spent two weeks tasting and critiquing clam chowder at all the local shops.  They said this recipe stood up to them all!  I have to give all credit to him, and I hope when you try this recipe…it's the best you have ever tasted!  My step dad is one of the most amazing cooks.  There are sooooo many more recipes I plan to record…because this is just one of many amazing dishes he makes!
Dave's Seafood Clam Chowder Recipe
7 Stalks of Celery, diced
1 large onion, diced
8 Medium Yukon Golds, cut into 1/2 inch pieces, plus water for boiling
1/2 Tablespoon Chicken Bullion for boiling ( I use Better then Bullion)
2 Tablespoons salt for boiling potatoes
12 Slices Bacon, Chopped
4 Cups Water
5 cups milk
1/2 stick butter for roux
2T olive oil for roux
1/3 cup flour for roux
3 (6.5 oz) Cans of Chopped Clams, Save juice
1/4 Cup Sherry Wine
1 T Chicken Boullion
1 Tablespoon plus 2 teaspoons Kosher Salt
3 Bay Leaves
Fresh Ground Pepper, to taste
1 cup heavy whipping cream cream
1lb Langostinos, chopped
1 lb mini shrimp
In a large pot, add potatoes and cover with water about 1 inch above potatoes.  Add 1/2 T. chicken bullion, and 2 T. Salt to the water to flavor the potatoes.  Boil potatoes about 15-20 minutes, or until tender.  Drain water off potatoes and set potatoes to the side.
In the a large soup pot over medium heat, add chopped bacon.  Cook bacon until it begins to crisp, and then add celery and onion to pot and cook until tender.
Add to soup pot bacon-mixture: cooked potatoes, 4 cups of water, sherry, clam juice, 1 Tablespoon of bullion, 1 Tablespoon plus 2 Teaspoons Kosher salt, Fresh ground pepper to taste, and Bay leaves.
In a separate pan, begin making the roux.  Add butter, olive oil, and flour.  Cook over medium heat, stirring constantly,  until it forms a golden brown color.  Remove from heat immediately.  Then add roux mixture to soup pot.
Heat Soup Mixture until it comes to a simmer and begins to thicken.  Then turn to medium-LOW heat and add milk, and heat through.
After heating chowder through, Turn chowder to low heat and add clams, langostinos, and mini shrimp.  Heat through at low heat (about 5 minutes).