Pumpkin Cupcakes with Cream Cheese Buttercream Frosting Recipe
[iheu_ultimate_oxi id="1″]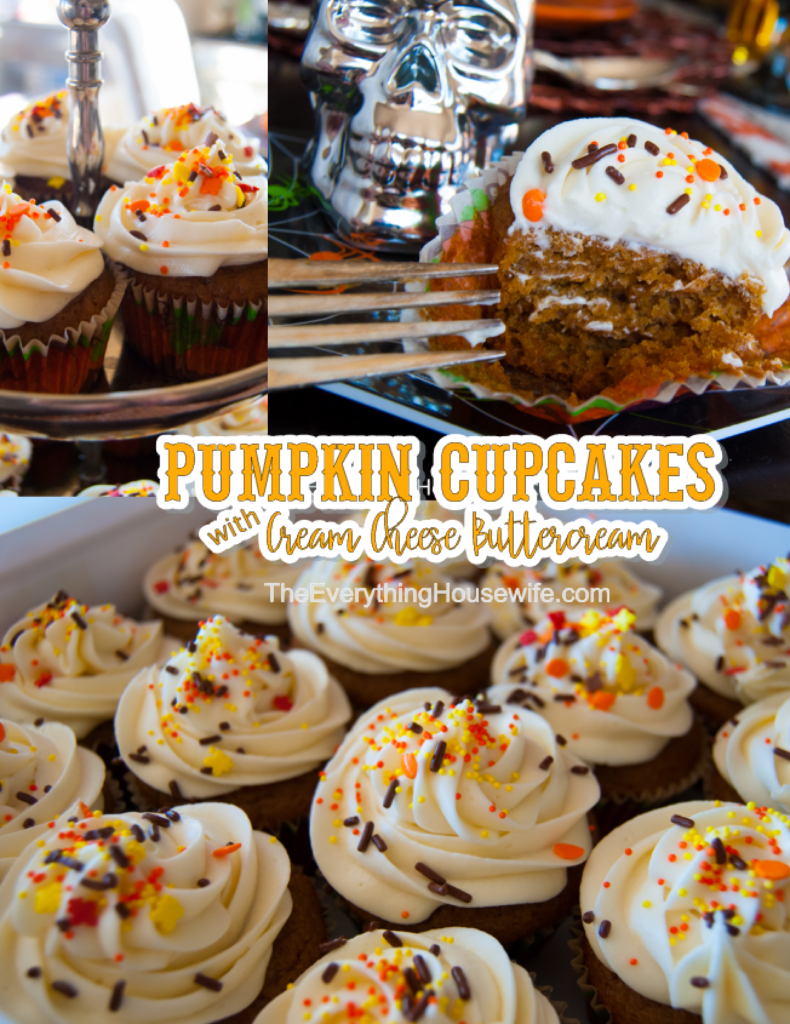 Pumpkin Cupcakes with Cream Cheese Buttercream Frosting Recipe
This Cake recipe belongs to my husband's great grandmother Otha Jeffs!!!!!!!!! That's how long it has been in the family, and my mother-in-law takes this same recipe and makes it into a sheet cake for Thanksgiving every year!  This is a recipe that has TRULY STOOD THE TEST OF TIME.  It's super moist, and has just the right amount of pumpkin spices.  We recently had a Friday the 13th party…just because we love October, and I decided to make this recipe to go along with our feast. It makes 24 cupcakes…and they sure turned out beautiful!  The cream cheese Buttercream frosting is my own, and my mom said it was the best cream cheese buttercream she had ever tried.  So you will have to let me know what you think.  I used a star tip to pipe the frosting, and my aunt had given me these adorable pumpkin cupcake wrappers and fall sprinkles as a gift…so I just had to use them.  They paired perfectly with this recipe.
I know you will love this recipe!  It's been used every single year since I have been a part of Cameron's family!  They never let a Thanksgiving go by without making this pumpkin cake recipe.  I hope you enjoy these cupcakes.  Let me know what you think.  We had tons of good feedback on them from the party!
Pumpkin Cupcakes with Cream Cheese Buttercream Frosting Recipe
Makes 24 cupcakes
2 cups flour
2 teaspoons Baking Powder
1 teaspoon soda
1/2 teaspoon Salt
2 teaspoons cinnamon
1 teaspoon pumpkin pie spice
2 cups sugar
3/4 cup oil
1/4 cup water
4 eggs, beaten
1 (15oz) Can Pumpkin
Preheat oven to 350 degrees.
Mix all ingredients together well.
Bake at 350 degrees for 23-27 minutes, or until toothpick comes out clean.
Cream Cheese Buttercream Frosting
2 Sticks UNSALTED butter, softened
1 (80z) block cream cheese, room temperature
3 cups of powder sugar
1 tsp of vanilla
pinch of salt
 Mix all ingredients in blender with wire whisk.  Blend for at lease one minute to create a whipped effect.
Use Star tip to pipe Buttercream onto completely cooled cupcakes.   Finish with Sprinkles.