Fall Banner and Thanksgiving Decor-Free Printable Version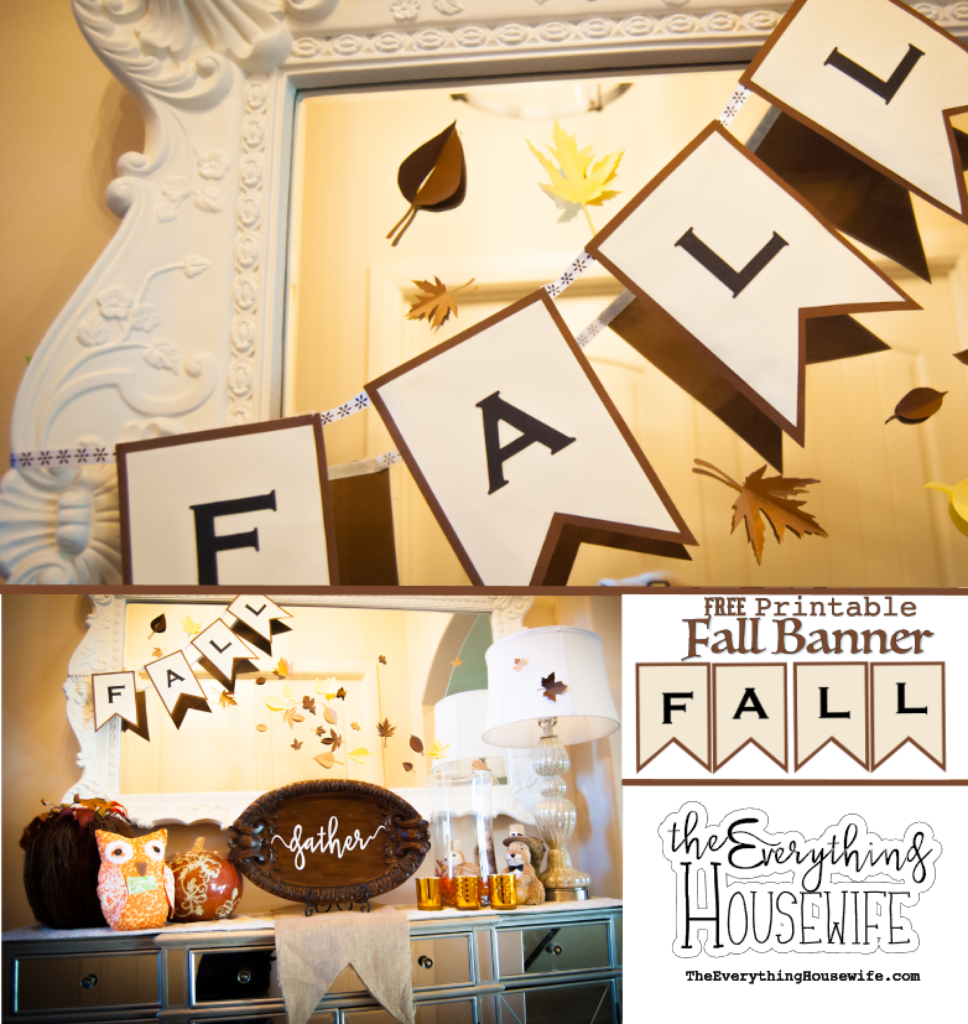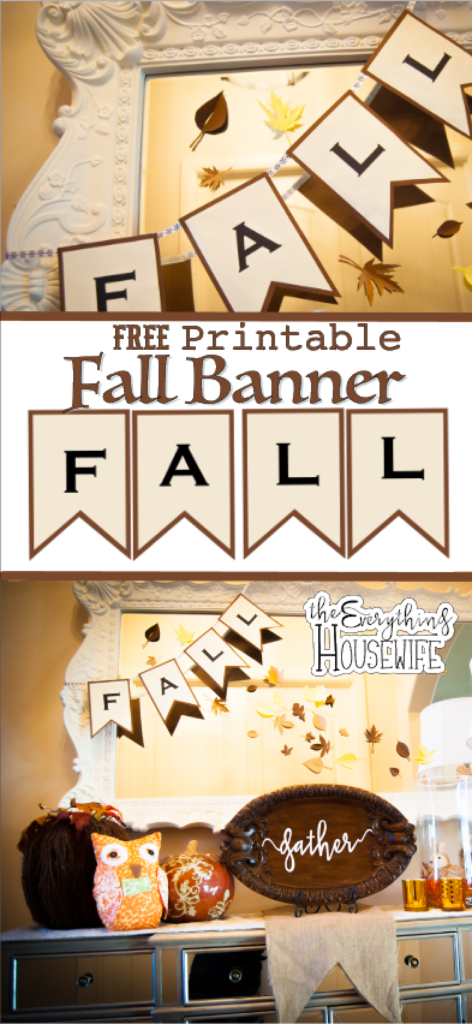 Fall Banner and Thanksgiving Decor-Free Printable Version
Hey There Friends!  Thanksgiving is approaching quickly–at least for everyone at my house!  I just got back from Boston and Salem a couple days ago, and so I have been in a mad rush to take down all my Halloween decorations, and get up the Thanksgiving decorations.  I've got a Free Printable Fall Banner coming your way that would look great on an entry way mirror, or across the corner of a mantle.  It really adds a nice touch….scatter some small paper leaves across the front of the mirror and attach them with sticky tack.  I cut my leaves out using my silhouette cameo, but if you don't have a cameo, just buy a bag of faux fall leaves at the dollar store–they usually carry these this time of year.
If you have never made or printed a paper banner…here are a couple pointers and tips for you!
Use Card stock, you don't want it to be flimsy.
To print, go to a FedEx store, Kinkos, Or Printshop…you'll only spend a few dollars more for high quality ink prints, OR, up the image quality on your own printer to the highest setting.
Hot glue your pendants to the ribbon…This is the quick and easy way to get it to stick to ribbon.
Use command hooks to hang your banner–for those awkward angles.
Store your banner in a gallon baggy and use it next year!  I never throw away a paper banner. Year after year, I always find a place for them.
This banner is really simple, but beautiful! And I love the fall leaves addition to my entry.  If you look closely, you will see that the fall leaves scattered across my entry mirror have a 3D effect.  I folded the leaves slightly down the middle, and creased them gently where natural veins in a leave might appear, and then I used sticky tack to adhere them.  For a project like this, sticky tack is so much more effective than individual pieces of tape AND you can reuse it.   Notice how I scattered a few leaves across my lamp shade as well–be creative…make it look like they are really blowing through.
The wood platter in the center is a platter I have had for years!  I decided to jazz up the space by adding some matte white vinyl, and cutting out the word "gather"…..this is a really popular tag line this year for Fall and Thanksgiving decorations.  Also, under the platter, I had a left over scrap of burlap from a project that I just finished for some outdoor Thanksgiving Decorations (which I will be posting soon).  The burlap added a little bit more focus to the center of my entry table, and it came from an old burlap sack that I have been saving forever for a future craft.  Well that future craft happened NOW!   You can get old burlap sacks for Free at factories…I'm pretty sure this sac came from the Budweiser plant that I used to live close to when I lived in Colorado.  I had a friend that worked at the plant, and she saved it for me because she knew I like to craft.