Hand Picked Farm Fresh Pumpkins Wood Sign-Fall, Thanksgiving DIY Tutorial
[iheu_ultimate_oxi id="1″]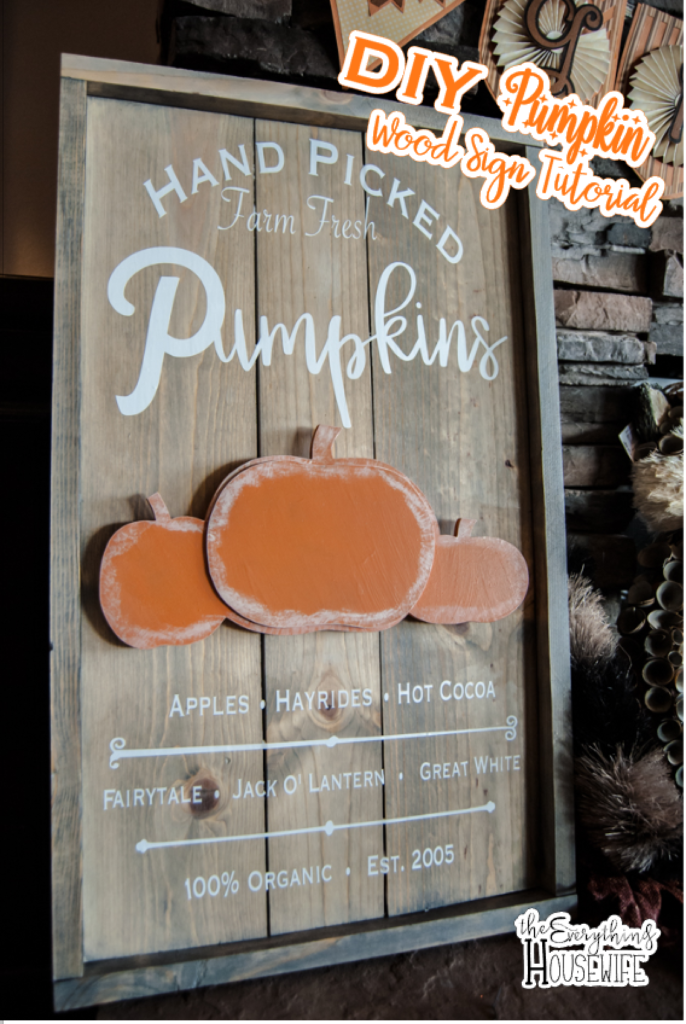 Hand Picked Farm Fresh Pumpkins Wood Sign-Fall, Thanksgiving DIY Tutorial
Hey There Friends, and HELLO THERE month of November! November is a short month for decorations if you're like me. I take down my Halloween, and I put up Christmas Decorations the very next day after Thanksgiving, and so November is my shortest month for decorations during the Holiday Season. BUT, that doesn't mean it's okay to neglect Thanksgiving! I have a huge crowd that I am planning on for the week of Thanksgiving this year, and I will have close to 30 people staying at my home, in addition to spending Thanksgiving Day with us! It's going to be a big week for my family, and so it's important to me that we embrace the Thanksgiving spirit! I want my guests to feel the pumpkins, apple spice, Turkey, and falling leaves when they walk through my home! If you want that too, this Thanksgiving sign is just for you–Hand Picked, Farm Fresh Pumpkins Wood Sign Tutorial!
I have seen this sign everywhere this year–or at least lots of different versions of it. My aunt has a similar one, and I had a couple different versions pinned on my pinterest–so it must be the trend this year! This is my own version of this sign–I pieced together a couple of different versions and look-a-likes of this sign, to come up with something I love. I found the supplies (the wood sign, and the pumpkin cut-out) at The Wood Connection–You can view their version of a pumpkin patch plank sign here. I spent around $20 on my project because I cut my own vinyl with my silhouette cameo, but if you prefer the look of their sign you can buy the kit at their website here. This is a really popular wood crafting store in Saint George. Every time I go in there, there are always people who have driven up from Las Vegas just to get supplies. So if you don't have this store locally, you can order the supplies–or be creative, and come up with something new! Use an old piece of wood, or make a printable version and mod podge it to a piece of wood, or put it in a frame. Your options are endless!
This sign was really easy to put together. Here are basic instructions.
Directions For Hand Picked Farm Fresh Pumpkins Wood Sign–Fall Sign, Thanksgiving Sign DIY Tutorial
Supplies
Wood Sign
Wood Pumpkins
Small thin piece of wood (to create the 3d "pop-out" pumpkin effect)
Gray Wood Stain
Wood Glue
White Vinyl (cut with the phrases you like)
Orange Acrylic Paint
Ivory/Cream Acrylic Paint
Pant brushes and sponge brush for application
1. Apply gray stain to your wood sign. Leave on for about five minutes and then wipe excess off. Do not allow the stain to dry. I applied two coats following these procedures.
2. Paint your pumpkins orange with Acrylic Paint.
3. Apply a coat of ivory acrylic paint to your brush, dab off excess, and brush the outer edge around your pumpkin cut out.
4. Apply a coat of gray stain to your pumpkins, leave for about a minute, and then wipe off. (This gives the pumpkins a little bit of an antique/aged appearance. When the pumpkins are dry, use a small piece of wood to make the pumpkins "pop-out" for a 3D effect. Glue down the wood, then glue on the pumpkins to the sign. (see Photo)
5. Make sure everything is dry, and apply matte white vinyl cut to your sign. I really loved the Hand Picked Farm Fresh Pumpkins Phrase.
6. Apply a light coat of Matte Mod Podge over the sign to add a layer of extra protection so your vinyl doesn't peel off at a future date. Let Dry…and that's it!
Here is the phrase I cut for my vinyl…I found a few beautiful signs online with this Phrase, but they were a little bit out of my price range…wink wink…here's to the affordable version!
Hand Picked
Farm Fresh
PUMPKINS
Apples, Hayrides, Hot cocoa
FairyTale, Jack O' Lantern, Great White
100% Organic, Est. 2005 (That's a special year for me… you should pick a date that is special to you)