My Most Popular Banner to Date!  All Hallows Eve Halloween Banner-Free Printable Version!
[iheu_ultimate_oxi id="1″]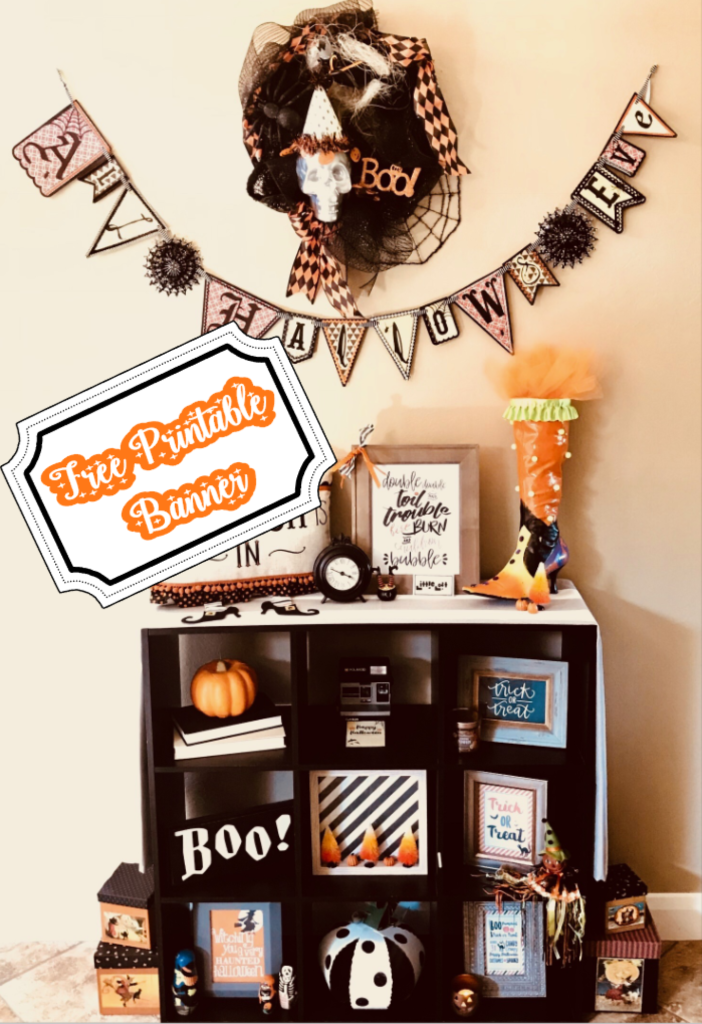 All Hallows Eve Halloween Banner-Free Printable Version, My Most Popular Banner to Date!
This "All Hallows Eve" Halloween Banner is my most popular banner yet!  I don't even have photos from all the people who have made it over the years, SOOOOOOO, if you made this Halloween banner, please send me a photo!  I would love to post it on my blog!  I love seeing all the different ways people have displayed it in their home, and it's fun to see how creative others are.  It has given me lots of ideas for my own projects!  The main photo I used for this blog page is from my cousins house!  I just love what she did with her banner!  It sits right in her entry way.  She also glued sequin, and lace around the edges of each banner piece.  It really looks phenomenal up close, and from a distance.
Some of these ladies displayed the Halloween Banner across their mantle, or for those of you who don't have a fire place, I have seen this strung across mirrors, or your main section sofa in your living room.  Another idea I have seen is, if you live in a dryer climate OR if you coat your banner with a coat of mod podge, this All Hallows Eve Banner could be used across a front porch entry, or over the door frame as you enter the house.  It would make a beautiful addition to your outdoor Halloween Entry or your Halloween front porch decorations, and interior decor.  Send me a picture if you try any of these things!
At the end of September, I had a craft night at my house and a whole bunch of wonderful ladies made this Halloween banner!  I love crafting, and I love being able to share this craft!  This has been my most requested banner, and there is a free printable one for those of you who don't have a silhouette cameo machine.  This banner would be great for a ward Halloween Party behind a food table, or a Relief Society Activity as well.  When I lived in Colorado, I was on the Relief Society Activity Committee, and we would frequently use one of my banners for decorating.  It was so easy to really jazz up the room with a banner over the table or on a chalkboard for an activity!
You can download my free printable version of this All Hallow's Eve Banner HERE