Sweet Green Chile Pulled Pork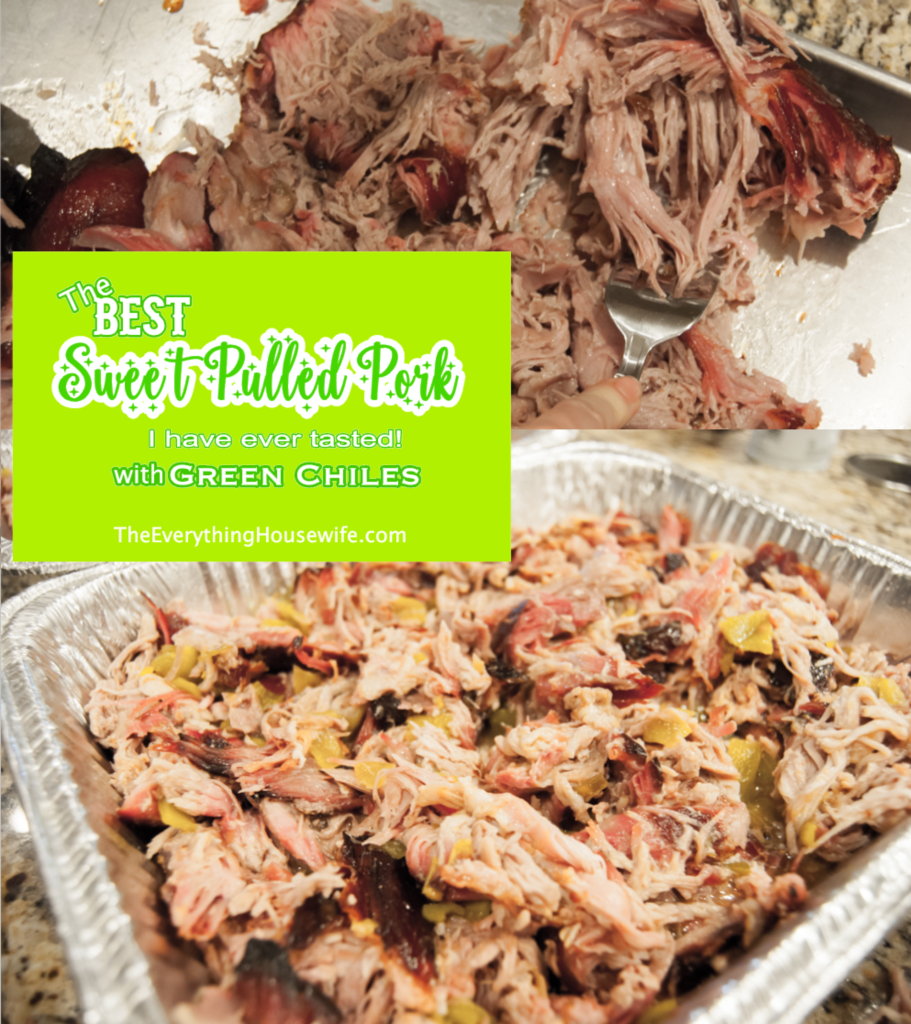 Sweet Green Chile Pulled Pork
This Sweet Green Chili Pulled Pork is insane!  This sweet green chile pulled pork has a sweet, brown sugar smoky flavor with a hint of green chiles, cumin and garlic–it is, hands down, the best pulled pork recipe I have ever had!  You will love this!  For smoking: My husband and I own a Traeger Grill–a lot of people own lots of different kinds of equipment to smoke their meat, but my husband and I absolutely love the Traeger for smoking meat.     This is the exact model we own (Click HERE). I have been asked if it was worth the investment?  My answer is always, absolutely YES!.  This model in particular is a wise purchase simply because of what it can do.  This Traeger Grill can be used as a Smoker OR a regular grill–so you can completely replace your regular grill if you would like.  It has an extra large lid where you can easily smoke two turkey's at once.  Sometimes I will load it up with 5 racks of ribs, or three whole chickens. Or I will take metal tins, and smoke my meat, and then at the very end I will put a couple casserole tins of beans and potatoes and let them cook the last hour with the meat.    It has so much space, and room!  It's like having a second oven in my home, and then some!  For Thanksgiving, we cooked the Turkey and the ham on the Traeger with more than enough space left over in my kitchen oven for all the sides)  I love how easy it is to use, and it really has taken my BBQ up to the next level.  The Traeger grill is so easy to use!  Basically, you just set the temperature, and forget it!  The grill maintains the temperature and does all the work for you!  It seems like my husband and I are masters at BBQ, but in reality, all it takes is a great recipe and an easy-to-use smoker grill like the Traeger.  There are lots of different models available for purchase that are a little smaller and more affordable (click HERE), but I highly recommend my model for it's size and space.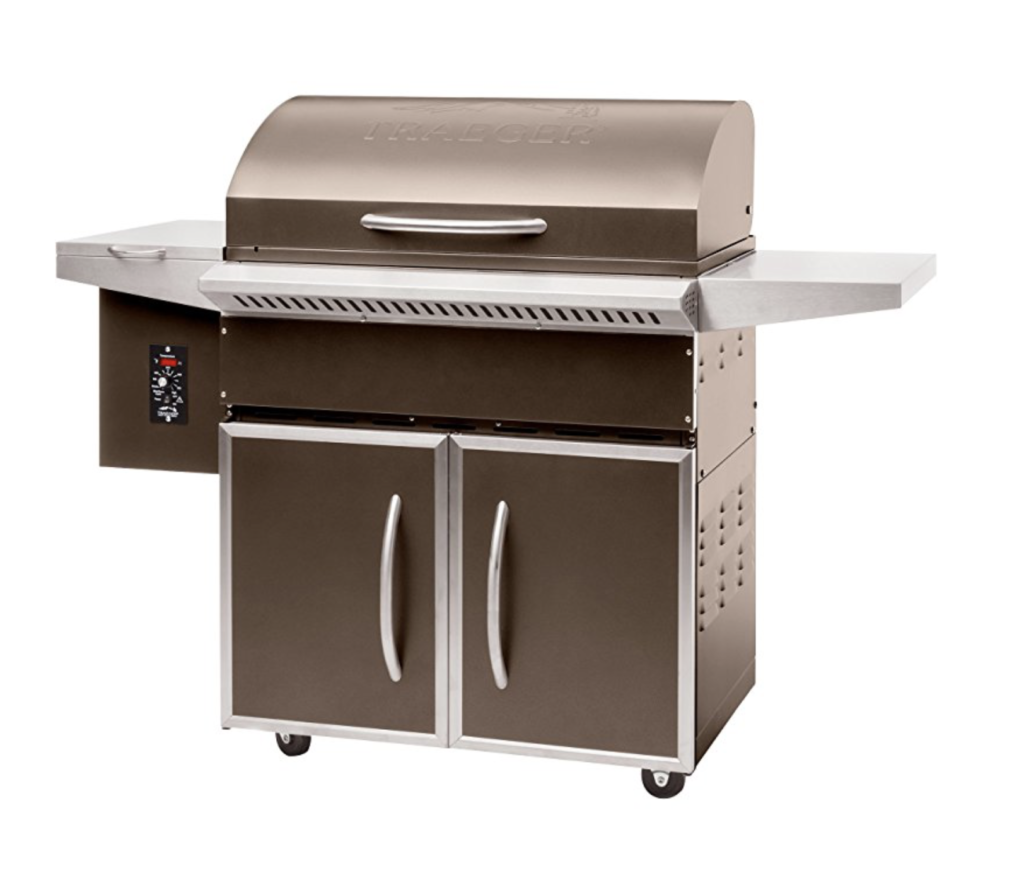 We actually own two Traeger grills (can you tell we are fans?)  Our second Traeger is actually designed for Tailgating and camping!  I will do a post later on this grill to give you more details, but if you love tailgating or camping, this might be the perfect buy for you, or maybe it would make a great Christmas gift for someone you love.  (Click HERE.)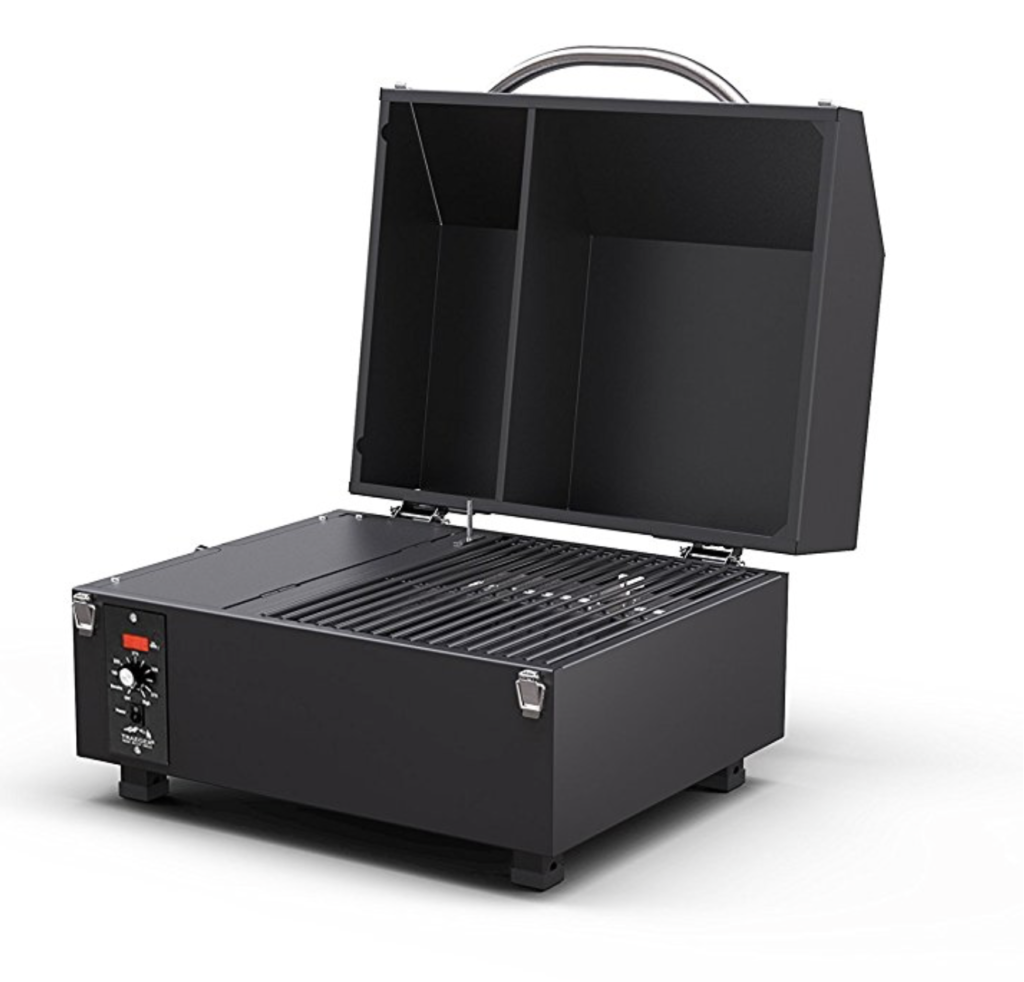 Now for the Pulled Pork. This recipe is brined for 24 hours.  Then smoked all day on your smoker, and finished with a sweet green chile sauce.  We started working on this a couple days before, and then re-heated it the morning of our event in tin pans in the oven.  This is a dish you make in advance, but rest the day of…just pop it in the over to heat it through!  I hope you love this recipe as much as we have!  It seriously is the best pulled pork I have ever had!
SWEET GREEN CHILE PULLED PORK RECIPE (You will need a couple days to make this recipe.  It is brined, and then smoked all day..and well worth the wait!!!)
For the Brine:
1 (2 liter) bottle of Ginger Ale
10-12lbs of Pork Butt (I buy these at Costco in a pack)
2T Cumin
1 Cup Kosher Salt
2 Cups Brown Sugar, Packed
8 Cloves of garlic, diced
 Mix all ingredients together until sugar dissolves, then add the pork butt and refrigerate in the brine/marinade for 24 hours.
For Smoking the Meat: 
Your Favorite Wood Chips
2 Cups of Limeade in a spray bottle (we strained the pulp out from the limeade before placing it in the bottle).
Set your Traeger to the  Smoke setting and, remove the Pork from the brine.  Place the meat (fat side up) directly on the surface of the grill.   Smoke the meat for 3 Hours, and then turn the heat up to 250 degrees and smoke the meat at this temperature for an additional 6 hours or until the meat reaches an internal temperature of 195 degrees with a meat thermometer.   Spray the meat every hour with the limeade for the Total time of smoking and cooking. This will lock in the juices, keep the meat moist, and give the outside of the meat a nice sweet coating.  When Meat is done, wrap the meat in foil, and then wrap the foil-warped meat in a towel.   Place the meat in a cooler or warm oven for 30 minutes to an hour, and let the meat rest and the juices settle in the meat).  Then, shred the meat with two forks.
For the Green Chile Sauce:
1 Can of Green Chile Enchilada Sauce
1 Can of Ginger Ale
1 Can of Chopped Green Chiles
1/2  Cup of brown sugar
 Mix all ingredients together in a bowl.  Allow the sugar to dissolve.   Pour this sauce over the pulled pork.  (if serving the pork immediately, you may want to heat the sauce through on the stove before pouring it on the meat).   After finishing the meat with this sauce, it is ready to serve!   Delicious!