Sweet Whole Wheat Bread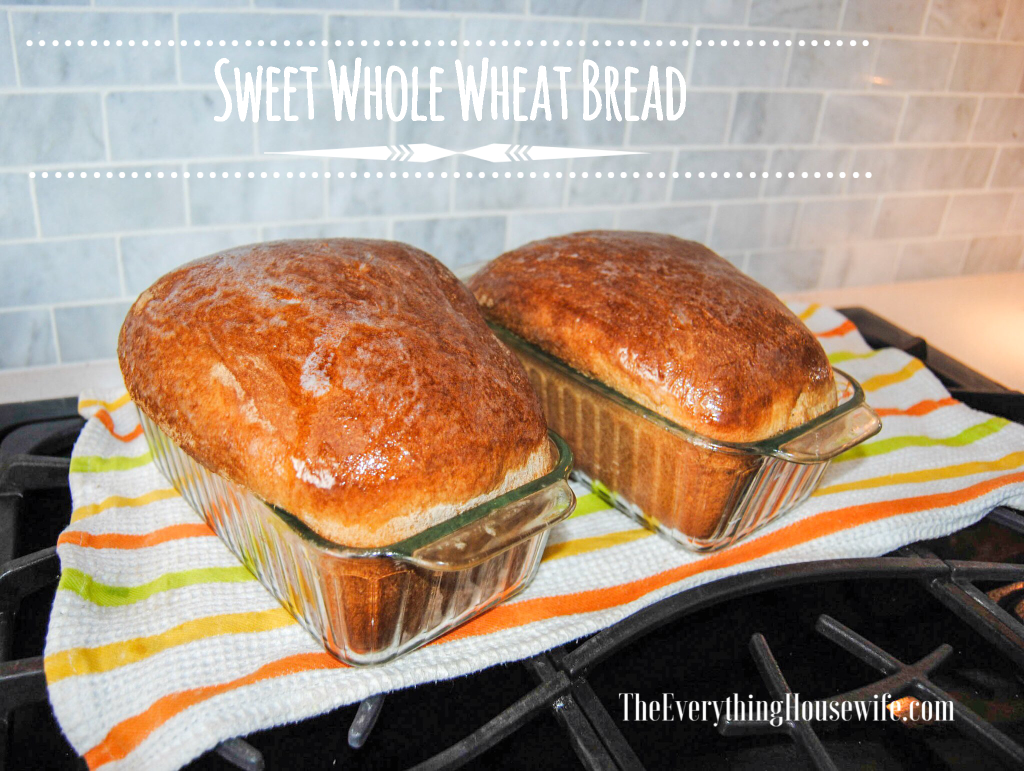 Sweet Whole Wheat Bread Recipe
Ingredients
• 2 ¼ c warm water
• 4½ tsp yeast
• 1 Tbsp sugar
• 2 tsp apple cider vinegar
• 1 c sugar
• 2 Tbsp olive oil
• 1 tsp salt
• 1 cup homemade or store bought applesauce*
• 2 eggs
• 7 to 8 cups whole wheat flour
*butter for the top of the loaves
Directions
Mix first four ingredients together gently in mixing bowl. Then, allow to sit for 10 minutes for yeast to activate. Yeast should begin bubbling during this time.
Then add next five ingredients to yeast mixture. Mix gently until just combined. Do not over mix.
Finally add 7 cups of flour. Dough should be very sticky (almost runny, resist the urge to add extra flour). Mix for about 5 minutes on low speed to activate gluten.
Remove dough from mixer, place in well greased bowl, and cover the bowl with a towel. Allow to rise in a warm place for approximately 1 hour or until doubled in size.
When dough has risen, remove from bowl and use left over flour to knead dough. Knead a few times on a lightly floured surface. Split the dough in half, and place each half in a greased bread pan. Allow dough to rise for approximately 30 minutes or until doubled in size.
Then bake at 350 degrees for about 50 minutes. When bread comes out of oven, coat top of bread with melted butter. Seal both loaves in bread bags while they are hot!  This makes the crust soft! Makes 2 loaves.
*Homemade Applesauce: peel 2 apples, sliced and cored. Steam sliced apples until soft, a fork should slide in easily. Then process apples in a food processor until very smooth.
This sweet whole wheat bread is super moist–and if you have ever made a whole wheat bread from scratch, you know that that can be hard to achieve.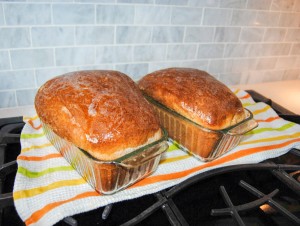 I start out by grinding my own wheat.  You can buy your own wheat flour, but I like to by whole wheat berries in bulk, and then I have a wheat grinder that I use to make my own flour.   The wheat that I use is hard white wheat.  I like hard white wheat because it seems to give the bread a lighter texture than the typical hard red wheat berries.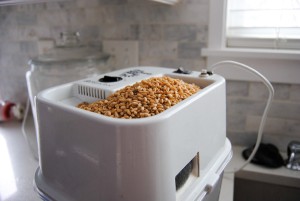 The next step is to get my yeast going.  The water must be luke warm–around 115 degrees.   The biggest mistake people make is they get the water too hot and kill the yeast.  Then I add the yeast, 1 tablespoon of sugar, and apple cider vinegar to the water, and I let the mixture set for about 10 minutes until it gets bubbly and foamy.  The yeast feeds off of sugar.   If your liquid is bubbly and foamy after 10 minutes, you know your yeast is alive and kicking.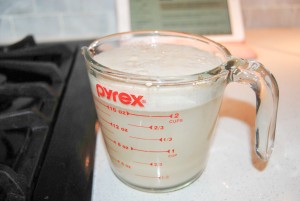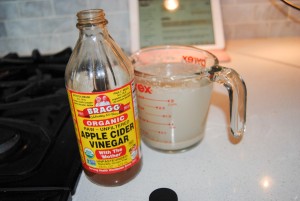 Add the yeast mixture, apple sauce, eggs, sugar, and oil to the blender. Blend the mixture until the eggs are just combine.  Then you can start gradually adding your whole wheat flour a cup at a time–leaving 1/2 to 1 cup out to use for kneading.   Whatever you do, resist the urge to add extra flour.   Beat the dough on high for 2 minutes–this step is like kneading the dough, except you're doing it in the mixer.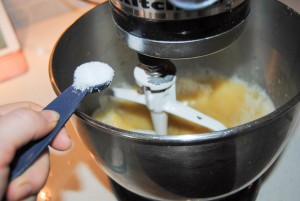 There are two differences between this sweet whole wheat bread and a lot of other recipes you will find.  I use sugar–a lot of sugar.  Why do I use sugar instead of a healthier substitute like honey?  Well, because I tried using honey, and when you are making a whole wheat bread that is this sweet, using that much honey makes the bread heavy.  In fact, it was so heavy the dough wouldn't rise.   Also, this dough will be "soupy."  Most people add way too much whole wheat flour–leaving their bread heavy and dense.   This dough comes out runny like a batter, not quite as thin, but a thick, runny batter type consistency.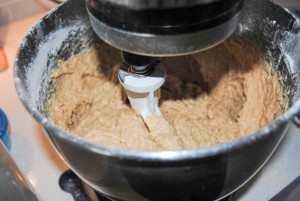 After you beat the dough in the mixer, transfer it to a covered, greased bowl and leave it to rise in a warm place until it has doubled in size.  I cheat and preheat my oven until about 115 degrees, and then I pop it in the oven on top of a dish towel.   Doing it this way, the dough only takes about 30 minutes to double in size.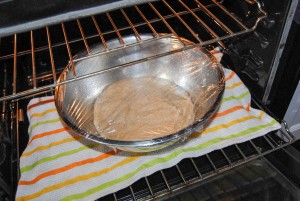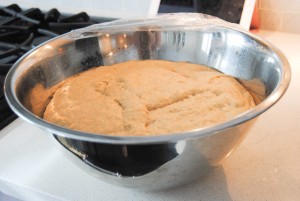 After it has risen, I pour the remaining 1/2 cup to 1 cup of flour on the counter, and pour the dough onto floured surface.  I am only using enough flour to coat the outside of the bread and make it workable.  I knead it a few times.  It will be really difficult to work with because it is so runny.  I then split the dough in half, and place it in two greased bread pans.  Then, cover it with a dish towel and allow it to rise until it has doubled in size.   Usually, about another 30 minutes.  Then I bake the bread for approximately 50 minutes.
When the bread comes out of the oven, I rub a small amount of melted butter on the top of the loaves.  The butter helps to seal in the moisture.   I allow the bread to cool for about 15 minutes or so in the bread pans, and then I transfer the loaves to gallon bread bags and seal them in while they are piping hot.   This makes the outside crust of your bread soft instead of crunchy.   ALWAYS, seal up the bread in a bag while it's hot.  This bread tastes best with a soft crust.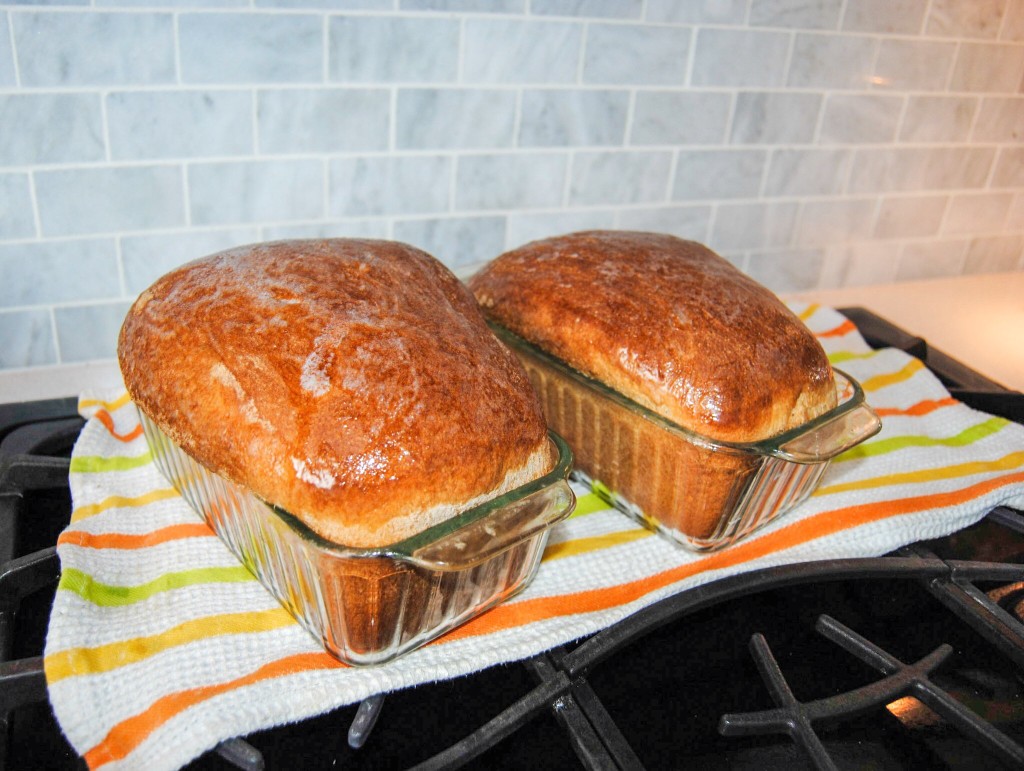 When you are finished, you will be left with a soft, sweet, and moist homemade whole wheat bread!!!!  You won't find a better recipe than this!