The Americana is my inspired version of a Quilt of Valor made for a King Size Bed. I drafted my own version of this quilt–consisting of Sawtooth and Double Sawtooth Star Blocks. You an download this King Size Version of this pattern for free, right here on my website. There are many variations of this quilt found online in smaller sizes as well, with varying color schemes and blocks. I plan to display this on my King Size Bed during the month of July!
You Can DOWNLOAD the Americana Quilt Pattern HERE for FREE
WAVING MY FLAG
Well, she's finally finished! (The quilt top, that is). This is my Americana Quilt. I found a similar looking quilt on pinterest years ago, and I finally, after all these years, decided to draft my own pattern for it. I finished it in less than a week, and I can't wait to finally have it long arm quilted to "see" the finished product.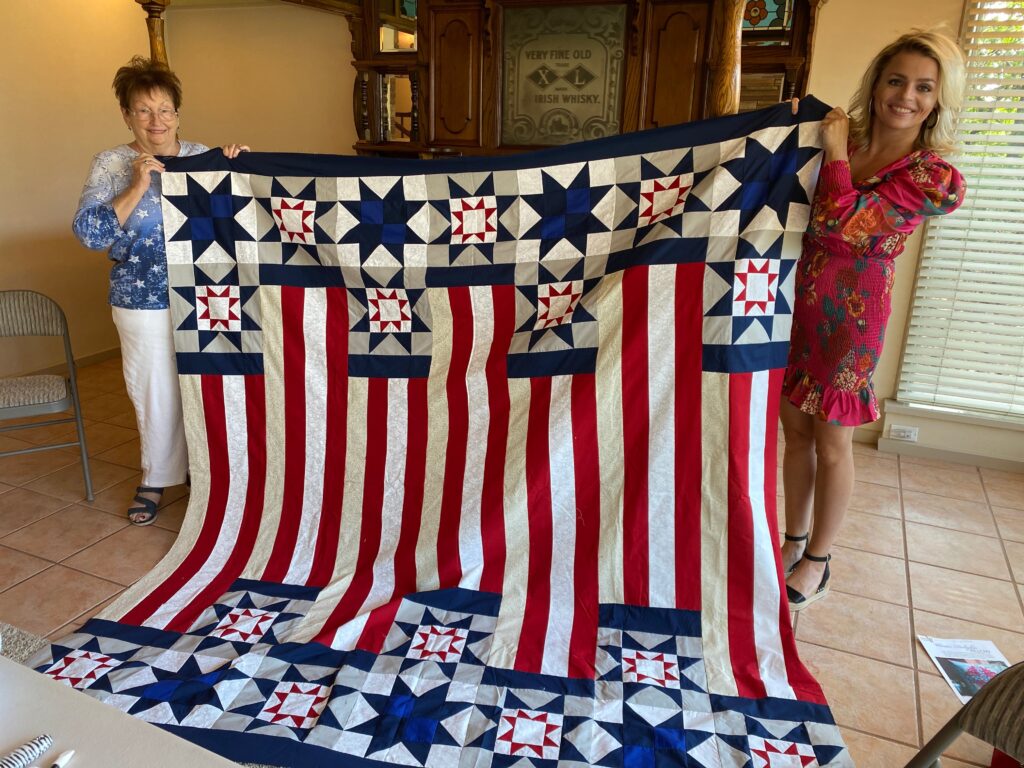 SHARING IT WITH THE EXPERTS
I got to take this beautiful piece of art (My Americana Quilt) to my Great Aunt's quilting guild. It was fun to visit with the experts who do have been doing this for years. This is only the second quilt I have ever made! It's not hard to quilt! I don't care what anyone says! It simply requires following a pattern. I have made lots of clothing over the years, and if you ask me, quilts are still easier!
QUILTING MADE EASY
People often look at the exterior of a quilt and see something so massive and confusing that they can't even imagine where to begin, however, there is an exact science to quilting. It requires following an organized pattern, and there are lots of tips and tricks that can be used to speed up the process. (YOU CAN READ ABOUT THAT HERE) and you can download your FREE AMERICAN QUILT PATTERN HERE.
QUILT OF VALOR
This Americana Quilt is my inspired version of a Quilt of Valor. I have seen similar versions pinned on pinterest, and so I drafted my own version to fit a King Size Bed with slightly bolder striping and colors. It is inspired by various versions the Three Tours Quilt which has a slightly more rustic look, and comes in a smaller size. My Americana quilt is composed of the same sawtooth star and double sawtooth star Block Patterns, with wider and bolder striping and colors schemes.