THE BEST Buttermilk Pancakes I Have Ever Had!!!!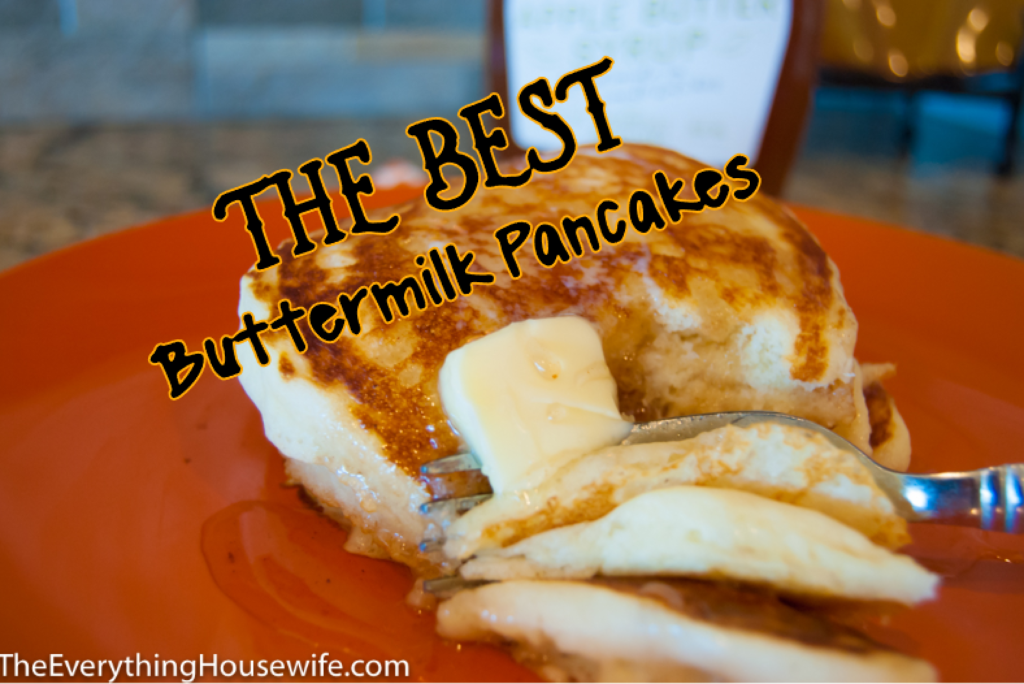 My husband travels every week for work, and so when he is home we really try to make sure our time together is extra special!  He was only home today for less than 24 hours before he had to leave again to the airport, and so, I asked him to request what he wanted me to make him for dinner—anything…anything at all…I would make it.  And so,  he requested one of his favorites–My homemade buttermilk pancakes!   I have had this recipe for over 10 years, and during those 10 years, I have tried many different buttermilk pancakes from lots of different restaurants and places throughout our travels.   They all claim to have the best buttermilk pancakes, HOWEVER, this recipe is STILL the best I have ever had to date.  I have never had better–So it's worth sharing.  Hopefully it will pass your taste test and be worth keeping for your family!  So here you go….buttermilk pancakes for dinner!  We topped them off with some apple butter syrup I found just to make it feel like fall! We were surrounded by Halloween decorations, and the smell of my pumpkin scented candle warmer, feasting upon our freshly cooked buttermilk pancakes with apple butter syrup–surrounded by the ones we love (most importantly..daddy was home)!
A few DO's and DON'Ts for your pancakes:
Do NOT over mix the batter!  Combine the ingredients just until moistened throughout.
DO use the batter immediately.  Even though you can refrigerate it, I can tell a difference in fluffiness…mix up the batter right before use.
DO NOT smash the pancakes flat while cooking.  They are supposed to be fluffy…let them be what they are.
Here is a recipe for the best buttermilk pancakes I have every had!
Ingredients
• 2 cups all purpose flour
• 2 1/2 tsp baking powder
• 1 tsp  baking soda
• 3/4 tsp  salt
• 2 Tbsp  sugar
• 2 lrg.  Eggs, lightly beaten
• 2 cups buttermilk
• ¼ cup vegetable oil
Directions
Combine first five ingredients.  Stir well.
Combine eggs, buttermilk, and oil in a bowl;  add to flour mixture, STIRRING JUST UNTIL DRY INGREDIENTS ARE MOISTENED.
For each pancake, pour about 1/4 cup batter onto a hot, lightly greased griddle.  Cook pancakes until tops are covered with bubbles and the edges look cooked.  Turn and cook other side.