Visiting Salem in October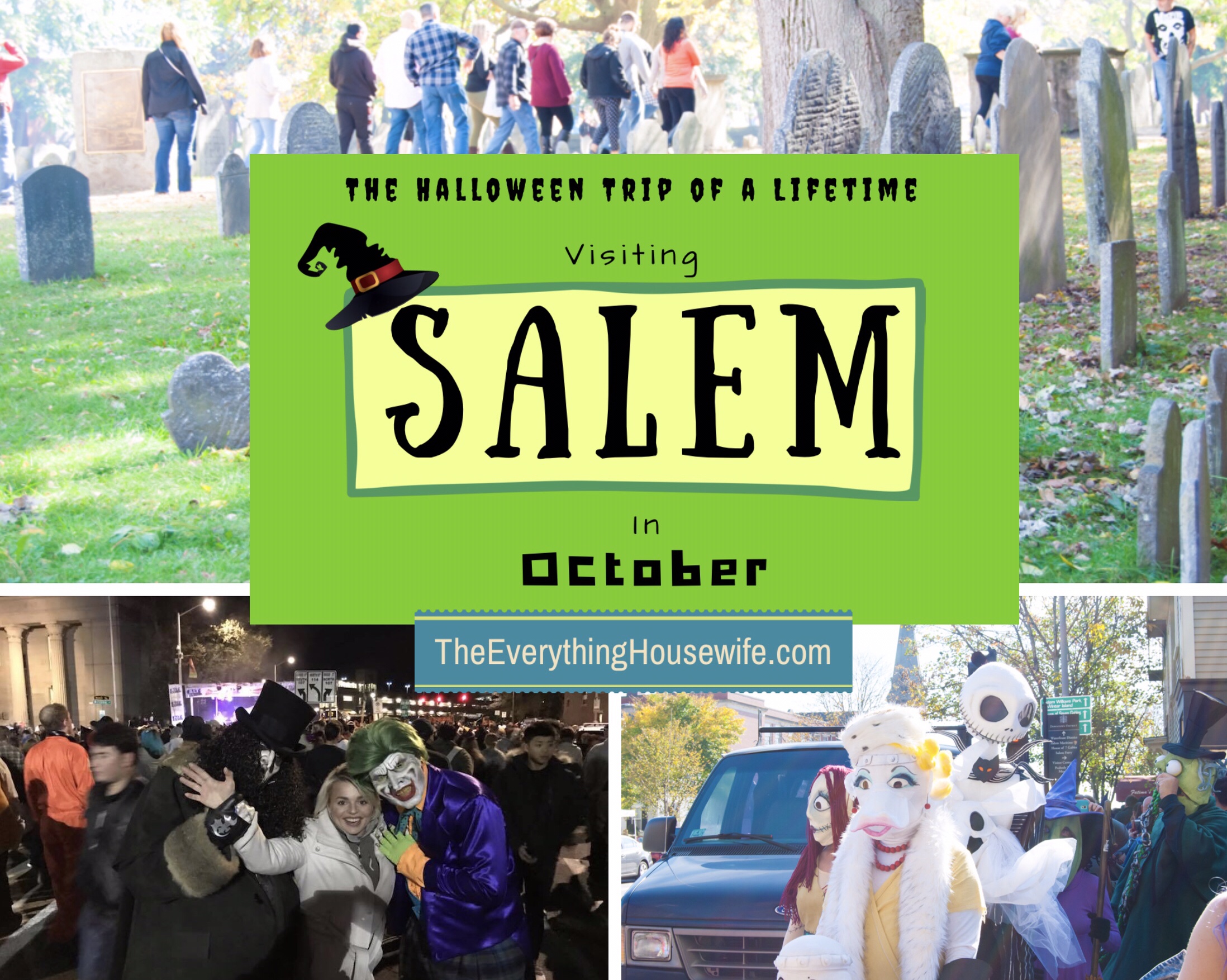 This past October, my husband and I checked off our bucket list by taking a trip to Salem, Massachusetts in October.  It was the Halloween adventure of a lifetime!   I hope you enjoy reading about our journey to Salem during it's busiest time of year!  
During the month of October, Salem, Massachusetts is at it's busiest time of year.  You can't go anywhere through the town without the streets packed with crowds of people….Oh and wait….also witches, of course.  Everyone is dressed up throughout the month in their Halloween costumes and nearly every woman is wearing a witch hat–tourist or not.   The spectacle is one that Halloween lovers must see in person!  It was the most amazing experience!  Most of you know that I am obsessed with Halloween, and so when my husband had a business trip during the last week in October in Boston, we decide I would travel with him, and we would visit, Salem!   Thats right…Salem, the craziest Halloween town during my favorite time of year….OCTOBER, bwahahahahah!  We only spent about a day and half total in Salem, but I felt like we were able to check off all of the major sites and get a good feel for what is going in Salem during Halloween.   When you read through our crazy adventures, I hope you add this trip to your bucket list, especially if you love Halloween.   I wouldn't recommend for kids under 12, because a lot of what you see in Salem is historically based and tied to tours and museums regarding Salem's history, however, teens and adults would appreciate this trip.  I love history and I love all things spooky, and so Salem is a place where you can get a feel of both.
For this post, I'm just going to take you in order of my photos….this is what we did…and this is the order of "what we did."   Like I said, we spent a total of a day and a half there.   We were there the Saturday before Halloween, and also Halloween night.  We hustled around town and were able to see almost everything before dark on the Saturday before, and then we headed back Halloween night to finish up our trip.  Tip for a Happy Trip:  Wear good walking shoes, and don't judge me because I wore wedges. Yes, my feet were numb by the end of the night.
Massachusetts Architecture: Everything is old, and beautiful!  I just love all the old buildings and homes.  These are photos of some of the architecture I took on our drive from Boston into Salem.  The traffic, as you get closer to Salem will be a little bit congested.  So these are some photos of the older building I took from the window of my car.  If you love architecture, you will enjoy all the colonial style homes and buildings.
 Parking: We were told that when we arrived in Salem we would have a hard time finding a parking spot. That wasn't the case at all. Maybe we were just lucky, or maybe it was the time of day, but we were able to pull up right on the main street. If you plan on driving. Get there early. We arrived just after 9:00am, and you will need change because all the parking meters are "old school." We pulled up right in front of the bronze statue of Nathaniel Hawthorne, and our next adventure was to find breakfast.
Breakfast at the London Coffee House/ "Red's Sandwich Shop": This is the most popular breakfast place in town, and it has lot's of history. It's an old Patriot meeting house converted to a restaurant, and it's history goes way back to the 1700's. The breakfast was amazing, and I would order this same meal again hands down. It was a corned beef dish with poached eggs and hollandaise sauce with a side of potatoes. Amazing and very filling! I would highly recommend this restaurant to anyone. The line moves quickly, and it's much larger on the inside than it appears when you are standing outside waiting. Don't worry, the line moves quick.  It's got great reviews, and it's recommend by the locals. It's also a great place to start the day because the paper placemats are actually maps of the town. It has all the major tourist stops on the map, and so you're headed for a great start with this map. PLEASE NOTE: They only take cash at this restaurant, however, they have ATM in the building if you end up needing cash. So bring cash if you don't want to be charged a fee from the ATM.
Witch PIX: After breakfast we headed over to a place called Witch Pix. Are you familiar with those tourist Western Saloon photo places where they dress you up in western attire and take your picture? Well this is the same kind of thing, except for witches. It's hilarious! It's about $30, and the photographers really make an effort to get you into character. At one point Cameron and I were laughing and "cackling" so hard over a cauldron that I had tears running down my face. You're getting to see the more serious of our photos down below, but they really encourage you to play your part. It's lot's of fun, and the lines are shorter in the morning. So after breakfast, we went straight there for photos. You won't find two sexier witches than my hubby and I…HA! We really enjoyed this, and it got us in the spirit of Halloween to start the day!
The Streets of Salem/Costumes, Characters, Crowds, and Booths: Walking up and down the streets of Salem are so much fun.  Not only are there local towns people dressed up in the most intricate costumes you can imagine, there are also tourist wearing their Halloween costumes every day during the month of October.  The crowds in the street can be packed.  At one point we were standing still for almost 15 minutes in one spot not moving.  It wasn't because anything was wrong, it was just a traffic jam of people.  We patiently waited, and everything eventually began moving.  Be patient with the crowds…I love crowds and so it wasn't a big deal for me. There are also street booths on every corner selling something, and so if you like to shop, bring your money.
Salem Witch Museum-This was a really fun place.  It's massive, and looks like an old spooky cathedral.  There is a "bronze" witch out front that looks just like a statue.  You can pose for a picture with her when you get to the front of the line.  This museum mostly focuses on the "ancient" history of witches, where the ideas came from, and then branches out into the Salem witch trials.  At the end, it mostly has a human rights focus. " Judge less" is the message.  Most of the major persecutions in history come when society swings too much in one direction and decides a "certain" group of people doesn't fit their standard.  By the descriptions given in the museum, my husband and I both decided I would have been burned at the stake at some point in history.  If you used herbs, were in to medicine, had different ideas and were a woman…you were a "witch."   I really enjoyed this museum.   Now for tickets….it doesn't matter if you purchase your tickets online or at the door, YOU ALL STILL HAVE TO STAND IN THE SAME LINE TO PICK THEM UP, which for us in the earlier part of the day was still a 30 minute wait.  The line gets longer as the day progresses.  Stand in line early.
Tourist Dressed in Costumes Posing for Pictures–There are some really amazing people dressed in amazing costumes around town and THEY LOVE when people ask them if they can get a photo with them.  If you have a great costume, there is no other better place to showcase it.  I wish I had brought mine.  I will warn you, however, it might not be comfortable to be dressed up all day while you are walking around outdoors to see the sites.  The weather was still a bit warm in October during the day, and so I don't know that I would recommend wearing a costume if you plan on touring all the museums, but if you will be there for more than a day, SURE, dress up.  It would be loads of fun, and there is no better place to do it.  In fact, lots of people do it during the entire month of October.  You don't have to wait until Halloween.
Colonial Homes and Decorated Porches:  You will see from some of my photos that I took pictures of the homes around town.  In Salem, there are beautiful, old, colonial style homes on every corner, and they are all decorated with pumpkins, fall flowers, and anything and everything Halloween.  It reminded me of the movie "Hocus Pocus" where the whole town just felt like October!
Follow the Red Line: There is a red line painted on the cobblestone roads all through town.  If you follow the red line it will take you to all the major tourist stops and loop you back around.  We mostly followed the red line, however, we had to be at certain museums at certain times depending on the time slot we purchased for our tour.  All the museums have specific times and tour guides that walk you though events.  But if you just want to walk freely, follow the red line.  You will hit all the major tourist stops in town.
The Burying Point Cemetery:  You have to visit the this cemetery in Salem.  It's the oldest cemetery in Salem,  and it's so cool.  The oldest headstones date back to the 1600's, and they feel really spooky.  There are twisted old trees, and a red barn with spooky iron rod fence.  It's great!  Make sure you pay attention to the symbols on the headstones.  Sometimes you will see a skull with wings.  Who would ever put a skull with angel wings on their headstone right? But it's really cool because it symbolizes the current religious beliefs of the time.  This is off the Boston.gov website that explains this symbol. Thought I would share since you will see these symbols when you are there, and also if you visit any cemeteries in Boston."The second type of decorative motif used on Boston's seventeenth-century gravemarkers was the "death's head." A death's head, often with wings and/or crossed bones, was a stylized skull. Some have speculated that winged skulls were intended to symbolize a combination of physical death and spiritual regeneration. It is important to note that Boston-based Puritans did not advocate using religious symbols, such as cherubs, Christ figures, or crosses in their meetinghouses, on church silver, or on their gravestones. Puritans were adamantly against attributing human form to spiritual beings such as God, angels, or spirits.The death's head, a non-religious symbol was the first imagery employed in gravestone carving. Other decorative motifs accompanying the death's head were the hourglass (and even a winged hourglass symbolizing the concept "time flies"), coffins, elaborately carved side panels with florets, finials, foliage, fruit, and imp-and-dagon figures. Seventeenth and eighteenth-century stones generally had solemn epitaphs which prompted passers-by to contemplate mortality and the fleeting nature of life on earth.There were many variations of the death's head motif. The characteristics and configuration of the image depended entirely on the preferred style of the carver. 
The Witches Memorial: The Witch's Memorial is actually a "recent" addition to Salem.  It was created as a human rights memorial to honor the witch's who were hung without cause, and to serve as a reminder to communities to stand up against abuse of power.   It is a really beautiful, yet solemn place.  The names of everyone who was innocently hung as well as one man who was "pressed" with stones are carved into benches in an outdoor courtyard.  Quotes of the innocent victims are carved into stone on the ground.  The most devastating part about all of this is that those who would not "plead guilty" were the ones who were hung, and those who pleaded guilty out of pressure were never hung because the trials were ended by the governor before they could be tried (everyone was innocent).   So those who would not betray their conscience and were the most honest, were the ones that were tried first, and so they were also the first hung.  This event is such a tragedy.   I want to share this quote which you will find parts of it carved in stone at the memorial.  "If I would confess I should save my life….oh Lord help me…I am wholly innocent of such wickedness…God knows I am innocent….I do plead not guilty…I can deny it to my dying day…I am no witch."  Tourist and towns people lay fresh roses at the site on the different headstones.  If you would like to pay your respects, flowers are welcomed.
Rootbeer Floats–It was a pretty warm day in Salem,  and do make sure you grab a root beer float on your travels.  There are stands everywhere, and if you will take a look at some of my photos, it was nice to get cooled off on the warm October day!
Haunted Houses and The Wax Museum of Witches and SeaFarers:  First, the haunted houses….  We did one haunted house, and honestly, I wasn't impressed. HOWEVER, it still scared the crap out of me, but that's not saying much!  The haunted house we attended was on Halloween night.   We DID NOT attend the Wax Museum of Witches and SeaFarers, so I can't comment on it, however, I'm sharing it in this post so that you know that it exists, and you can check it out if you choose too.
3 Museum Package:  If you purchase tickets to these 3 Museums in a bundle, you can get a discount. The three museums we attended in the bundle were The Witches Dungeon, The Witch History Museum, and the Pirates Museum.   If you read reviews online, people will complain that the Museums repeat the same information over and over, and YES, they repeat the history of the Salem with trials over and over.  However, each museum offers something different, and by the end of it all, you will have a really complete picture of what actually happened.  The witch's dungeon, on a historical note, was really disturbing to me and my husband.  How prisoners were treated in general at this time was very disturbing.  I highly recommend all these tours, but like I said, I like history, tours, and museums.
Psychics, Crystals, Mediums, etc.:  You're going to see a lot of this stuff everywhere Salem, because Salem today is considered a Halloween town.  I'm a very biblically based person, but I don't believe that God requires others to worship the same way I do, and I'm also not ignorant of Old Testament and early Mormonism practices (I'm LDS if you didn't know), and so for me, it's no biggie to see all of this stuff around Salem.  I'm comfortable in my own skin, and so are they.   We did see a few religious protestors while walking down some of the streets, however, but all the Halloween nuts like myself, ghouls, and creepers in their costumes handled them very well by ignoring them.  I have to be honest, the small group of religious protestors were the ones who were disruptive, but they were only in a small area of the town.  When my husband and I walked by them, they would chant or yell, "Find Jesus, don't worship Satan.' Be Baptized." They assumed we hadn't already found Jesus and been baptized, but any who.  If you're into that stuff, it's there, and if your not, it's there!
The Witch House: The Witch House is the only remaining house left standing with direct ties to the Salem Witch Trials.  The owner of it was Judge Jonathan Corwin, and he aided in sending all 19 victims to their death.  It's a creepy looking house, but also old and beautiful at the same time.
Hocus Pocus:  If you love Hocus Pocus, make sure you stop and get a photo in front of Ropes Mansion, and also Max's House from the Hocus Pocus Movie.   Ropes Mansion can be found along the tour, however, you will have to drive in a car to get to Max's House.  It's a few miles outside of town, and it is owned by locals.  It was late at night when we drove to Max's House, however we still saw 2 other couples come by while we were there, and one of them took the photo for us.  Don't go up on the porch. We saw people do this. It is still a private residence.  You can get a great shot of the house from the street.  Also, I will not be listing the home's address on my blog because it is a private residence, but a google search will turn up the address for you if you really want to go.  Just google it.
Life Alive:  When we were on the airplane flying in to Boston, we sat next to a guy that told us if we go to Salem we have got to try this vegan place with really great food.  I was like vegan? Seriously?  So anyway, we're walking through Salem, and I am getting really cranky because I am starving, and I start complaining to my husband that if I don't eat soon I'm going to cast a spell and turn him into a toad, and then I look right above my head and there is the sign for the vegan restaurant "Life Alive" above my head.  I took it as a sign that I was supposed to eat there.  I ordered the dish that the man on the airplane recommended.  It was called the "green goddess."  WOW!  I died and went to heaven.   Let's just say, I thought it was amazing!  My first time ever eating vegan too!  I loved it!   Make sure you give this place a try.  They also have kombucha on tap, which I didn't even know was a thing.  If the owner of Life Alive ever reads this, I highly recommend they open a vegan restaurant in Saint George, Utah.  I promise that I will be their best customer!
Ghost Stories at Pioneer Village– My husband and I did not get to do this because tickets were all sold out, however, this event has great reviews.  They take you into the old pioneer style homes where you are told ghost stories for the evening.  If you're interested in this event, get tickets in advance, like before you even book your trip to Salem.  We stopped by to check it all out, but they told us tickets sold out fast.
Halloween Ball at Hawthorne Hotel:  Do you remember Hocus Pocus?  That whole scene where there is a big town ball, and everyone is dancing, and Bette Middler shows up and sings, "I put a spell on you!"  Well, if you would like to attend a Halloween town ball just like that one, apparently at Hawthorne Hotel you can buy tickets and attend a Halloween Ball.  We were told people travel from all across the country to do this.  We didn't get to attend, but we passed by as people were entering and this is what we were told.  I can't review this for you, but if I had know in advance, it might have been something really fun to do!
Halloween Night, October 31st:  The crowds are insane on Halloween Night.  My husband had business meetings that day, and so we took an Uber to Salem from Boston (which I recommend, because there really is no parking on the 31st).   Pros: There are amazing crowds, and full stages with lights and bands playing right in the center of the streets.  This is the time where everyone is dressed up everywhere in crazy, amazing costumes.  All the roads in the center of the town are closed down so that people can walk to and from the concert stages to hear the live bands .   There are tons and tons of security and SWAT teams on every corner as well.  You can tell you are protected, and it really feels safe.  Salem does a great job with security on Halloween Night!   Also, they shut everything down at 10:00pm, and clear the streets.  No one is allowed in the bars at this point either.  The town really handles everyone safely.  People are told to go home at this point.   Cons:  They shut the town down at 10:00PM (and my husband and I had just arrived), and they have everyone cleared from the streets by 11:00.   So don't plan on partying all night.  You'll have to go indoors to do that.  It was only a negative because my husband, and I had arrived in Salem later than we would have liked.   Really, it truly is great that Salem has everything shut  down on Halloween night so early!  I mean it can be kind of creepy to see people (who my be intoxicated) in their scary Halloween costumes roaming the streets late at night, especially if I was a resident there.  I did see parents out with their children at that time of night, so the crowds weren't too rough. And like I said, I love crowds, so I thought it was awesome!