OCTOBER DECORATING! Tips and Tricks for your Halloween Home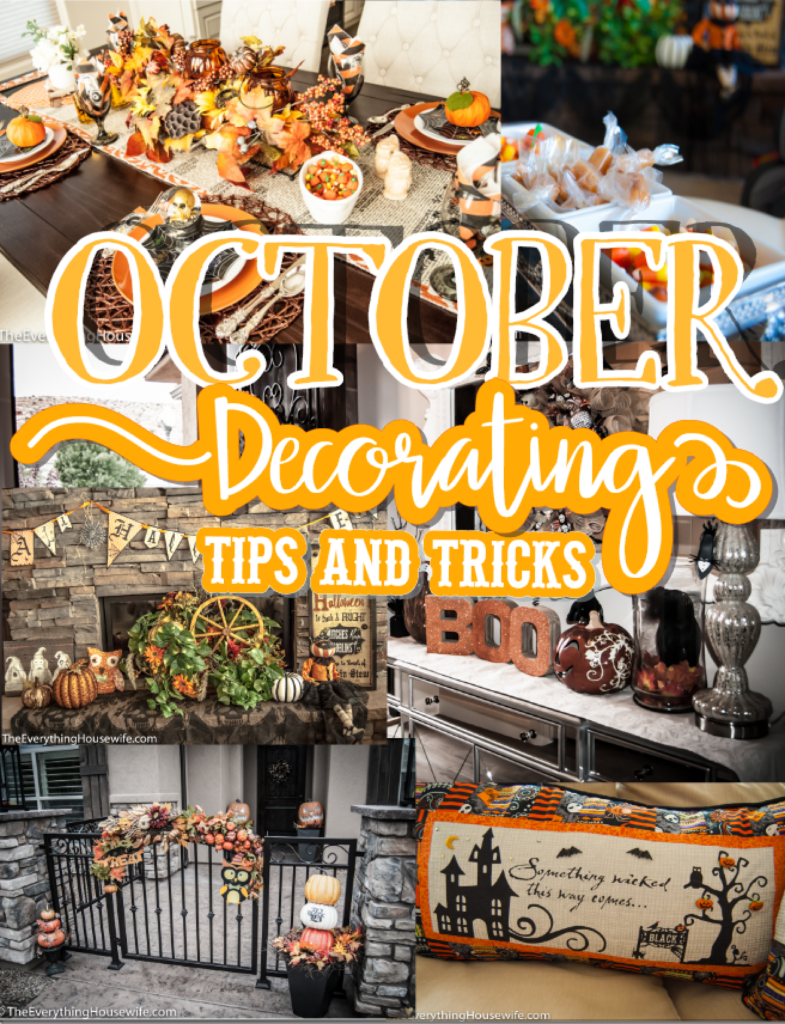 October, oh how I love you!  This month is always filled will all my favorite things….I should write a song and sing it like Julie Andrews!   "When the ghost boos, when the ghouls scream, when I'm feeling sad…I simply remember my favorite things and then I don't feel….sooooooo bad."    No but seriously, there are so many wonderful things that happen in October!   My birthday is this month, we always have a halloween party and brew our favorite root beer (which I will be posting the recipe, so stay tuned).  This month my husband has a work convention in Massachusettes, so I am going to tag along with him and go visit SALEM…BWAHAHAHAHA! Shout out to my mother-in-law for generously offering to babysit while we're gone on such short notice.   It's an awesome month!  Most of all I just love the way this month makes me feel.
Here are some ideas for adding the feel of October to your home!  I really like the dollar store, if you haven't already noticed in some of my posts.   I added a lot of Dollar Store items to my table setting.  Just because something is cheap doesn't mean you can't make it look good!  I found the plates, black tinted goblets…skeleton and pumpkins, owl salt and pepper shakers, and even the fall sprigs at the Dollar Store.   I love the basic orange plate, and it will make it easy to use them for November too! I won't have to switch out much.   I added jack-o-lantern candle holders from the dollar store to a basic fall table centerpiece….this will be easy to reuse for Thanksgiving.
The Halloween pillows were designed and made by me…..they have quotes that bring out some of my favorite feelings…like "Hocus Pocus"…my all time favorite Halloween movie.  I dressed up frequently as a witch for Halloween as a child, and even as an adult.  I made this killer witch costume a few years ago that I need to post.  It has a cape, and full black skirt.  Anywho!   I LOVE this time of year!  It's beautiful and the air is crisp!   It feels like fall inside and outside my home…even here in sunny St. George Utah.
For outdoor decorations, I use lots of floral, leaves, and wreaths. Even in the outdoor lanterns, the leaves I added came from the Dollar Store (btw, I will have a DIY post on how to add lanterns to Jazz up the exterior of your home…we added these with Solar Lights).   Believe it or not, the floor garland on my gate is a bunch of old pieces of Halloween decorations I wired together.  For example, if you look closely you will see a bunch of mini pumpkins, that used to be a table centerpiece candleholder.  My husband cut of the metal candle holders with a saw, and we wired it to the outdoor gate. I have received so many compliments on it.  Don't forget the Skeleton Wreath I made as well.  You can find that tutorial here.
OCTOBER DECORATING! Tips and Tricks for your Halloween Home
Tips AND Tricks
Blend In dollar Store Items—Save on Cost while adding detail to your look
Set your Table—It looks sooooo beautiful to have a table set (now we don't eat there every night.  We usually eat at the bar…but it is just lovely seeing it set.
Use old decorations and blend them with new (like the garland I added to my outdoor gate, I also wired in some Dollar Store Signs).
Add a banner or sign—I have a free printable version of my Halloween banner, and a tutorial on my Halloween sign. Check out those other posts here…. Adding a phrase gives feeling and emotion to your decorations.
Don't be afraid to try something new like making a pillow.  I have several friends who I have taught to sew pillows.  They are not difficult…even the zipper and piping is much simpler than you realize (maybe I will do a tutorial on a simple pillow in the near future….stay tuned).
By a Frame and Add a printable ( I just designed this Fall printable for my LDS and Christian friends…and hopefully I will have some generic Halloween printable soon)…Buy a cheap frame and switch your printable out for the holidays.
Add some Halloween Treats in a candy Dish…unless you can't control yourself.  Believe me, I get it…every time I walk by I'm getting a snack.
Dual Decorate for the Holidays–Orange looks good in October and November, so buy things you can use for both months…so do pumpkins and leaves.  Take a load off, decorating doesn't have to be exhausting.
Finally…BE YOU!   Do what looks good to you!, Use decorations that fit your personality,…if your are into gothic Halloween, do that…or Harry Potter types,…do that…country pumpkins…do that.  Just be you!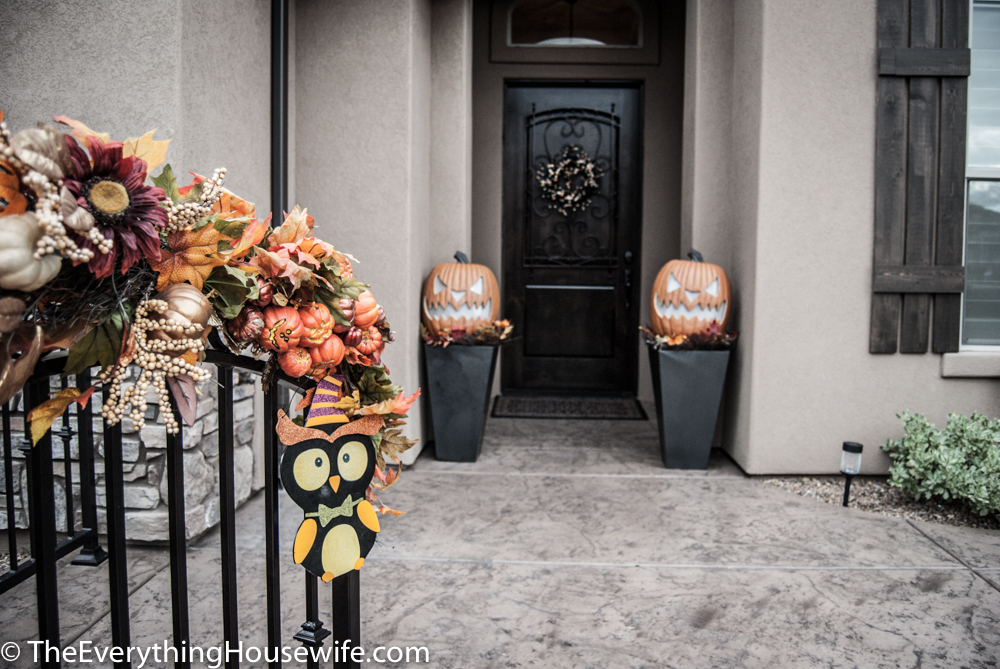 [instagram-feed]