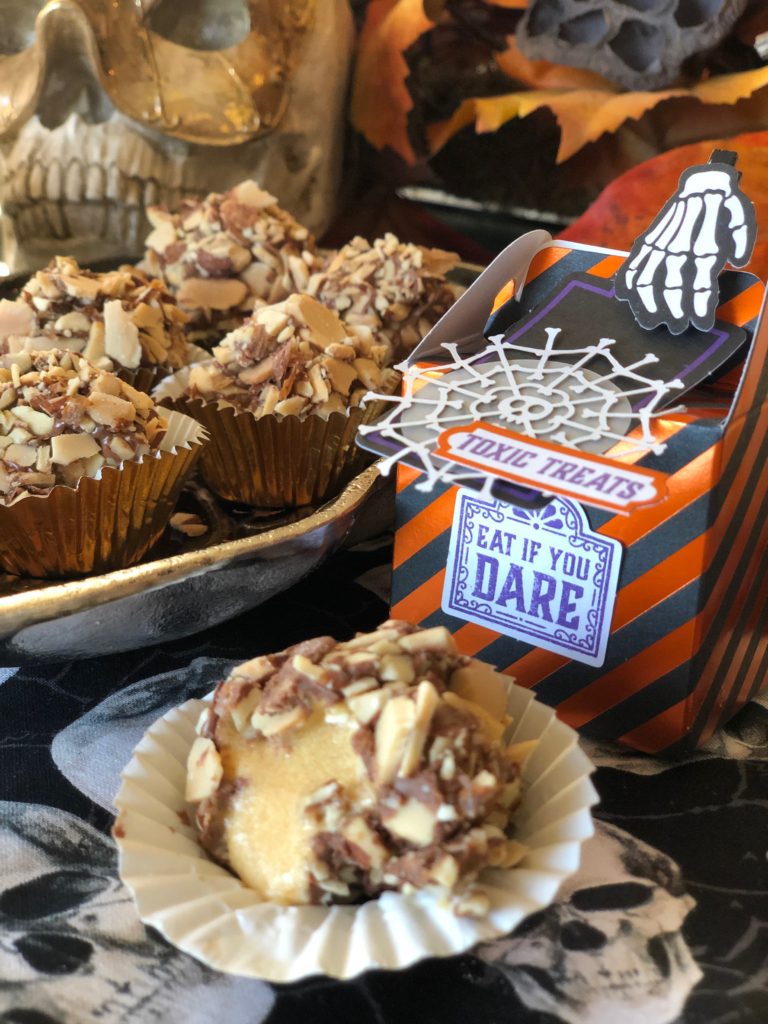 Pumpkin Spice Chocolates—Cream Filled Pumpkin Spice Chocolates Rolled in Toasted Almonds RECIPE
Makes Approximately 60 Chocolates: This makes a large recipe!
1 Can Sweetened Condensed Milk
1/2 Cup Canned Pumpkin Puree
1 Cup of Butter, Softened
1 Teaspoon Vanilla
1 Teaspoon Pumpkin Spice
5 Cups Powdered Sugar
*Your favorite melted chocolate for dipping (I used 2 bags of (23 oz) Ghirardelli milk chocolate).
*Toasted slivered almonds, crushed for outside coating (I used 2- (10oz) bags of Toasted Sliced Almonds).
Directions:
Creamed together in mixer, sweetened condensed milk, pumpkin, butter, vanilla, and pumpkin spice. Then gradually mix in powdered sugar.
Pour creamed mixture in a shallow casserole dish and freeze.
After frozen, scoop into teaspoon size balls using cookie scoop. Then refreeze balls on wax paper or parchment paper.
Dip frozen balls in melted chocolate, then roll in toasted almonds.
Allow chocolates to harden on wax paper.
Tips:
Keep your rolled balls frozen until you are ready to dip them. Take them out of the freezer in small batches. They warm up quickly when they are at room temperature, and then they become difficult to dip in the chocolate.
Use a spoon to roll the frozen balls in the melted chocolate.
Use a shallow pie plate to roll the chocolates in the toasted almonds.
Use a small cookie scoop to get even teaspoon size balls. The chocolates become much larger in size after they are rolled in the chocolate and nuts. Make sure you keep the pumpkin ball center to a small teaspoon size.
VIDEO TUTORIAL FOR COATING YOUR CHOCOLATES