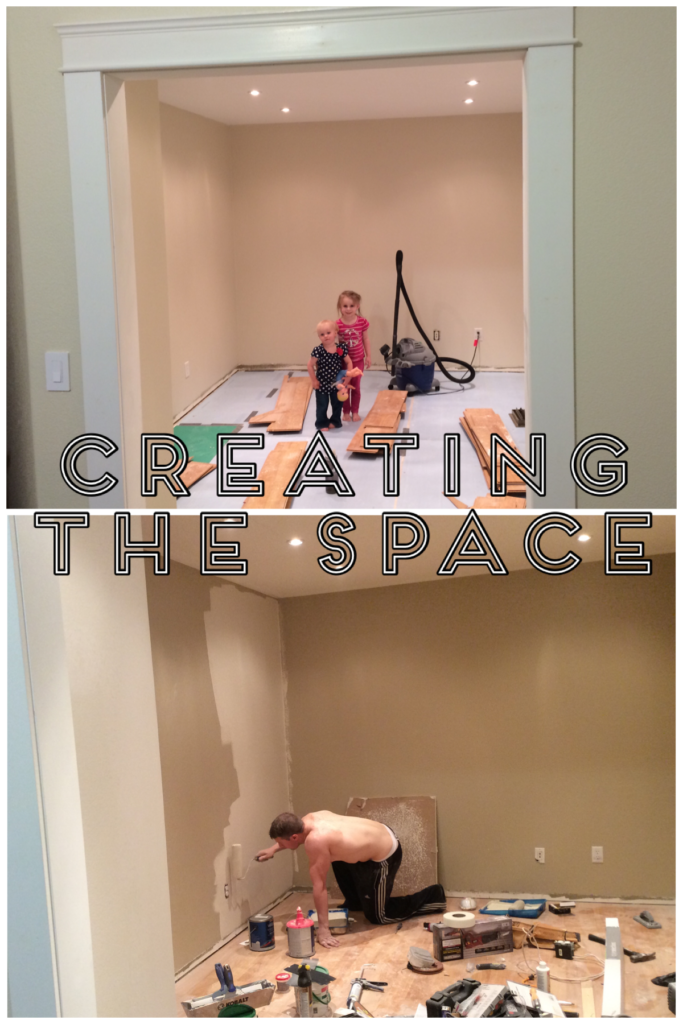 Talk about an amazing closet! When we put our house one the market, we had an offer within the hour, and I know that this closet was one of the reasons our house sold so quickly! In older homes, closets are just non-existent, so if there is a way to "create" that space in your home, it is an absolute must–you and your future buyers will thank you for it!
I have decided to write this article into two parts because this was a complicated reno to explain. It didn't just involve the closet, rather it involved the closet, master bath, and and the bedroom next door. This is the first part of this renovation, and I'm excited to share the rest. Part 1 will connect the dots more clearly for part Part 2.
I WAS HYPED-UP
It was funny how this project started. My husband and I had already been talking about it forever, but we were nervous about starting it because we knew it would be a massive undertaking (and you will understand why as you continue reading further along). So, one day, I had taken a bunch of pre-workout (high caffeine drink), and I was all hyped-up, and I was talking in really fast repetitive verbiage to my husband about how we could get this project done quicker than we thought (Now, don't forget, I said I was on pre-workout when I was having this conversation.)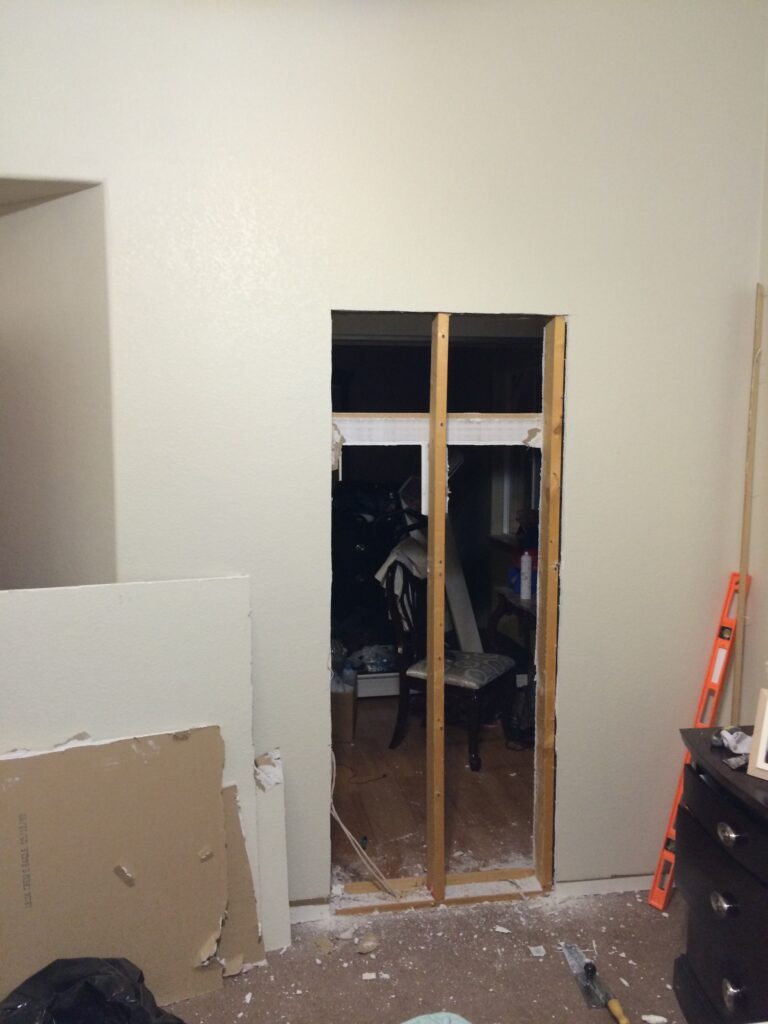 NOW WE DON'T HAVE A CHOICE
I sound really convincing at this point, so my husband walks out in the garage, grabs a sledge hammer, and busts a huge hole in the wall where we planned on putting the master closet. Then he looks at me and says, "Now we don't have a choice, we're gonna have to fix this!" In extreme excitement I yell, "YESSSSSS!!!!"And that's how the master closet began!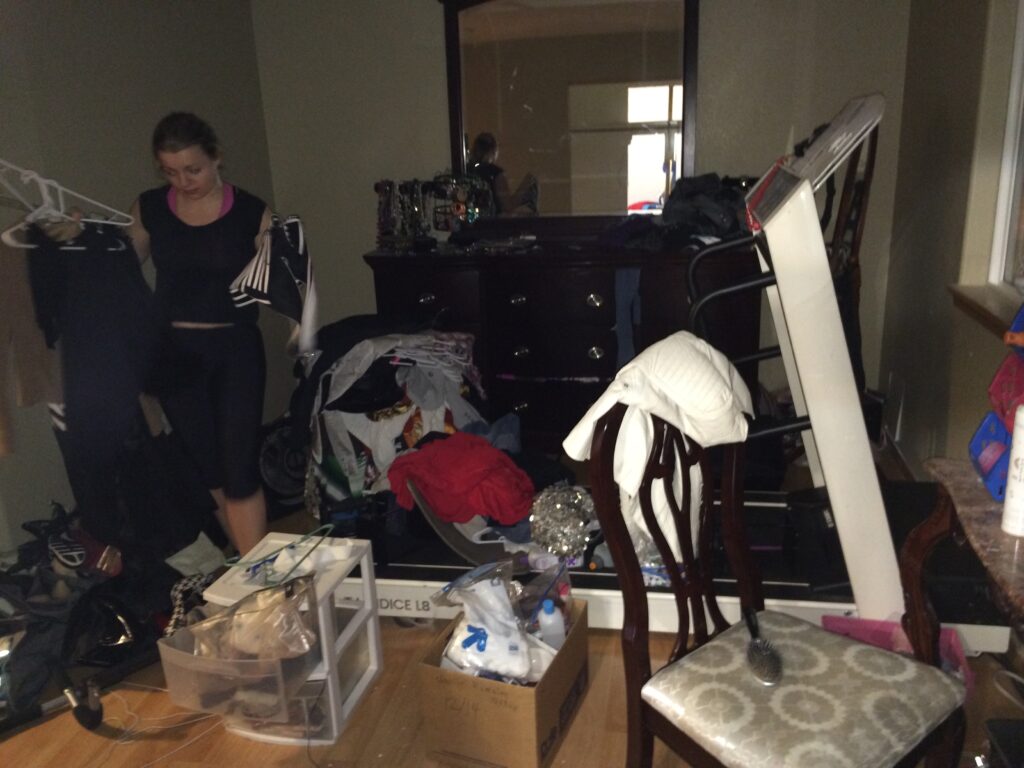 WHERE DID THE SPACE COME FROM?
There was an extra bedroom right next door to our master bedroom–HA!!!!, and I am kind of embarrassed to share what it looked like, but it will give you an idea of how desperate we were for closet space. The next door bedroom had my big bulky dresser that didn't fit in our master bedroom, it also had a treadmill for hanging clothes (because duh, that's what everyone does with a treadmill), and a bunch of miscellaneous trash and junk because that's what happens when you have a junk room, it becomes a place to throw the rest of your junk.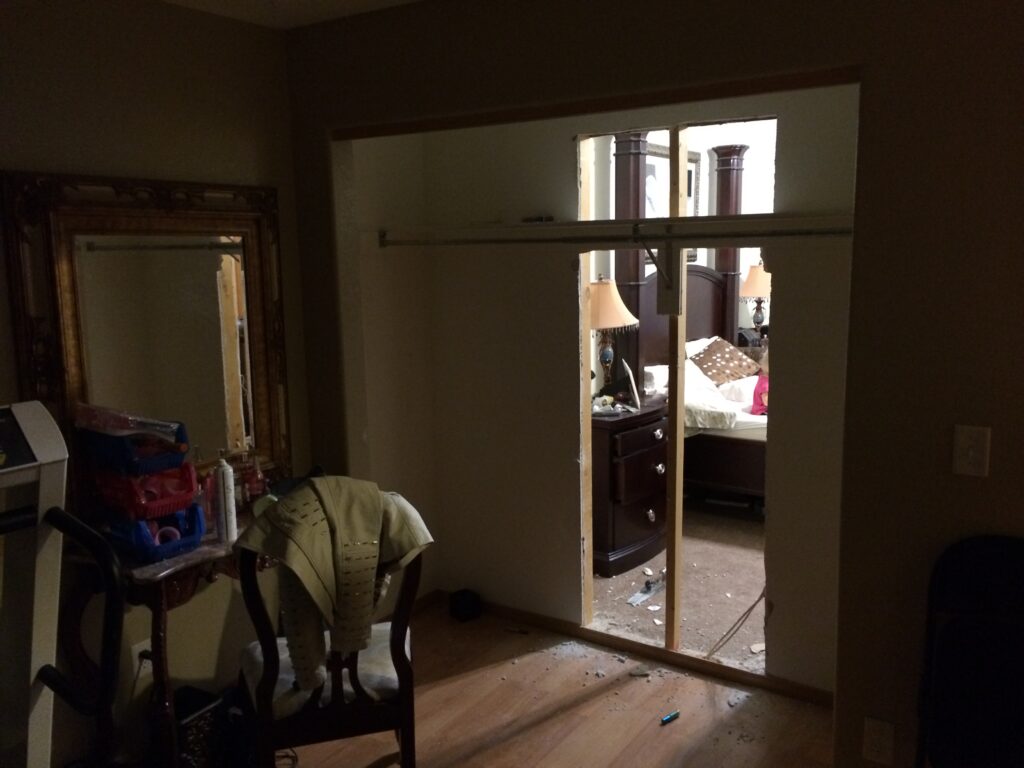 JACK AND JILL Master Bath–are you kidding me?
Just to give you a little extra background on our main floor, our main floor master bedroom was truly a disaster before the renovation. Not only did it have a tiny master closet that was virtually unusable, but it also had a "shared" Jack and Jill bathroom with the main floor. That's right–our master bathroom didn't even have it's own bathroom. That Jack and Jill Master bath was the only bathroom on the main floor, so it was my bathroom, and every other guest who visited our house's bathroom to use. Needless to say, it was always filthy, and I was always embarrassed of having to share it with visitors. So, in our minds, we came up with an idea that would revamp the whole main floor.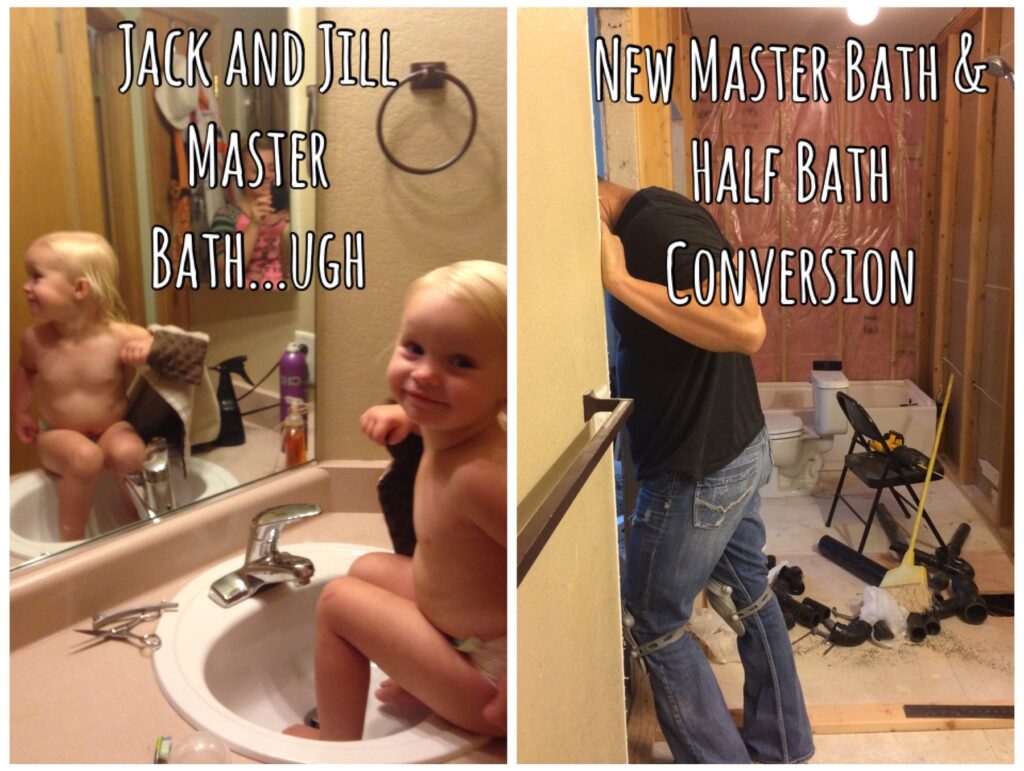 A TOTAL CONVERSION–SEEING A BIGGER PICTURE
To revamp the main floor, we decided we would convert the current, small walk-in closet to a Master Bath, and then convert the small jack and jill Master bathroom to a half bath for the main floor, and then convert the bedroom next door into a MASSIVE walk-in closet connected to the master bedroom. Are you following me???? Don't get lost. Our house was already a 5 bedroom house, so, losing one of the bedrooms to make this Master Bedroom Closet upgrade was all worth it in our eyes–especially in our home's price range.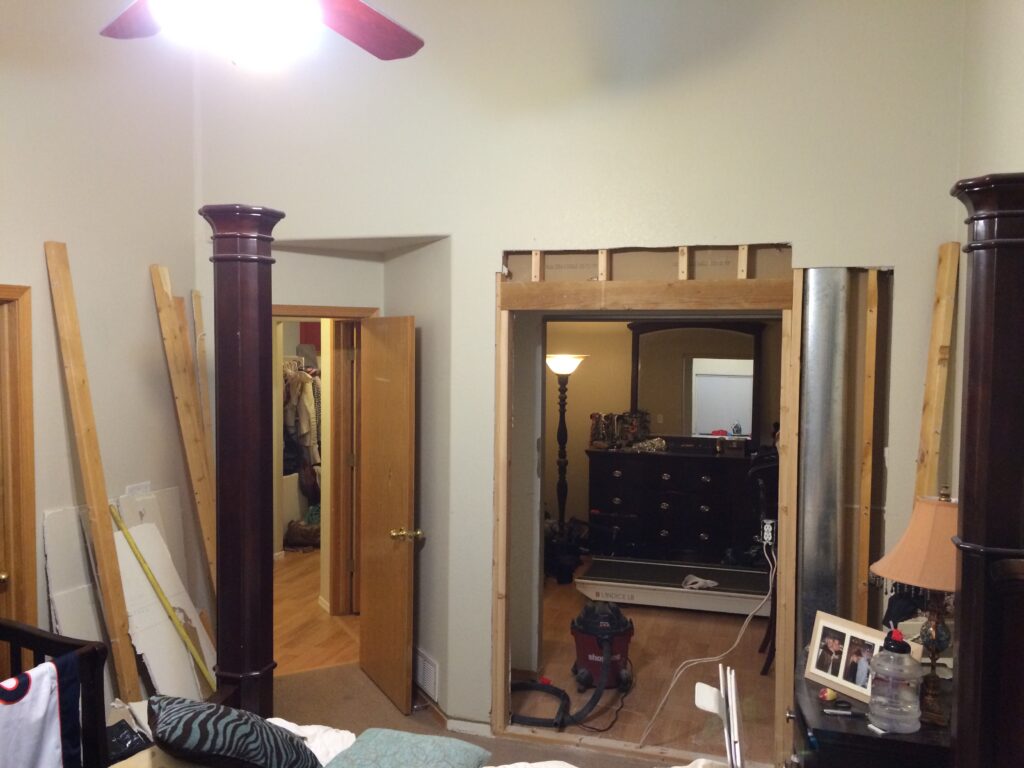 WE BLEW OUR OWN MINDS
Our Colorado home was older, and it was due for a complete renovation anyway. It took us years to make these renovations, in fact, we completed them in their entirety, all of them, right before we put the house on the market (as most DIY couples end up doing). It was a lot of work, and yes my husband and I have experienced "burn out" from home renovations projects at various times in our life, HOWEVER, those were some of our most amazing years! We have learned what we are truly capable of! We blew our own minds, and at the end, it all paid off, not just because of what we were able to create, but also the money we made at resale.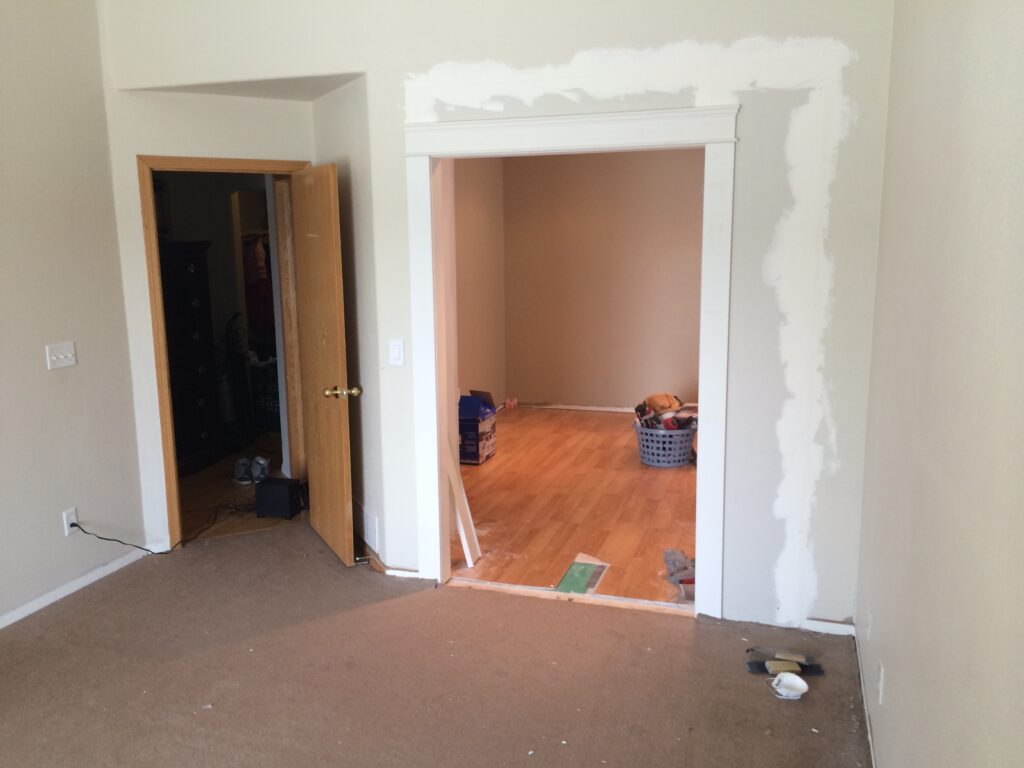 SETTING A NEW STANDARD
When we finally put that Colorado house on the market, there were no other homes in our area with those kinds of renovations in our price range. Our home had full priced offer in one hour of putting it on the market. In fact, we "killed it"! Our home was the first home to sell in our neighborhood at that price point, at that time, EVER –they struggled to even produce comps on our home for what people were willing to offer! When our house sold, all the other homes in our neighborhood increased in value. Our home set a new price point standard, and I'm proud of that!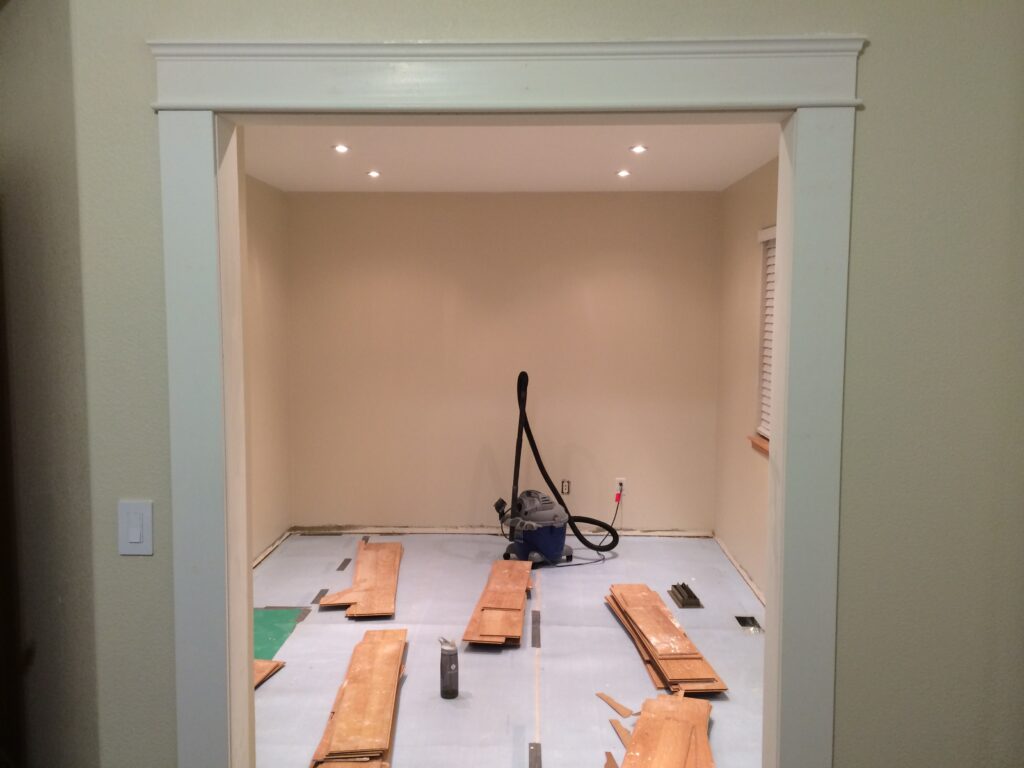 DIY IS NOT FOR THE FAINT OF HEART
DIY is not for the faint of heart, rather, I like to say it is for those with heart. For those who dream of something more, the biggest part of DIY-ing IS the dreaming. You have to start dreaming about what you CAN do with what you ALREADY have! To all you DIY-ers, you're only one dream away! Now, grab your sledge hammer!