Gabriel, Twelve Days of the Nativity, DAY 6
In this series of articles, titled "Twelve Days of the Nativity, " We take a deeper look into the nativity and all of it's beautiful symbols.   The Twelve Days of Christmas take on a whole new meaning as we discover Jesus Christ and His Ministry!
Matthew 1:20, But while he thought on these things, behold, the angel of the Lord appeared unto him in a dream, saying, Joseph, thou son of David, fear not to take unto thee Mary thy wife: for that which is conceived in her is of the Holy Ghost.
Luke 2:9-10, And there were in the same country shepherds abiding in the field, keeping watch over their flock by night. And, lo, the angel of the Lord came upon them, and the  glory of the Lord shone round about them: and they were sore afraid. And the angel said unto them, Fear not: for, behold, I bring you good tidings of great joy, which shall be to all people.
Luke 1:26:-31 And in the sixth month the angel Gabriel was sent from God unto a city of Galilee, named Nazareth,To a virgin espoused to a man whose name was Joseph, of the house of David; and the virgin's name was Mary.And the angel came in unto her, and said, Hail, thou that art highly favoured, the Lord is with thee: blessed art thou among women. And when she saw him, she was troubled at his saying, and cast in her mind what manner of salutation this should be. And the angel said unto her, Fear not, Mary: for thou hast found favour with God. And, behold, thou shalt conceive in thy womb, and bring forth a son, and shalt call his name JESUS.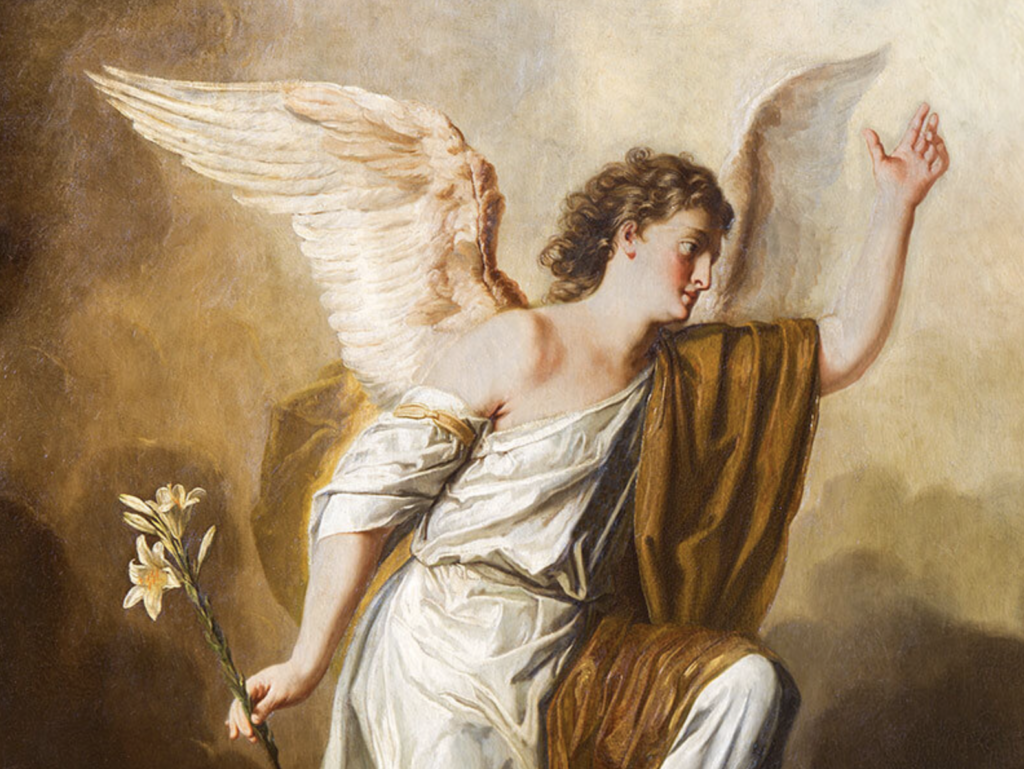 THE DIVINE  CONNECTION BETWEEN HEAVEN AND EARTH
God sends messengers—heavenly and earthly to "mediate" and deliver divine messages on behalf of the Lord.   These messengers found in scripture can be heavenly or earthly servants, but their purpose is the same—they serve God.
GABRIEL
In the New Testament Gospels, an angel of the Lord appears to Mary, Joseph, and the Shepherds announcing Mary's role as the mother of the Savior of the World. The name of the angel delivering these messages  is revealed to us in the texts of Luke.   The angel's name is Gabriel.
WHO IS GABRIEL?
Very little is written about the angel Gabriel, but what we do know "symbolically" is very revealing.  Gabriel not only makes appearances in the New Testament gospels to bring "good tidings" of the birth of Christ, but he also makes appearances throughout the Old Testament which reveal more about his role.  Gabriel is know as the defender and protector of Israel, but what is also interesting is that Gabriel is described as a defender against "angels of other people"—which brings to light writings of "fallen angels" found in texts such as the Book of Enoch.   Gabriel's name means "God is my strength, " and if we are willing to dig a little deeper, we will find that Gabriel's name is a "reflection" of him–a divine messenger of the Lord.
CHARACTER REVEALED
Hebrew names, as recorded in scripture, "reveal" a persons character.   For example, when Abraham takes on a "new name," his new name (Abraham) in hebrew translates into, "father of many."  And what do ya know, Abraham is promised by God to be the father of many nations.    When the angel Gabriel appears to Mary and Joseph and tells them to name the babe Jesus, (i.e. Yeshua).   The meaning of His name Yeshua was, "one who saves."   Names in scripture have always had more to do with "character" and divine "appointments" from God, rather than correct "pronunciation."   If you want to "know" more about God, then take a deeper look at what His name "symbolizes".  How does the meaning of God's name relate to the meaning of Gabriel's name?
THE MAN IN LINEN
In the book of Daniel, Gabriel makes an appearance, and he is described as "the man in linen."   In Daniel 12:7, it says "And I heard the man clothed in linen which was upon the waters of the river when he held up his right hand and his left hand unto heaven, and sware by him that liveth for ever that it shall be for a time, times, and an half; and when he shall have accomplished to scatter the power of the holy people, all these things shall be finished."   WOW!  When I read this verse, an image came directly to my mind, and I could visually "see" in these verses what was being communicated.   It was the "image" of God's name!   If you haven't had a chance to read my first post on Mary (click HERE).   Please take the time to do so.  In it, I introduce "God's Name."  Now, I want to direct your attention back to the above scripture verse about Gabriel, "the man in linen", and this verse's connection to God's name.  How does this scripture verse of the Angel Gabriel connect to "God's Name?  Do you see what I see? ( a little Christmas tune for you, but seriously. )  Can you see that the image of Gabriel raising his hands, and swearing toward the eternal one, is visually "looks" like the ancient Hebrew characters of God's Name.  Can you visualize it?   Let me see if I can help…..
OLDEST ANCIENT HEBREW CHARACTER'S OF GOD's NAME

This (picture above) is the most ancient form of writing we have available on "God's Name,' and if you haven't had a chance to study up on the history of God's name amongst Israel, I encourage you to do so.   How to "speak" God's name has been lost.    No one knows how to pronounce the "name" because over time, the "phonetics" of the Hebrew "symbols" attached to the language was lost, and this was most likely due to fear of "blaspheming" the name of the Lord in a literal sense and being struck dead (Leviticus 24:16).
We have ancient characters and even modern Hebrew letters of the pattern, but no one can accurately determine the pronunciation.  This is a big deal to the Jewish people, and if you want to learn more about it—its a fascinating subject to study.   But for my purposes,  I'm going to plant a new "seed" of understanding, and I hope you let this idea grow, because if you do,  it will "unveil" more about the "face" of God than you could ever imagine. Christ was always more concerned with the inner man over the outward appearance, and so, rather than focusing on pronunciation, I believe it is more important to discover "what God's name means."  Just as names revealed a person's "character" in the scriptures, so does "God's Name" reveal His character.
"VAV" THE PEG, "A SECURE PLACE."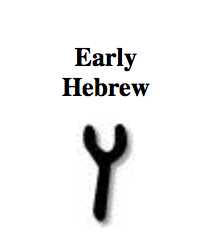 Do you see that symbol above,  that looks like a "nail" or a "peg."   This is the symbol between the two praying stick figures in the " name of God" in the other image above.    That is called the letter "vav" in hebrew.    "Vav" means "peg" or "hook," and it means, "something which is used for securing something together, i.e. to fasten two things together, secure as a tent peg"    It reminds me of a phrase we repeat often in my own church about covenants that represent a "two way promise between us and God."   We promise, and He promises–it's security is what the term "covenant" means.
Speaking of covenents, the symbol "vav" is epitomized in this passage of scripture found in Isaiah 22;23, "And I will fasten him as a nail in a sure place; and he shall be for a glorious throne to his father's house. "   If you are LDS, these passage of scripture should start ringing very loud bells.   Christ was a "mediator" for us to enter back into the presence of God–and he was the covenant, as the Christmas hymn sings, "…God and Sinners reconcile."  After His cruicifiction, "the veil of the tabernacle was rent" preparing a path for us to "follow Him," so that we could walk directly into The Father's presence.  Symbolically, the letter "vav" represents tabernacle "hooks" or "pegs" that held up the "veil" surrounding the traveling, tabernacle tent throughout the wilderness in the Old Testament.   The "veil" is the symbolic separation between God and man and it is secured by a peg.   The  "peg" or letter "vav" symbolizes  the "secure covenant" which God made to bring men "back" into His presence through His Son, and the swearing to God, anciently in the Old Testament revealed a pattern of "covenants."  Even Mary, in this passage of scripture, "Behold the handmaid of the Lord; be it unto me according to thy word. And the angel departed from her," is "covenanting" or "securing" the promise between her and God through this angel. (Luke Chapter 2).   The very word "handmaid" means servant–as the angel served the Lord, so does Mary promise to serve the Lord.
BREAKING DOWN THE NAME OF GOD
Now for the connection to the Angel Gabriel and his role as an Angel of the Lord.  I want to re-share the scripture depicting the angel Gabriel where he is depicted as the "man in linen," because this passage is "visually," spelling out "God's Name."      It says, "Then I Daniel looked, and, behold, there stood other two, the one on this side of the bank of the river, and the other on that side of the bank of the river. And one said to the man clothed in linen, which was upon the waters of the river, How long shall it be to the end of these wonders? And I heard the man clothed in linen, which was upon the waters of the river, when he held up his right hand and his left hand unto heaven, and sware by him that liveth for ever that it shall be for a time, times, and an half; and when he shall have accomplished to scatter the power of the holy people, all these things shall be finished."   Now visualize the image of God's name ( two stick figures with hands raised toward heaven praying, joined by a "secure nail, hook or peg", with an "arm" coming down from heaven extended towards them.) Do you see it now? Do you understand it?  (Take note, this scripture passage is also referring to a prophecy (a scattering).  Are you beginning to see "Gods" character?
GABRIEL WEARS WHITE LINEN
On the Jewish Holiday, Yom Kippur, also know as the Day of Atonement, The High Priest (who normally wears elaborate, colorful clothing) dresses in "white linen garments."    Where previously he wore "exalted" garments in the presence of men to signify his "authority."  Now, on Yom Kippur, The Sabbath of Sabboths, he wears "white linen garments" to show his subjection to one greater.   This is to symbolize his being subject to One who is greater. Today, the holiday Yom Kippur has become associated with the phrase, "face to face."   The more we understand the symbols God has left for us in scripture, the more he "unveils" his "face" to us, and the more "our face" will reflect His.
CAN YOU SEE THE PATTERN?
The Angel Gabriel appears throughout the Old and New Testament.  He wears "white linen garments"  which symbolize his purity and cleanliness to be present before God, but also signify His subjection to God.   He "mediates" messages between men and God, and "secures or binds" between heaven and earth!
GOD IS MY STRENGTH
How did Gabriel get the name, "God is my strength?"  As Gabriel was a mediator between men and God anciently–now Christ is our mediator.  This way, is the SAME WAY, that God becomes "our strength."  We accept "The Mediator," Jesus Christ, on our behalf.
Continue Reading other articles from this series HERE….
Twelve Days of the Nativity Day 5 Prophecy Fulfilled.
Twelve Days of the Nativity Day 4, Shepherds Part 2
Twelve Days of the Nativity Day 3, Shepherds Part 1
Twelve Days of the Nativity Day 2, Joseph
 Twelve Days of the Nativity Day 1, Mary