PROPHECY FULFILLED, Day 5-Twelve Days of the Nativity
In this series of articles, titled "Twelve Days of the Nativity, " We take a deeper look into the nativity and all of it's beautiful symbols.   The Twelve Days of Christmas take on a whole new meaning as we discover Jesus Christ and His Ministry!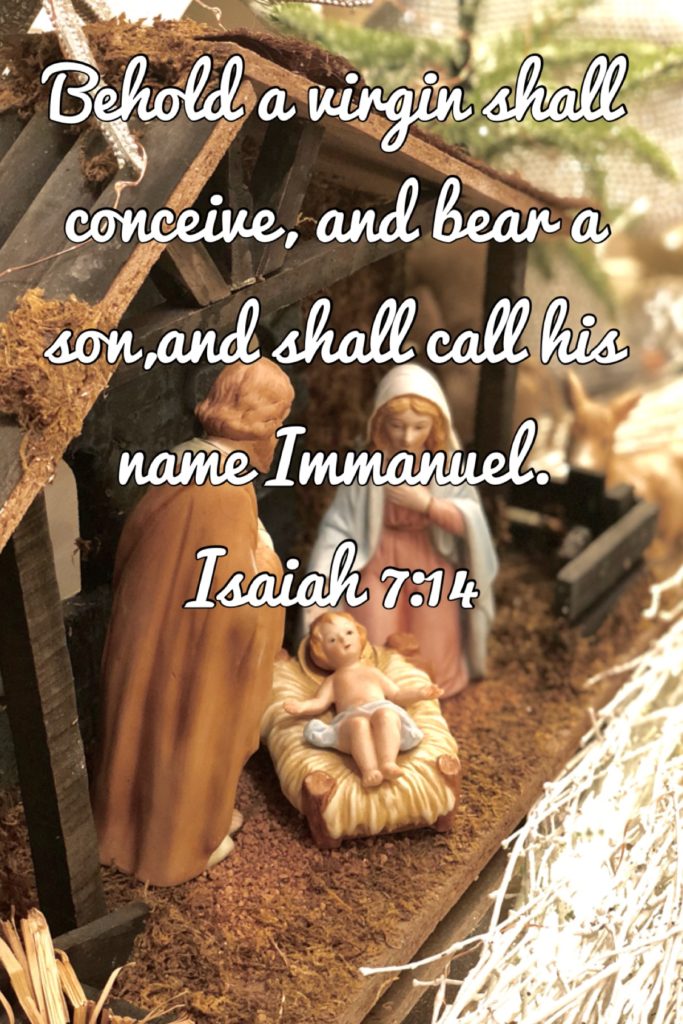 PROPHECY FUFILLED
 Behold, a virgin shall conceive, and bear a son, and shall call his name Immanuel."  (Isaiah 7:14) 
DEFINING THE PURPOSE OF THESE ARTICLES
Last night, as I was finishing up my second post on the shepherds I took a moment to pause in my writings, and I realized that there may be some people who read these articles who don't understand the depth of why all of this matters.  As I take the time to write these articles, obviously it matters to me, and so in this article titled, "Prophecy Fulfilled," I want to discuss why being able to "recognize" the "fulfillment of prophecy" should matter to all true followers and seekers of Christ.
WHY THE FULFILLED PROPHECY OF THE NATIVITY MATTERS
The word nativity means, "occasion of someone's birth," and it is His birth that we are discussing.  Why does all of this matter?   Why does it matter that we understand something that happened so long ago. Why does it matter that we "see" the fulfillment of ancient prophecy in the scenes of the Nativity?   Why?  My answer is because He promises to "come again" to fulfill new prophecy, and he has given us a pattern in scripture that will be fulfilled prior to His second coming.  How much better will we be if we know the signs of His first coming to prepare us for His Second!
THE RECORD DIDN'T EXIST YET
The Old Testament record is thousands of years old.  It's important to remember that at the time of Christ's Birth, this written record of scriptures (the Old Testament) had existed for hundreds of years, but The New Testament did not yet exist.  There was no record that "explained" what the fulfillment of these things looked like–because it hadn't been written yet.  Those who reject the New Testament, are still looking for a "savior" who has yet to come.  Those who accept The New Testament, are redeemed by a "savior" who  has already come, and who promises to "come again".
ANCIENT WORDS POINTING TO THE SAME GOD
The Oldest writings of the Old Testament were written in Hebrew, and the Oldest records of the New Testament were written in Greek—these two ancient records are one.  One record is a shadow, the other is the very "image."   The word Messiah was used in the Old Testament to refer to a Savior who would come in the flesh to redeem His people, and the word Christ was used in the New Testament to reveal Jesus The Christ as the one who had come.   Both  words, Messiah (used in Old Testament Hebrew) and Christ (used in the New Testament Greek), mean the same thing, translating into the same word "anointed."  The Annointed One of the Old Testament is the same "God in the flesh" of the New Testament.   He was with them (His people) all along—both books bear witness of Him.
SHADOWS BECOME THE VERY IMAGE
The Old Testament "shadows" were "revealed" in the New Testament writings.  These "shadows" pointed to something that was to come!"   The Old Testament was a book of prophecy that would be fulfilled!  That was it's entire purpose, to reveal the works of God—to "reveal" who God was and what he would "look" like when He came—so that Israel would recognize the "face" of their King.
THE FACE OF GOD
I have to admit, I have always wondered what God looked like.  There are repeating phrases in the scriptures where it talks about God "unveiling" his face, or "hiding his face," or the children of Israel going "before his face", or even references to Moses talking with God "face to face."   Have you ever wondered what His face looks like?   Jesus Christ has a face.   He was God in the flesh, right?    But when He looks upon us does He see His "image," and do we reflect His "nature", and His "character"?    In 2 Corinthians 3:18, it says "And we, who with unveiled faces all reflect the glory of the Lord, are being transformed into His image with intensifying glory, which comes from the Lord, who is the Spirit."   When I read this verse,  to me, it describes a person with an "unveiled face"  as one who is not ashamed to stand in His presence, because we have been "transformed" into His image. Our faces are unveiled, and we are one.   How can we be like His "image" if we  do not "know" him?
BRIDGING THE GAP
Understanding the prophecies of the Old Testament that Christ fulfilled will give us greater insight into prophecies that will be fulfilled at His Second Coming–more so, how these prophecies might be fulfilled.   Prophecy fulfilled will become "tangible" to us—we will see its simplicity.   We, like Mary, or Joseph, or the Shepherds can see the "signs" that point to Him so that we can be found 'watching."   When followers read the words of Isaiah anciently, "Therefore the Lord himself shall give you a sign; Behold, a virgin shall conceive, and bear a son, and shall call his name Immanuel."  (Isaiah 7:14)  Were these words plain to them?   Would they have been plain to us?   And would we have received this "prophecy fulfilled."
END TIME PROPHECY
The Old testament still contains prophecies that have yet to be fulfilled in the book of Isaiah, Revelations, as well as Matthew.  If we can not understand the signs that revealed the coming of the  Birth of Christ as they are clearly laid out before us in scripture—will we be able to see the signs for His second coming? When He comes will He find us "watching?"  "Blessed are those servants, whom the Lord when he cometh shall find watching: verily I say unto you, that he shall gird himself, and make them sit down to meat, and will come forth and serve them."  Luke 12:37  To "watch" in this scripture is the greek word ,grégoreó or γρηγορέω, which means "to be awake, on alert, vigilant."
SHADOWS FOR US
I hope that as you continue to read this series on the Nativity that it will draw you closer towards a Savior who has made promises to come again!  That you will see how "shadows" became the very "image" of fulfilled prophecy in New Testament Scripture.   And that it causes you to look forward to "unfulfilled shadows" found in Isaiah, Matthew, and Revelations, that will cause you to"see" HIS "very image" as we look forward to His second coming.
Continue Reading other articles from this series HERE…..
Twelve Days of the Nativity Day 4, Shepherds Part 2
Twelve Days of the Nativity Day 3, Shepherds Part 1
 Twelve Days of the Nativity Day 2, Joseph
 Twelve Days of the Nativity Day 1, Mary