Relief Society "Gather" Thanksgiving Activity

This Thanksgiving Relief Society Activity featured a beautiful "Gathering Friends" Theme.  Hope you enjoy reading about this activity, and that it gives you ideas for future actives in your own Church group!
RELIEF SOCIETY "GATHER" ACTIVITY
Our Relief Society put on a beautiful Thanksgiving "Gather" activity.  We had a great turnout, and lucky for me, I was in charge of the craft!  Most of you  know how much I love crafting.   It was fun to get to create something the sisters enjoyed.
A LESSON ON LIVING TO THE FULLEST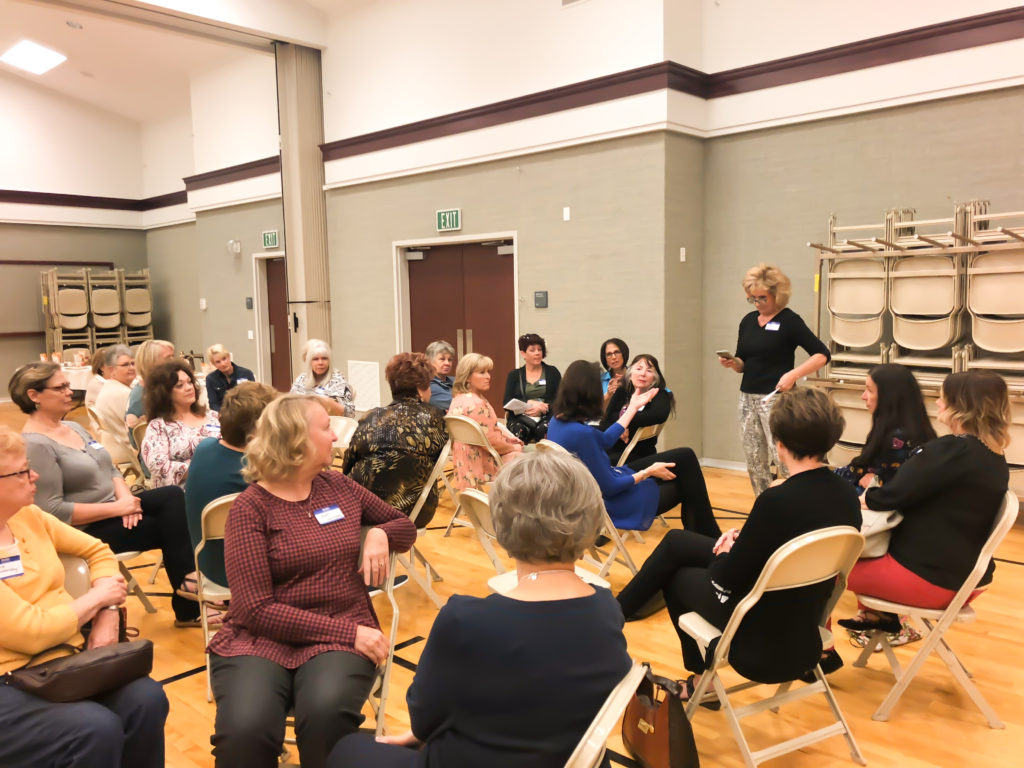 The activity began with the sisters gathered in groups to listen to a great talk on the secret to living a long full life.  Our speaker shared articles and published research that shares the secret to living longer.   Some of the things she talked about were diet, healthy activities, and most of all–our relationships.  The most well kept secret for living a long life is healthy relationships!   It was a great talk, and very entertaining!
SPEED FRIENDING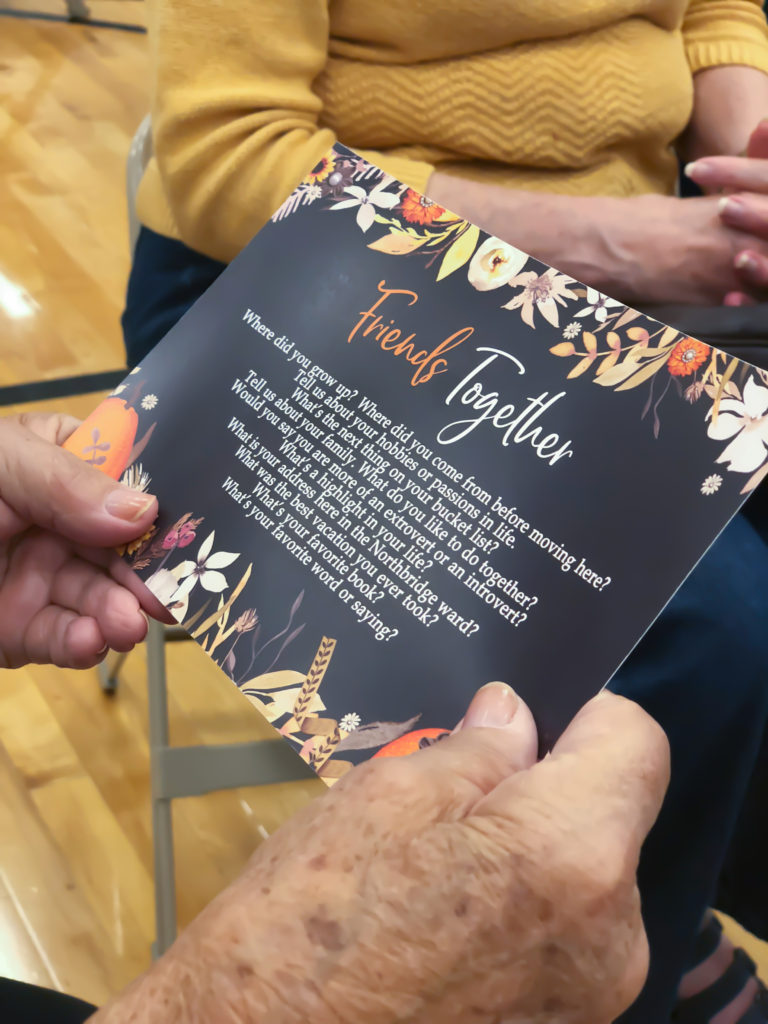 We've all heard of speed dating, and in this part of the activity we all broke of into groups of five (the chairs were already organized this way when we got there),  and we "Speed Friended."   We were given a card with a list of "get to know you" questions that we traded asking one another back and forth.   I learned a lot about this group of wonderful ladies.  They have all had some pretty amazing and fascinating experiences.   For this game, we focused on getting to know one another, and building new and old relationships.  It was great!
A DELICIOUS FEAST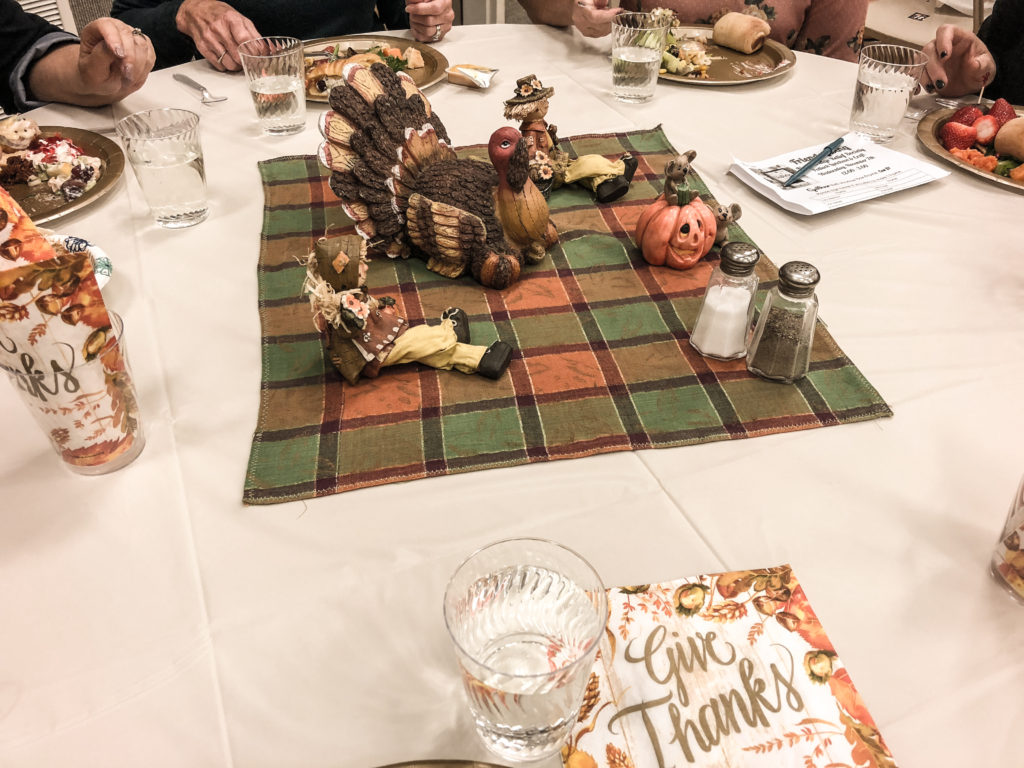 This activity was potluck!  Everyone brought a side dish to share.  AND WOW!!!! These ladies went all out.  Sadly, I didn't get a picture of all the food because I was too busy eating it, but something I love about this ward is that they take great effort to bring something delicious!  Some of the items were store-bought, and many of them were homemade, some were ordered from restaurants, but in the end it was ALL delicious!  At the center of all the tables were Thanksgiving decorations, each table featuring something unique, but that also fitted with the theme.
A "GATHER" SHADOW BOX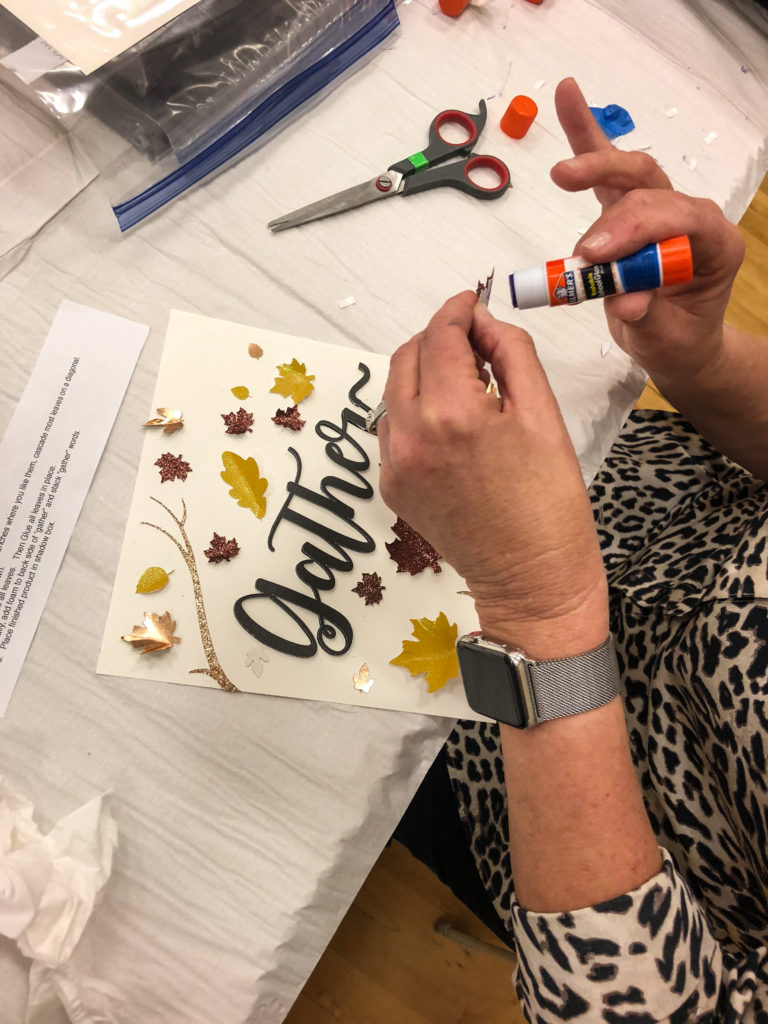 Gather is one of the focused themes right now in the LDS church.   You've probably heard the topic "gathering of Israel" mentioned recently.   For this activity, I was asked to create an EASY craft that the sisters could complete in 20 minutes, and so I came with this beautiful Gather Shadow Box.  I cut all the paper using my silhouette cameo, and we ordered shadow boxes size 8×8 for $5 a piece for the sisters.   This craft activity cost $7 for the sisters to complete.  The paper we used was glittered bronze, gold, and rose gold colors of cardstock paper.  Also, I ordered the boxes on Walmart.com, with a few extra boxes just in case.  In the end I only had to return a few shadow boxes to Walmart.  Make sure you order and return your extra boxes within the 30 day window–this makes for easy planning and returns.  We timed everything to fit within that frame.  When I ordered the boxes, they arrived within 48 hours. This was the shadow box we ordered CLICK HERE, and I thought it was great quality for the price!  I ordered all my supplies a couple weeks in advance.   The cardstock paper came from Joann's and Michaels Craft Stores.   If you would like a full tutorial on this project CLICK HERE. In this post I give cut patterns, and instructions for how to prepare the craft.   Also, to see photos of decorating ideas using your gather shadow box CLICK HERE.