Thanksgiving Entry
Decorate your entryway table with falling leaves and autumn animals!  Simple touches make this entry a spectacular sight for your Thanksgiving Decor!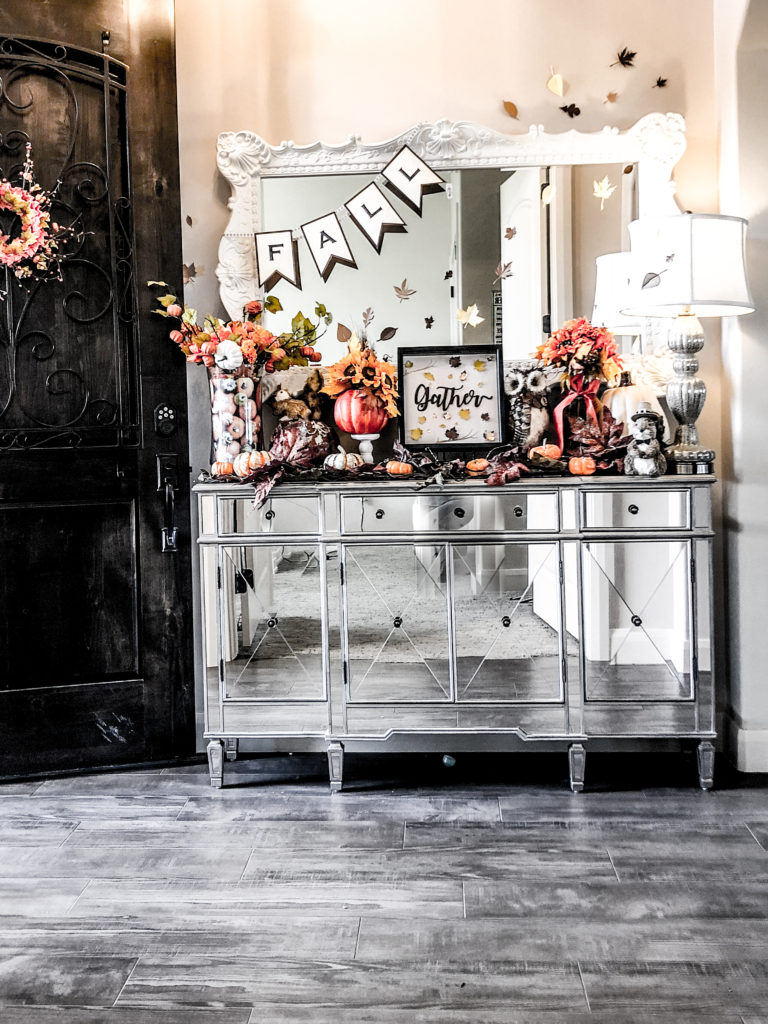 A THANKSGIVING ENTRY
As we head into Thanksgiving I don't skip the November decorations for Christmas!  I love enjoying all the elements of  all the holidays.  In this post, I share  some of my simple decor techniques for your entry way.  I have links to a FREE PRINTABLE FALL BANNER, a DOLLAR STORE PUMPKIN FLOWER ARRANGEMENT, and a tutorial for my GATHER SHADOW BOX CRAFT.   Enjoy!
CASCADING LEAVES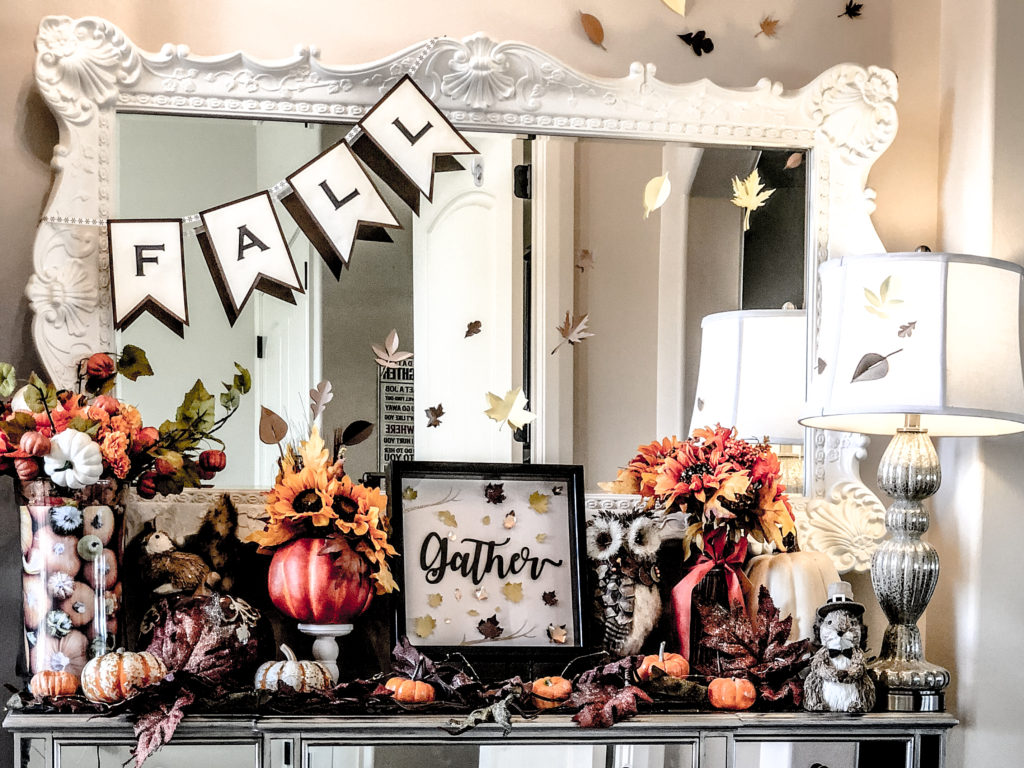 These Cascading leaves are a fabulous addition to your entry way!  You've seen flying paper bats at Halloween and hanging garland at Christmas!  Make this November an opportunity to accent falling paper leaves.  I cut these from my silhouette Cameo machine, but you can very easily trace and cut your own, OR most craft stores should carry pre-cut paper leaves in the scrapbooking section.
FREE PRINTABLE FALL BANNER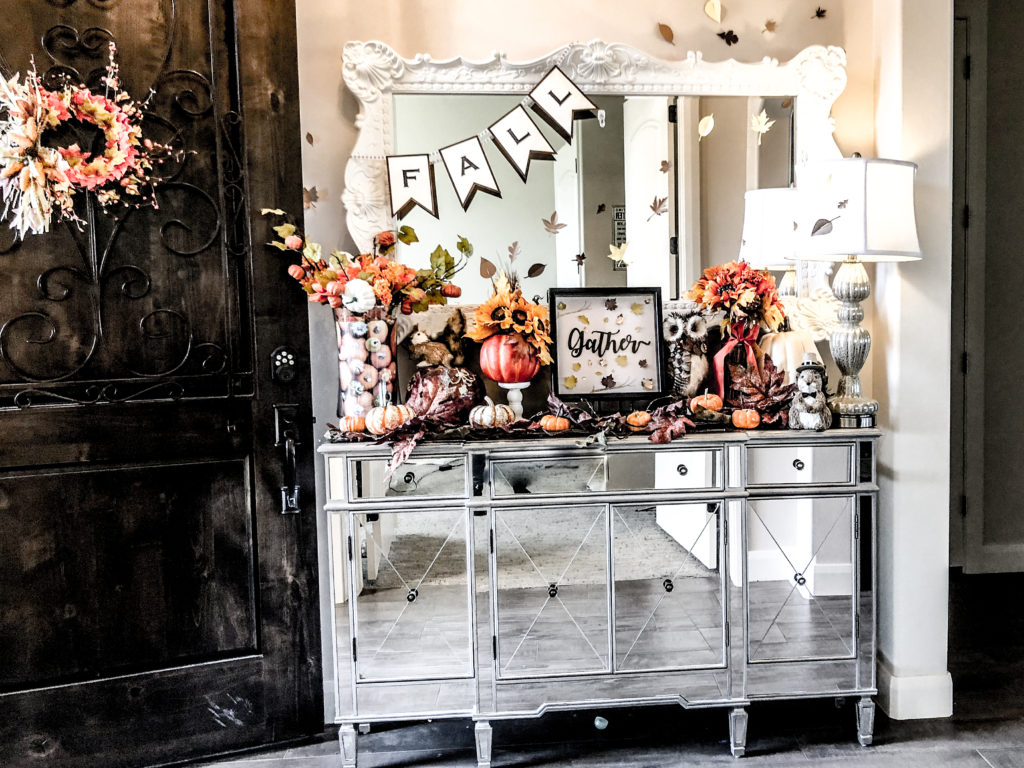 Add a banner to your entry table mirror.  This Fall Banner is available on my website.  Just CLICK HERE for your free printable fall banner!  Banners add character to mirrors and mantles.  Don't skip on the banner! Just use a little hot glue to adhere your banner to a ribbon, and make sure you print your banner on card stock!
An Easy Craft for Fall–GATHER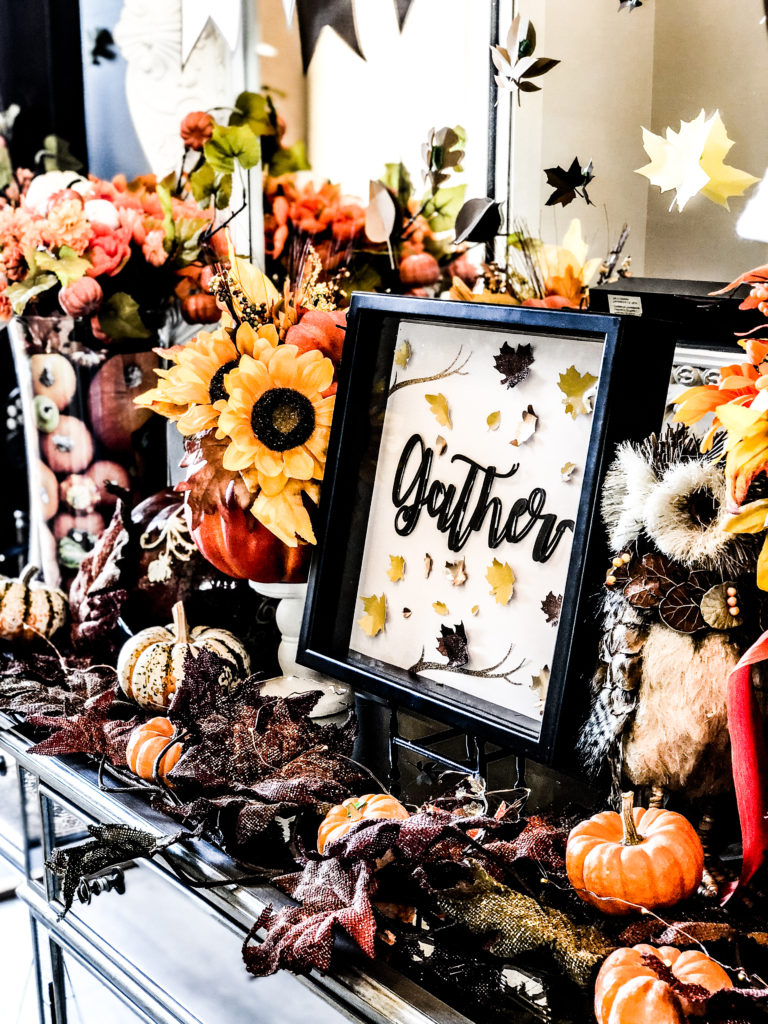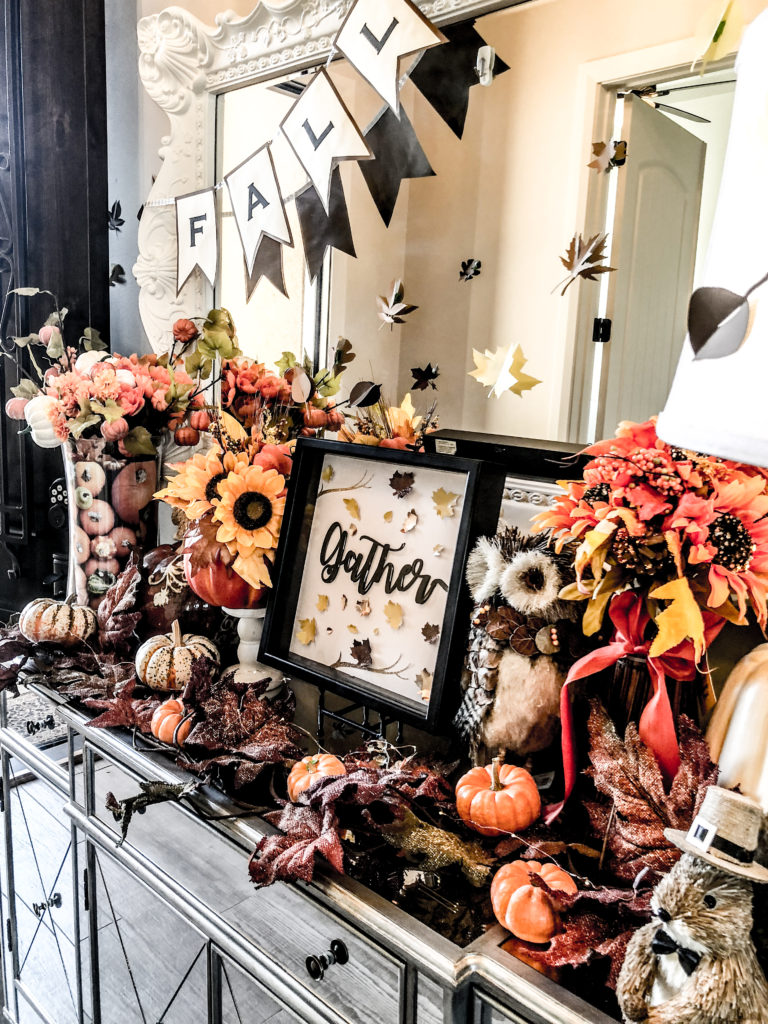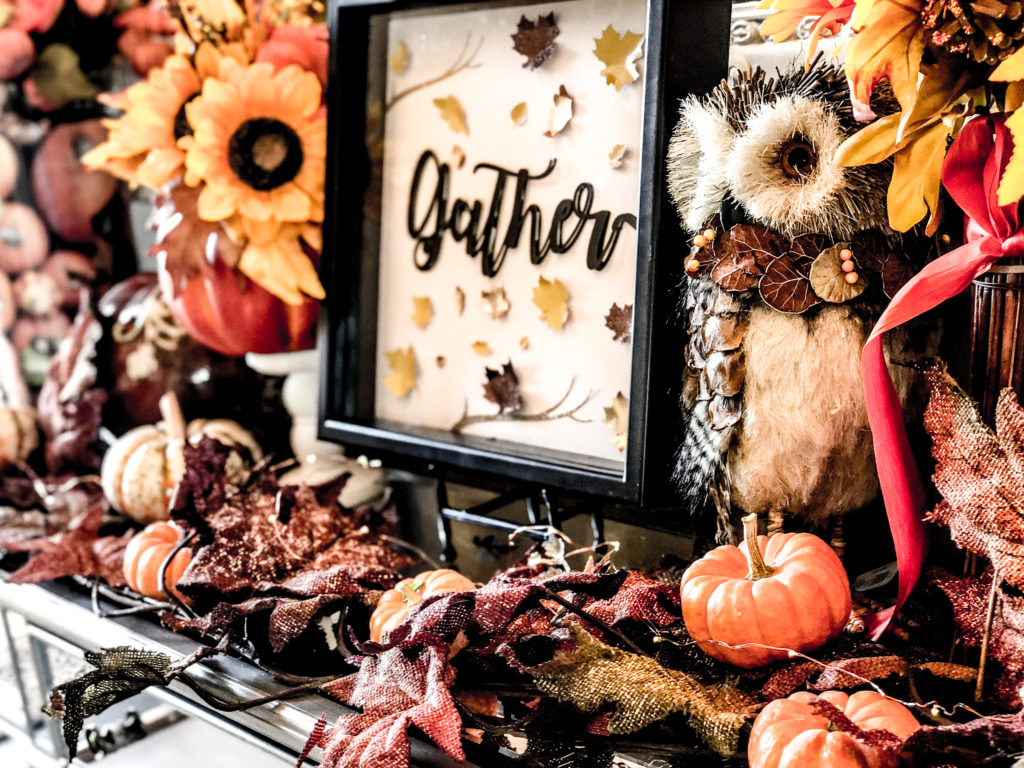 This Gather Shadow Box is an easy Fall Craft that is truly a statement piece for your entry.  Glitter leaves in bronze, rose gold, and yellow, with copper glitter branches make this Thanksgiving craft irresistible.   And the best part is, it's easy!  You can find a tutorial with cutout patterns for this craft HERE.
FINISHING TOUCHES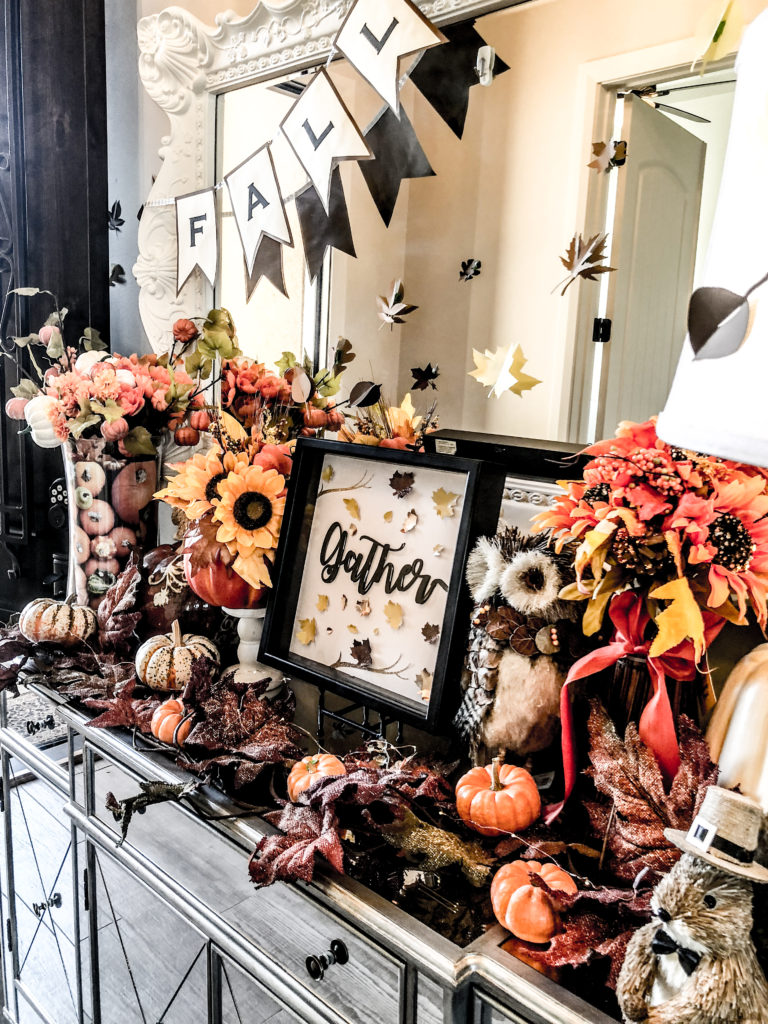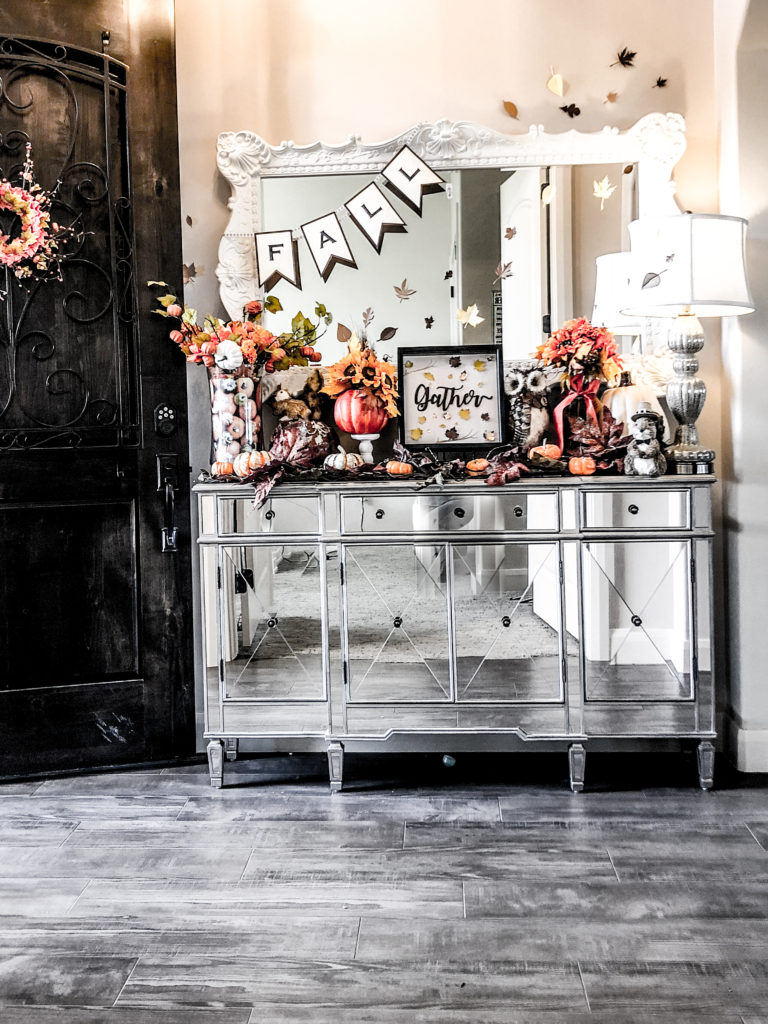 For the final touches on the entry, I adhered all the falling leaves with painters tape in a cascading-one-flow direction. I also added woodland creatures, copper fairy lights, and fresh pumpkins scattered through the fall leaf garland. To the left, take notice of the tall flower arrangement. This leads me to my final statement piece–the floral arrangement!
PUMPKIN FLORAL ARRANGMENT
The arrangement was done by filling a tall vase with grocery sacks for filler, using a piece of scrapbook paper to line the outside.  This scrapbook paper is decorated with squashes, gourds, and pumpkins.  Finally, I used a dollar store flower arrangement (that I made myself for my Halloween and Fall decor), and stacked it on top of the plastic bag fillers in the vase.  Isn't it beautiful!  You Can find a tutorial for the flower arrangement original  HERE.