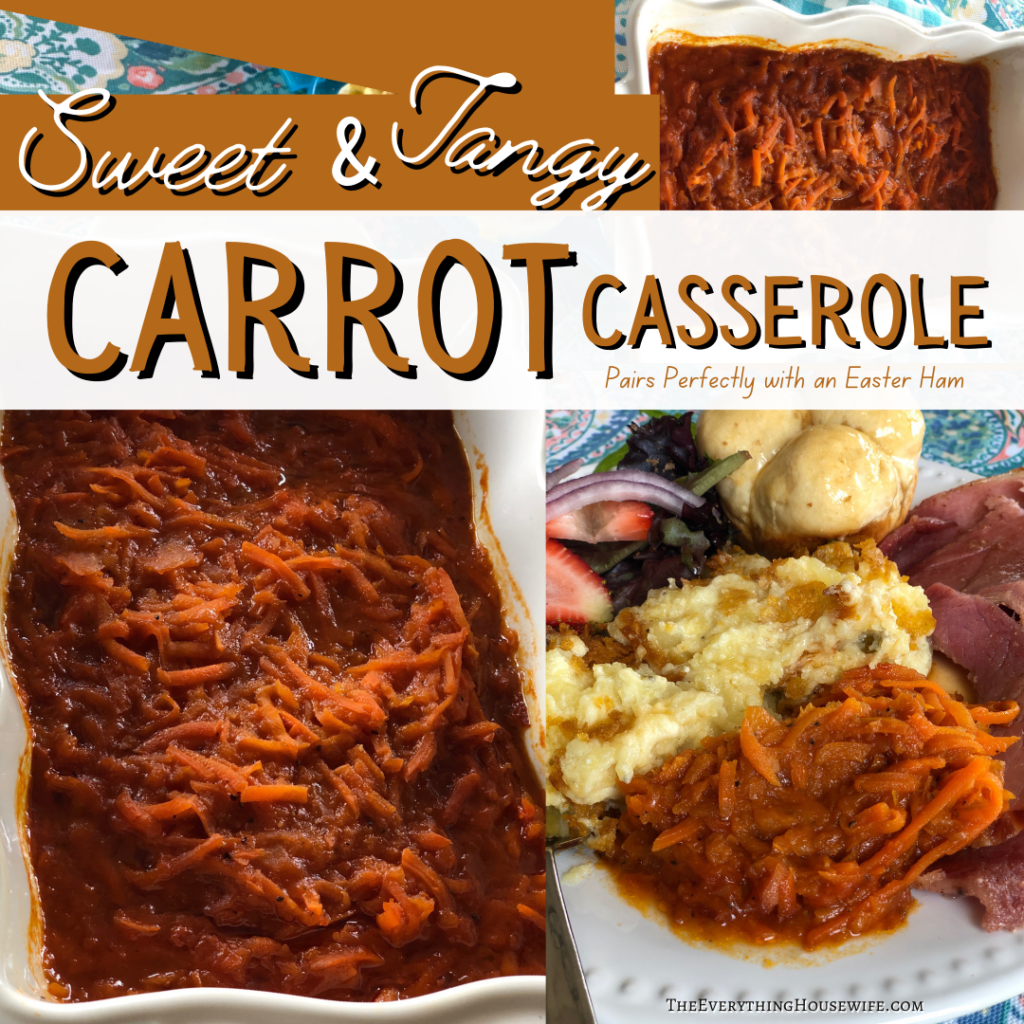 I LOVE THIS CASSEROLE!!!!! There's nothing better than sweet and tangy carrot casserole dished out as a side with your Easter ham. This is one of my all-time favorite recipes, and it is another classic from the recipe box of my Great Aunt Virginia. This recipe pairs the flavors of buttery, sauteed onions, tangy V8 juice, and sweetly shredded carrots into a casserole that pairs perfectly with your brown sugar glazed Easter ham. It doesn't get any better than this for your Easter Sunday meal. We make this every Easter, and it just wouldn't be Easter without this casserole!
Sweet & Tangy CARROT CASSEROLE Recipe
Adapted from the recipe box of my Great Aunt Virginia! This recipes pairs perfectly with an Easter ham, and we have even substituted regular V8 Juice for the spicy version. The spicy version tastes amazing and adds a little bit of a kick!
Ingredients
1 bag shredded carrots, 4 cups
½ stick butter
1 onion, chopped
1 chicken bouillon
2 small 10 oz. Cans V8 juice
Hot sauce, to taste
Salt
Pepper
Instructions
Sauté carrots and onion in butter until nearly tender. Add all other ingredients, (including chicken bouillon dissolved in a little water). Cook for 3 more minutes, add salt and pepper to taste. Place in greased, 8×8 casserole dish in oven at 425° for 20 minutes covered in foil, and then another 10 to 15 minutes uncovered until lightly browned around the edges.