These funeral potatoes are so yummy that they have received a new name! My family calls them Yummy Potatoes. My great Aunt Virginia used to make these potatoes, and over the years they've undergone a few changes, but you'll never associate these kind of potatoes with a funeral ever again. What makes these potatoes so different from their counterparts? Well, it's the freshly grated potatoes paired with the addition of the green onions and the extra-sharp cheddar cheese. The flavors combine to give this casserole the perfect bite that makes them stand out against all the rest. You'll be sure to add this dish to your holiday collection. We make these every Easter!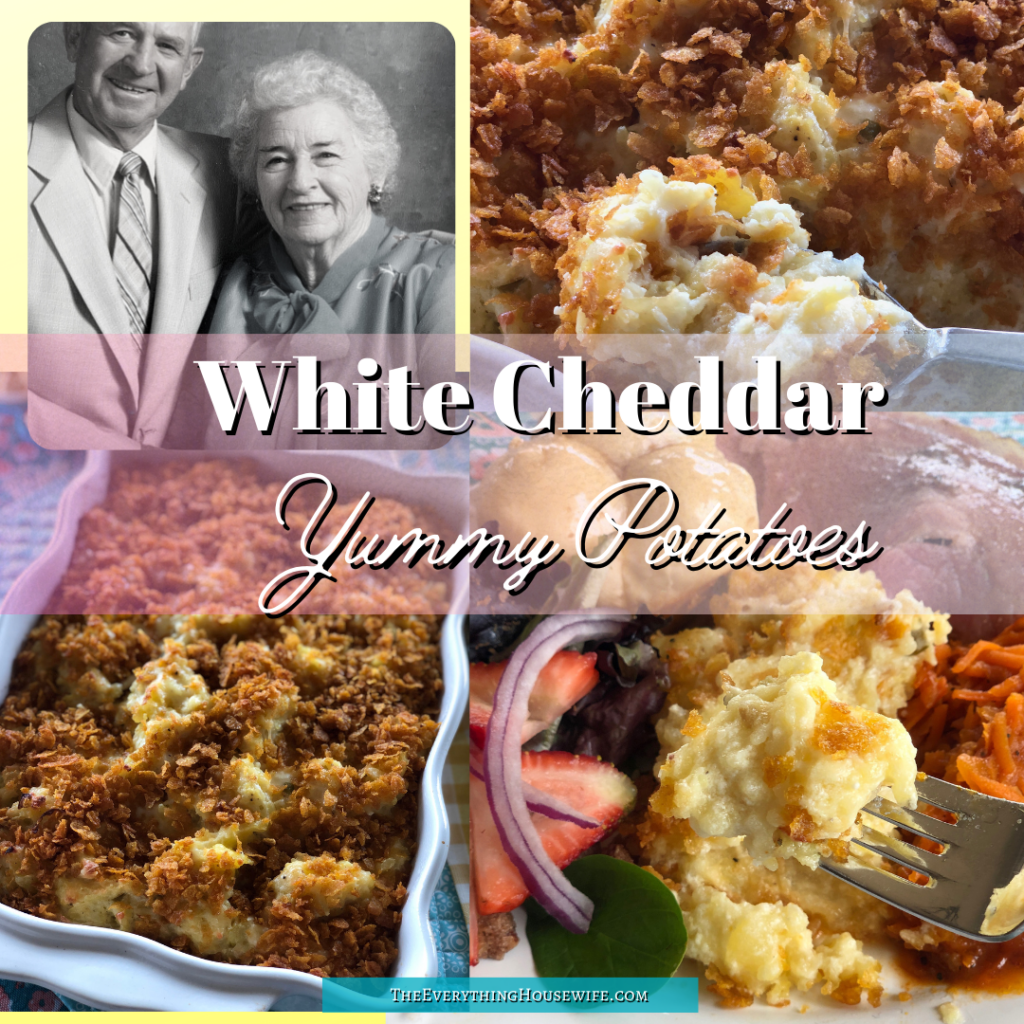 White Cheddar Yummy Potatoes—Our Family Favorite
(Recipe Adapted From My Great Aunt Virginia's Original)
Ingredients
• 8 Medium Russet Potatoes, Parboiled, and Grated*
• 1 pint (16oz) of Dairy Sour Cream
• 1 Can Cream of Chicken Soup
• 1 Bunch of Chopped Green Onions
• 2 ½ Cups Shredded, Extra Sharp White Cheddar Cheese
• 1/2 Cup Corn Flakes, Crushed
• 2 T. Melted Butter
• 1/4 cup butter
• Kosher Salt and pepper to taste
*Directions For The Potatoes:
Wash and scrub potatoes. Wrap in foil. Bake potatoes at 400 degrees until tender. Cool, peel, and shredded using a cheese grater. (I often complete this step the day before and let the potatoes refrigerate over night to cool and be peeled the next day).
Directions for the casserole:
Heat 1/4 cup butter with cream of chicken soup until melted, and stir until blend. Blend in sour Cream, green onion, and grated cheese into soup mixture. Then, Mix the wet ingredients well with Grated Potatoes. Add kosher salt and pepper to taste. Place in a greased 9×13 baking dish. Sprinkle with Crushed cornflakes. Drizzle with 2 T. melted Butter. Bake at 350 for 45 minutes.