Fresh meat!!!!!!! That sounds like something you would hear from the bully at the school yard, but not in this case! There is nothing better than farm-raised, uncured pork from the farmer's market. My husband and I bought a few different cuts, and we were excited to experiment for the first time with an uncured ham on the smoker. This uncured, smoked Easter ham came out delicious with its balsamic, brown sugar glaze. This ham is a great, easy recipe for your Easter dinner. With othe leftovers, we made breakfast ham and egg biscuits! Make sure you give this recipe a try! It'll be a hit this easter season!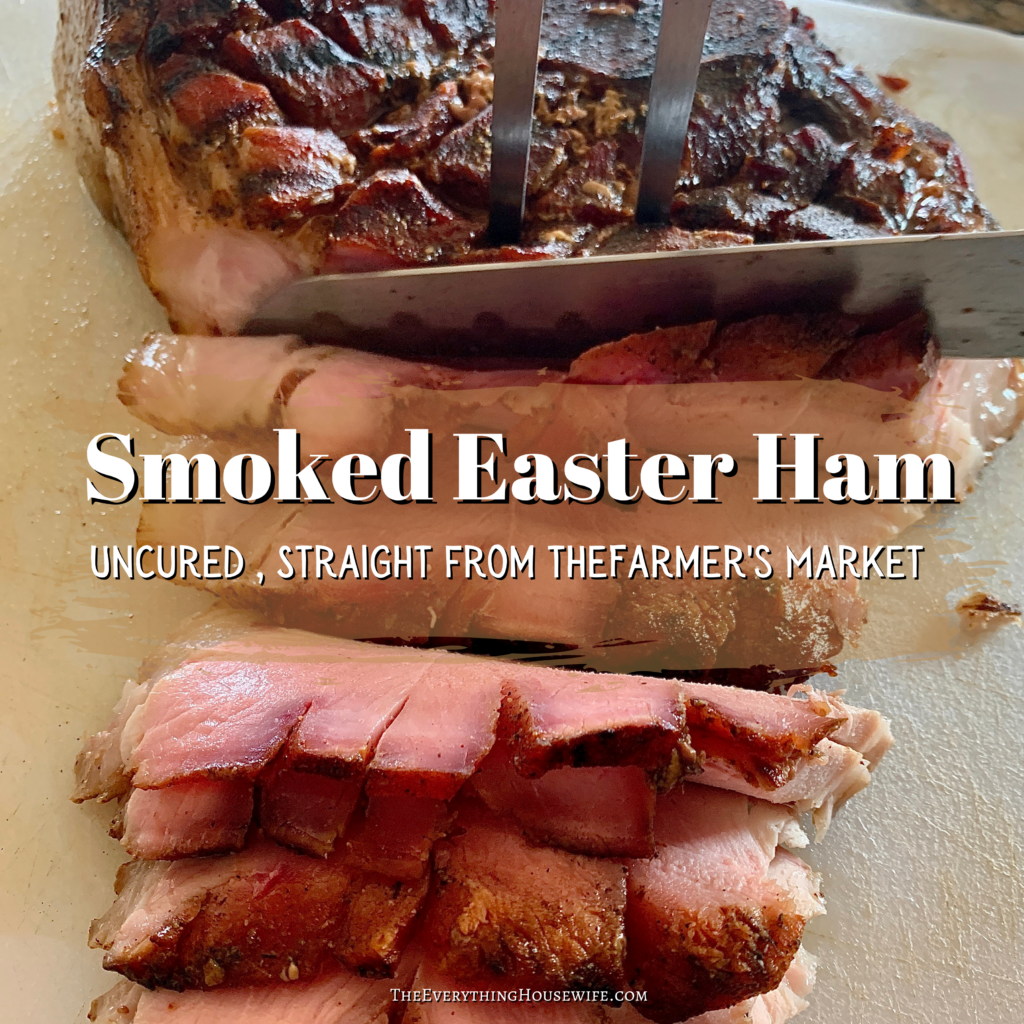 Smoked Easter Ham Recipe—Uncured, Straight from the Farmer's Market
Ingredients:
5lb Uncured Pork Ham Roast, cut with a cross pattern
Kosher Salt and Black Pepper
1/2 Cup Brown Sugar Packed
1/2 cup Maple Syrup
1/2 cup sweet vinegar (balsamic, or something else. We used Lambrusco wine vinegar)
1/2 tsp. Cinnamon
Directions:
Cut your ham roast in a cross pattern.
Season your ham roast with a healthy dose of kosher salt and black pepper to your liking. Make sure it settles down into the crevices of the cross pattern. After, do the same thing with the brown sugar.
Sear both sides of the meat on high heat using an open-flame grill or cast iron skillet.
Set your smoker to 225 degrees until it reaches 145 degrees internal temperature (usually takes around 2 hours). Use your favorite wood chips.
While the meat is smoking, in a separate sauce pan, mix maple syrup, vinegar, and cinnamon together over medium-low heat until the mixture dissolves together. Brush this sauce over the meat periodically while it is cooking in the smoker to keep it moist and allow the surface of the ham to caramelize.
After the meat reaches an internal temperature of 145 degrees, completely cover it in foil and allow it to rest for about 20 minutes.
Any juices from the meat should be mixed with remaining brown sugar/vinegar glaze and drizzled over the meat just before serving. Slice into thin cuts to serve.