Hot Cocoa Bar! Relief Society Christmas Activity Idea
[iheu_ultimate_oxi id="1″]
Hot Cocoa Bar! Relief Society Christmas Activity Idea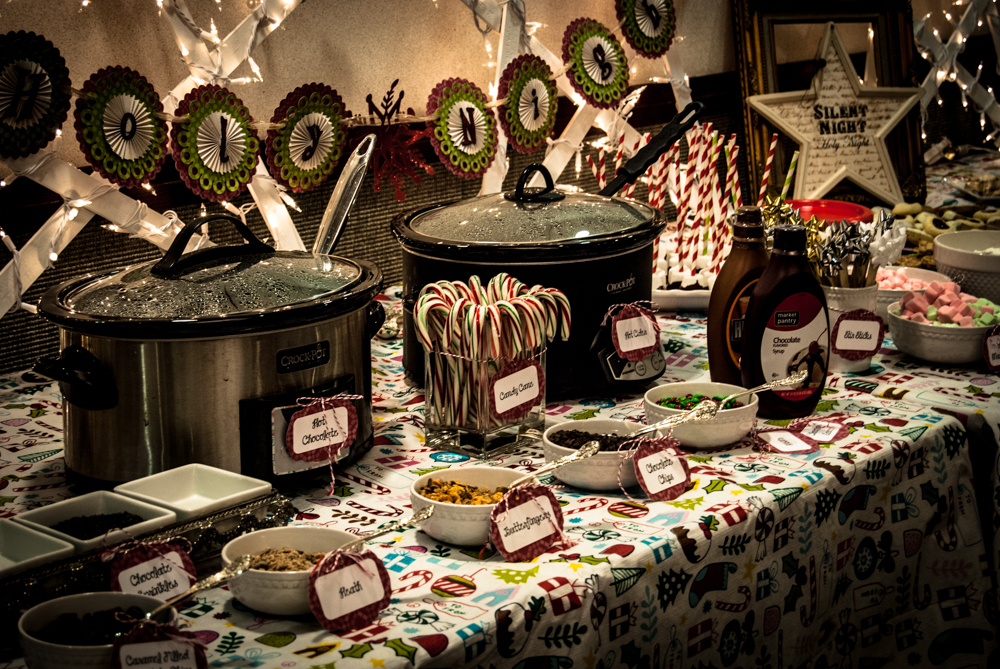 We had so much for doing this as a Relief Society Activity last year, and everything turned out so cute. This is how long it's taken me to get this posted.  Like I said, I have lots just waiting to hit the internet.  This would also be a great idea for a winter or Christmas party!
Relief Society "Gather" Thanksgiving Activity
First off, everyone wore the pajamas! This was the best part about it. We had two different crockpots of hot chocolate and also a pot of Hot Cider! We also decorated the backdrop with my Christmas Banner that I made, and I used my silhouette cameo to cut cute labels for all the different toppings. It's great to get a little creative with the toppings. One of the sisters made chocolate covered marshmallow stirrers with candy cane striped straws.
For the Activity, all the sisters brought a plate of cookies to share, and at the end we ended up doing a mini cookie exchange with what was left. I got to try a few different cookies that were absolutely delicious. There were these tiny, raspberry jam thumbprint cookies that one of my friends made. I will be posting that recipe. They are super easy to make and absolutely delicious.
Ward Christmas Party-Table Settings
The Christmas Book I Shared
Notice the photo with the rocking chair and the books…. The Committee, after everyone got their Hot Cocoa and Cider, took turns in the rocking chair and read our favorite Christmas stories. I shared a new story that I had received that year as a gift from my mother-in-law.  The book was called A Special Place for Santa.   It was a book about Santa, and the history of Santa Claus…how he became a Saint, and what he did for the people. It shared the symbolism between him and that of Jesus Christ. It was a beautiful, fun night!  You can find the book HERE.
Electronic GIFT IDEAS FOR HIM!
I remember I almost didn't make it that night to the activity…I had been sick all week with food poisoning, and then one of my kids got sick the day-of just as I was recovering…I had no one to watch my kids, and I couldn't bring a sick child with me…Out of no where, I get a phone call from a friend (she drops off a meal), and another friend sends her daughter over to babysit. I had some good friends there that pulled in some favors I didn't even ask for…I wouldn't have been there without them. Anywho!!! Hope you can pull some good ideas from this activity. It sure was fun!