Ward Christmas Party-Table Settings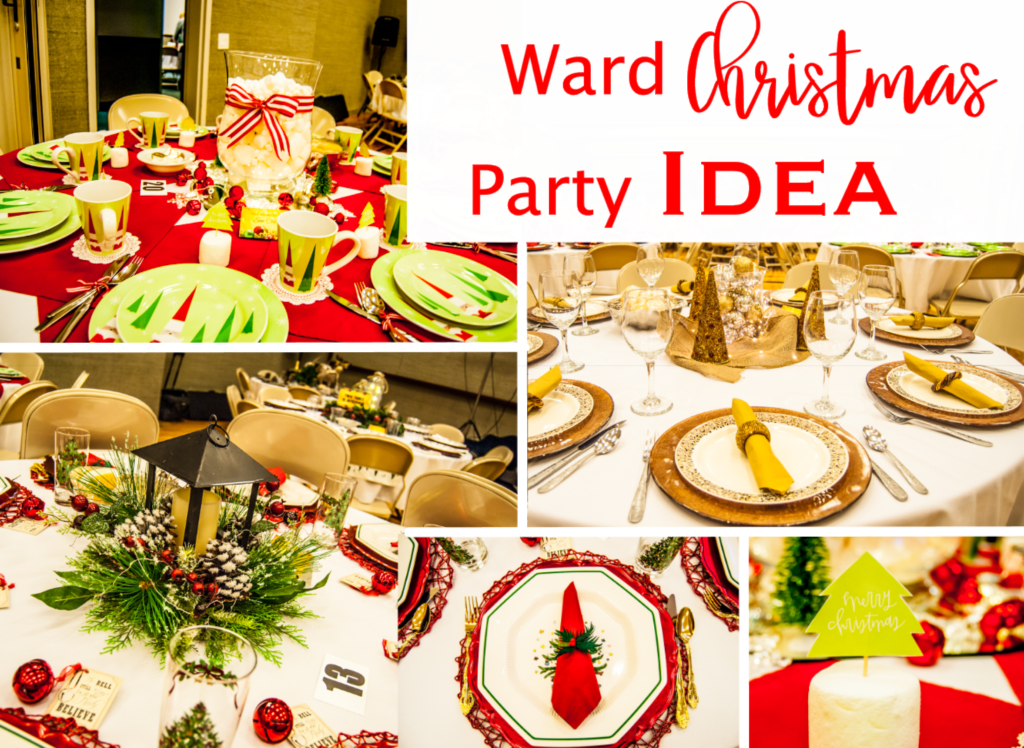 Ward Christmas Party-Table Settings
I am so proud of my Ward this year!  They did such a beautiful job on all of the Christmas decorations for our ward party, and the Ward Party was relaxed and still tons of fun!  Several sisters volunteered to set a table for the ward party, and the Christmas table settings were just beautiful!  I have also seen individual tables set for Relief Society Christmas Dinners as well, but this was the first time I had seen it for a ward party.  Clean up was actually not too bad, and went very quickly.
Relief Society "Gather" Thanksgiving Activity
 Each person that set a table, also brought their own laundry basket or box to carry their dishes home in.  The meal was provided, and it was incredibly yummy.   We had Turkey, homemade cranberry sauce, fresh steamed green beans, and the fluffiest, most buttery mashed potatoes.  It was a very fresh meal, and the people in charge were amazing.  We also had a wonderful live band that is based here locally out of Saint George called Bar None, that played Christmas music and songs about Dixie!  At the very end of the evening, the three wise men showed up, bearing gifts (candy canes) for all the visitors.  It was a fun, festive night, and I was blown away by the tables settings–you could tell each sister really made an effort to do something beautiful!  Some brought their Christmas China, others did amazing centerpieces with decorations from their home.  I just loved every single table in the room.  
Electronic GIFT IDEAS FOR HIM!
My friend and fellow blogger Sue, also did a table for our ward party.  It had the most adorable Marshmallow Centerpiece, and she made the cutest Christmas Tree printables, and stuck it in an oversized marshmallow for each table setting. For her centerpiece, she used two bags of each size marshmallow, and tied it with a red and white candy cane striped ribbon.  You can find these printables that she used for her marshmallow place card on her blog HERE.  If you're looking for Ideas for your Ward Christmas Party–we sure had fun!  Here are several fun ways to decorate your table for a Ward Party, or Ward Relief Society Christmas Dinner.  I hope enjoy this blog post!  Also, if you need ideas for your ward Relief Society Christmas Activity, you can find a great idea for a Hot Cocoa Bar here–it was a Relief Society Activity that I did a couple years ago with a wonderful group of ladies.  Merry Christmas.
Symbols of the Nativity Sunday Lesson Activity