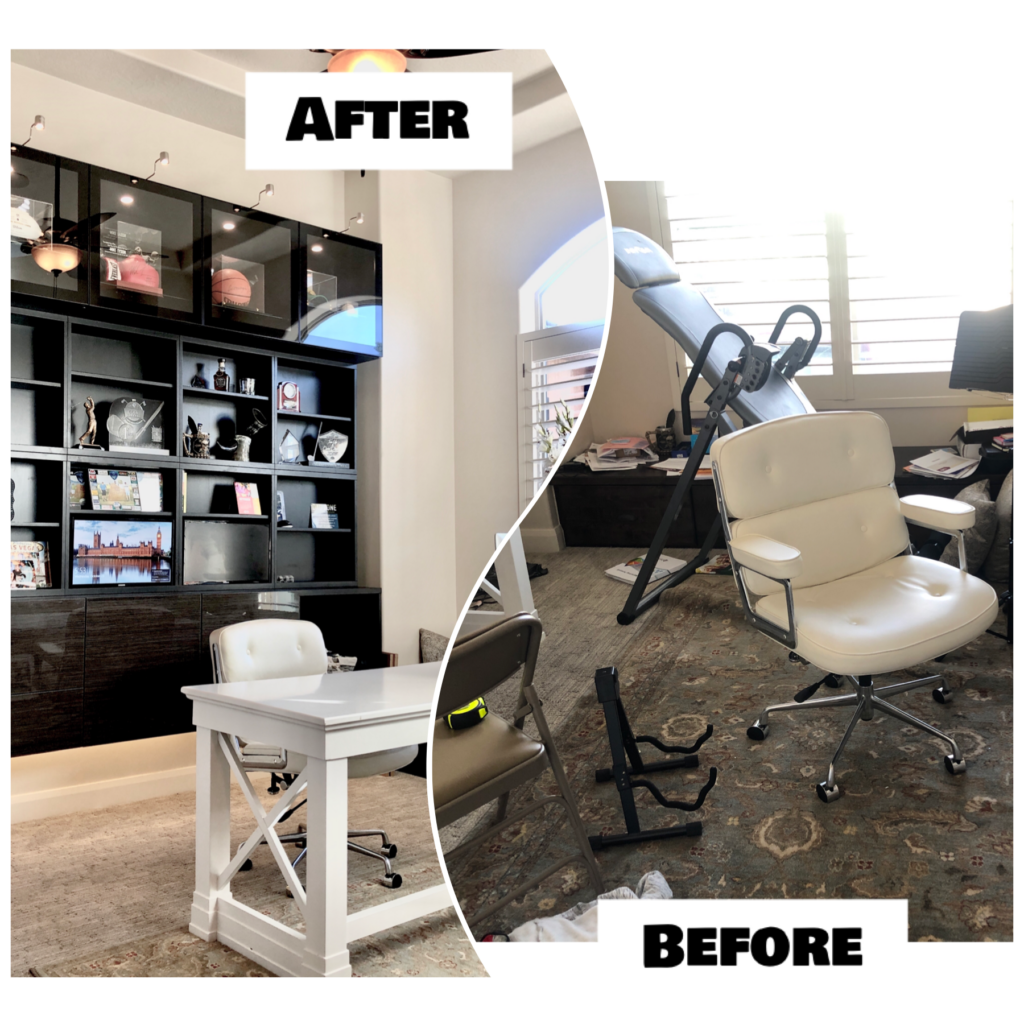 Last October, my husband and I finally made a decision on what to do with our home office space, and this presented many challenges. The decision wasn't easy, not because we didn't know what we wanted, but rather, it was a difficult decision because of the "cost" and "time" constraints that we were under.
Life had become increasingly busy for my husband and I in the last few years, and so we didn't have the time to take on major renovations like we used to. So rather than take on renovation project that we didn't have the time to complete, we opted to get a quote from a cabinet builder so we could pay to have SOMEONE ELSE design and build custom built-ins for our office. Umm, and that didn't go like I had hoped it would. In this article I share the solution to our office built-in predicament. I hope you enjoy reading about our IKEA OFFICE MAKEOVER.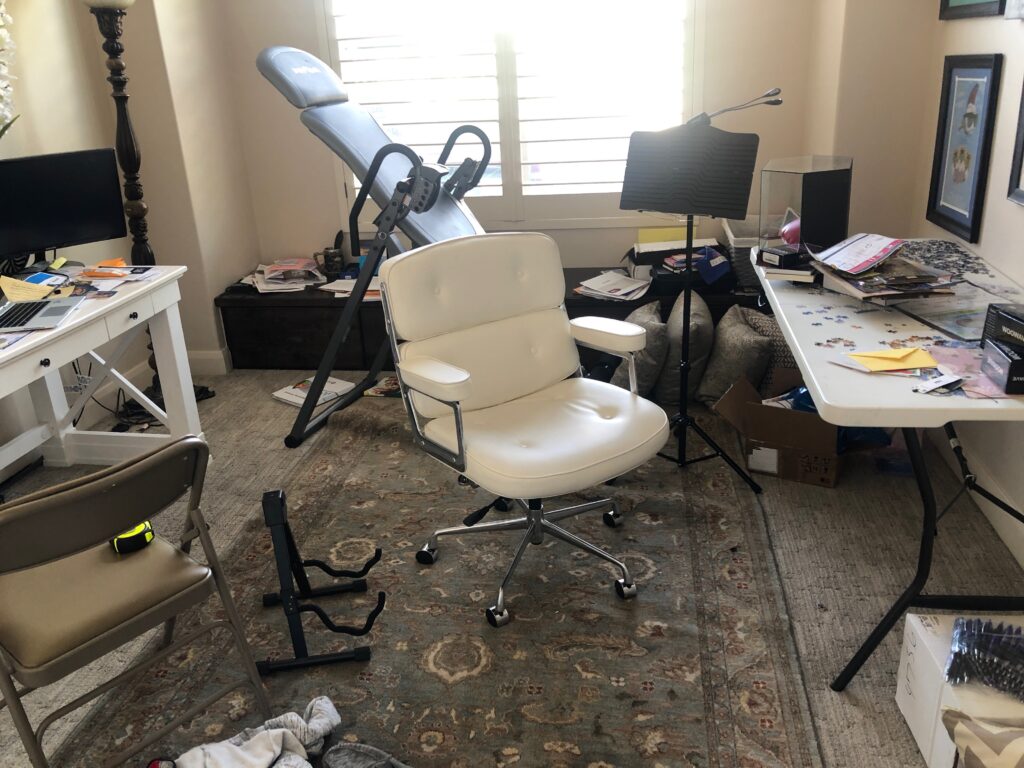 I'M NOT HANGING A CAR ON MY WALL
Guess what happens when you quote DIY-ers, like my husband and I, for a project we already have all the knowledge, tools, and skills to do on our own???? We "throw up" in our brains when we get the price back. That's right, and that "throw up" is hard to swallow. When the official quote came back for the office built-ins, it was for over $7,000, and that didn't include a the stone countertops we would also need to install on top of the cabinetry. When we got the quote back, the first words out of my mouth were, "I'm not hanging a car on my wall!!!" I just couldn't choke it down, now matter which way I tried. So we decided to "delay" the custom built-ins and "think" about more efficient ways we could get what we needed without "hanging a car on our wall."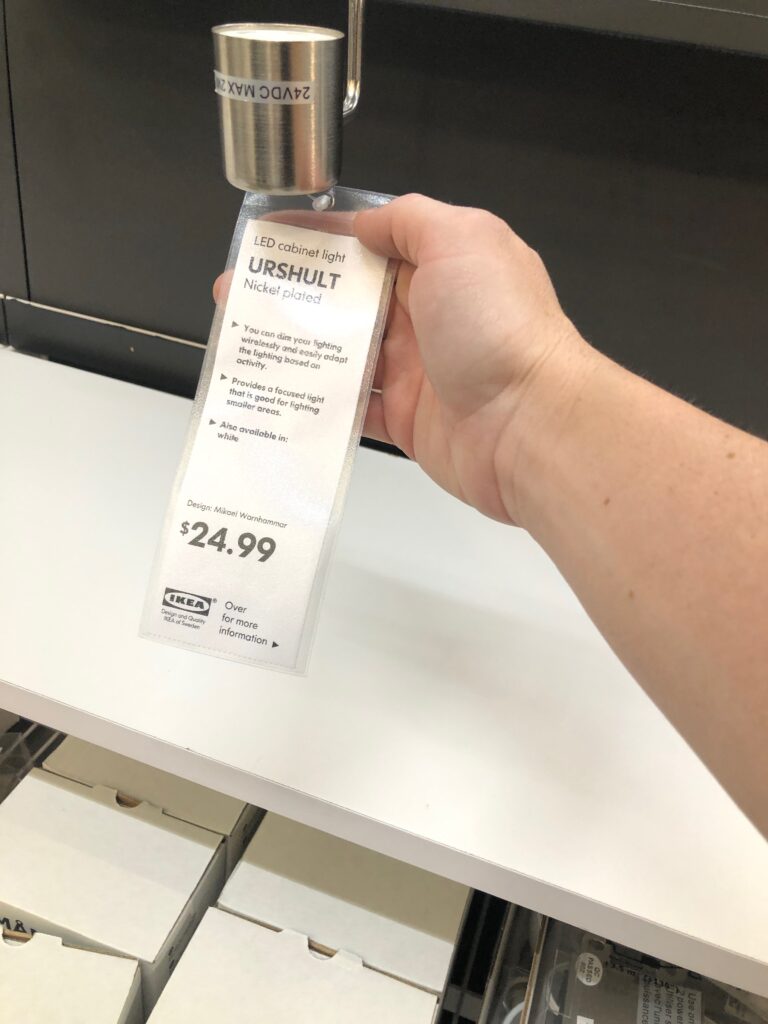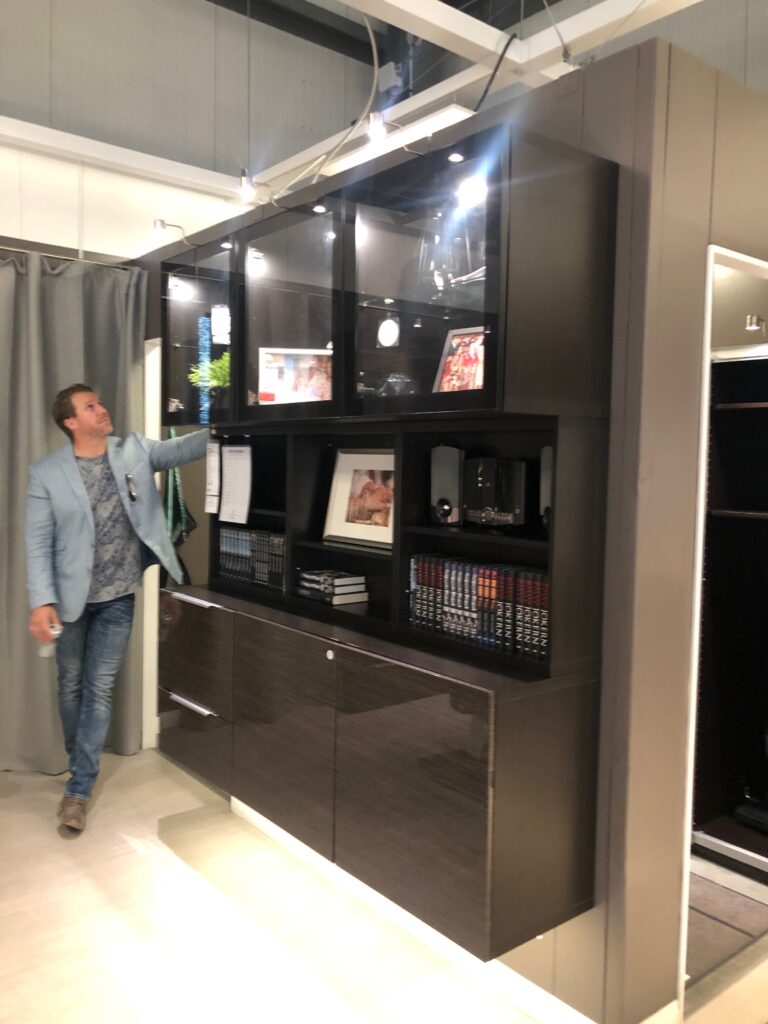 THE BEAUTY OF BEING A DIY-er
There is something beautiful about being a DIY-er. You "mentally" live in a world where the ball is always in your court. You don't feel trapped in a place where you "have" to spend money on something, or where you can't have what you want. DIY-ers have the know-how and the skills to build it themselves, OR, even to find something cheaper and jazz it up, BECAUSE THEY ALREADY KNOW HOW TO BUILD. That's why I love IKEA. Ikea cabinetry makes great foundations for "creating" and designing something bigger and better, without the crazy price tag.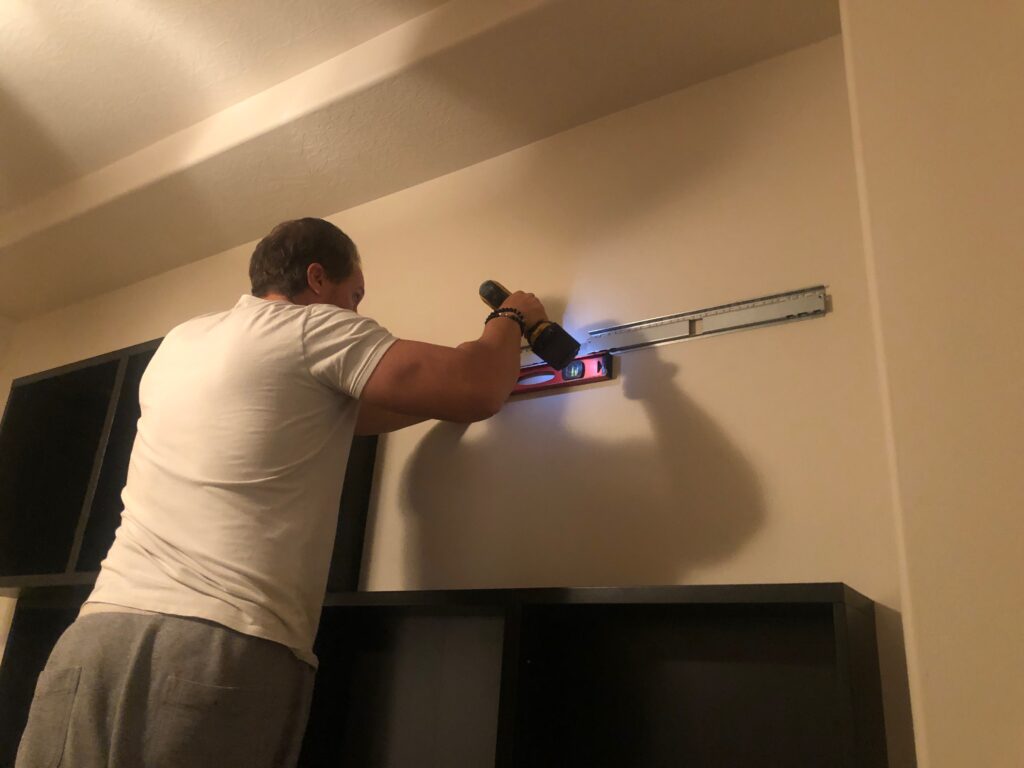 IM GONNA SWITCH IT OUT ONE DAY ANYWAY
I'm a person who is "quick" to change and update the interior design of my home. WHY? Because I already know how to do it, and I'm just creative and love design. We already own all the tools. We have already done it before in our previous homes. If I want to update my kitchen, it's no big deal to take a sledge hammer to a backsplash and switch out some overhead pendant lighting—and that's kinda my personality. I know at some point I will be updating, and switching everything out. Because I know I will "update" my space at some point, I don't like the idea of spending a fortune on "builtin's" for the office.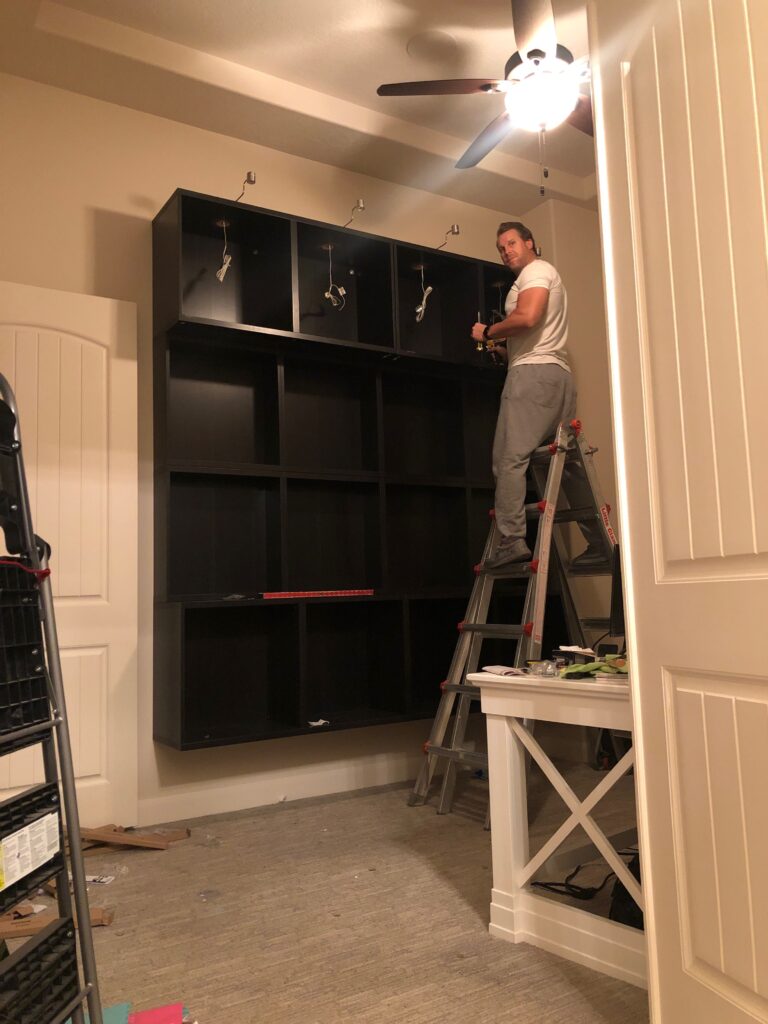 MERGING COST WITH DESIGN AND TIME
So, we took a trip down to the closest IKEA, and we found a great solution. This IKEA cabinet selection is technically NOT for an office space. It is actually designed for a living room/bar type set up, but for us, we knew this cabinetry would work perfect, and here's why…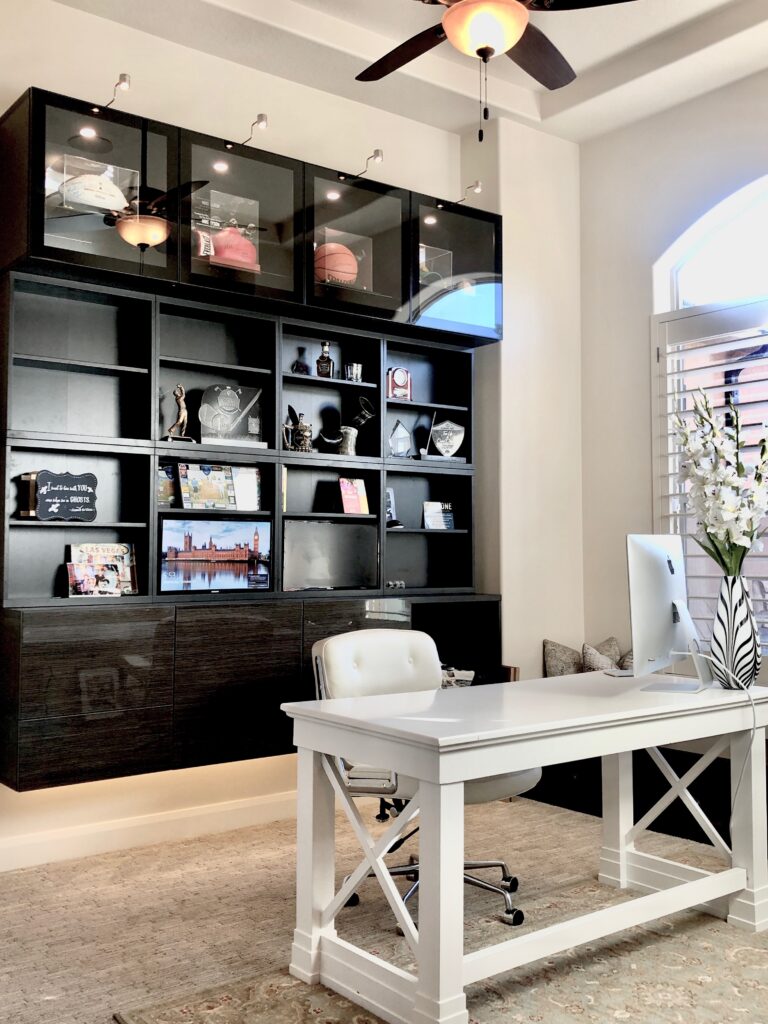 FOUR COMPUTERS
My husband works from two different monitors, and a laptop all at the same time. I also use an oversize monitor for blogging. That's four computers in one space–making this functional and beautiful required a little bit of creativity, but because of this cabinetry, we were able to make it work. We decided that the built-ins on the back wall would house my husband's two larger monitors. The cabinets below the built-ins would have a "retractable" pull out for my husband's laptop (so he could hide that when it wasn't in use), and then the white desk (that we already had) would remain the place for my desk top. So, depending on who was sitting in the space, they could rotate back and forth to work between the two spaces. If I'm working at my computer, I am facing forward. If my husband is sitting at his space, he is facing the built-in's.
DISPLAY CASES FOR SPORTS MEMORABILIA
The glass display cases at the top were perfectly designed for all my husband's sports memorabilia. Over the years, my husband has collected a lot of stuff, and the challenge has always been where to put it all so that it can be seen without looking cluttered. This IKEA cabinetry really showcases his favorite pieces, while also leaving shelving for your standard office decor on the book cases themselves.
THE PERFECT DESIGN
When you're sharing an offices space for two, it really comes down to functionality. These IKEA cabinets get the job done, and they were very affordable. In our office, we have 12 foot ceilings, and so we DOUBLED the height and width of the amount of cabinetry to fill the wall space. This gave the office a grand design because it stretched from floor to ceiling. The total cost for this built-in office space project came to $1,500. Now that's something I can swallow!